My First Corvette - Steve Haydu
It was around September of 1971. I spotted this 1962 Corvette for sale at a gas station, so I pulled in to look it over-Hugger Orange, chrome reverse rims, new white top, new exhaust, black interior, 4-speed, 327 N.O.M. Asking price was $1,000. So we talked. I neither had nor could I get $1,000. I was married with two children and one more on the way. So we struck a deal: $500 without the motor but with everything else.

That weekend I looked in the paper (remember when people advertised in the paper with a phone number?). There it was: 1962 Chevy 283 complete, $35. Further down, I spotted: Corvette Duntov 30-30 cam with lifters $10. WOW! This was my lucky day! I drove over to the motor guy-looked OK. We loaded it into the trunk of my '64 Impala. Drove to the cam guy-micrometered it up-it was good.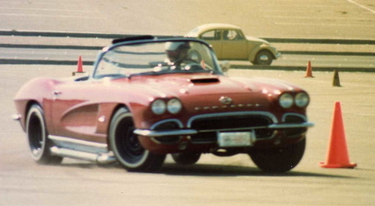 The very next weekend I dropped it in the '62 with my block and tackle from the garage rafters, that's what you did in those days-no cherry pickers, no heated garages in northeast Ohio.

I ran that combination until 1975. A friend-of-a-friend knew of a '69 Chevelle that had been side swiped. It had a '65 Corvette 327 300 H.P. with a 4-speed. Sale price was $250. The owner of our local gas station wanted to build a stock car. He agreed to tow the Chevelle to his place, pull the motor and 4-speed for me, and he would keep the car to build his stock car. In the '60s and '70s, even now, 327's were hard to come by.

That summer I installed the 327 after I freshened up the lower end and did some head work. I pulled the chrome, sanded down the body, and painted it Honduras Maroon.

I moved to Albuquerque in 1978, joined NMCA in 1979, and started auto-crossing. Try auto-crossing a solid axel with no power steering. I beat a lot of C2s and C3s with that car.

In 1984 I decided to do a body-off restoration on the '62. I built a dolly to roll the body around. I pulled the body and removed and inventoried everything. I found 90% of the correct parts, rebuilt the suspension, and painted the frame. I purchased a '75 Vette.

The '62 sat disassembled until 1992. That's when I found a commercial lot with a building in the Journal Center for my business. I needed cash for the down payment so the '62, a 1963½ Ford Galaxy with a correct 406 4-speed, and a Sea Ray boat were sold. The person that bought the '62 put it back together; and, although it is now black, it is still in Albuquerque.
Submitted by Steve Haydu
2/16/18


>