Welcome To The
New Mexico Corvette Association
Happy Memorial Day
Latest Updates To This Site
EVENTS updated- 5/29/16
NEWSLETTER / MINUTES added - 5/29/16
STORY added - 5/29/16
FOR SALE updated - 5/12/16
PHOTOS OR VIDEO added - 4/17/16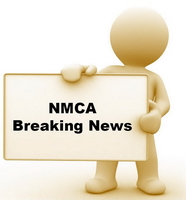 NFC Performance NMCA Discounts - Use Code NMCA10 - Look for new link in "links" area, under Corvette Parts


Each week see a new home page photo - see them all in Photos section

When is that Corvette beyond restoration?
While thoughts of finding a long-neglected 'Vette for a bargain price may keep legions of enthusiasts awake at night, making that car whole might cause nightmares. Should it be restored to factory-original spec or turned into a nice weekend driver - or perhaps given a restomod makeover?

The solution to that multi-dimensional puzzle depends on many factors. Condition is a primary concern, including how much of the original equipment, perhaps now rare and costly, remains. The finished car's potential value bears consideration too.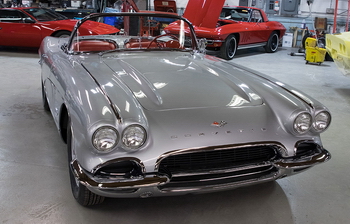 Werner Meier, of Masterworks Automotive in Madison Heights, Mich., is attuned to the tradeoffs involved. Having resuscitated countless Chevy Corvettes, Meier has a dozen or more restoration projects underway in his shop on any given day. He has hard-earned and well-informed opinions when it comes to making an old 'Vette whole again.

"You will usually do best by going back to stock," Meier said. "If you put a crate motor and aftermarket wheels in a classic Vette, it will be worth less to the purist."

Meier notes that prices paid for restomods - customized and hot-rodded cars with visual appeal - can be misleading. "Restomods that sell for $200,000 may be the result of a $400,000 investment," he said.

But that doesn't mean that a concours restoration is the only solution, Meier added. Often, a completed car's finished value doesn't justify the work's price, and a well-worn Corvette can often be resurrected as a stylish cruiser for far less than the cost of a full restoration.

Read the entire article

Source: Paul Stenquist - Hagerty
Submitted by Phil Ellison
5/29/16


A 48-year journey with a 1961 Corvette
"If there was a good Corvette in the paper, it was gone in a day," said Burton Hall. In 1967's spring and summer, Hall combed the local North Jersey newspaper classified ads for Corvettes daily. Today, he still owns the '61 he purchased that year.

While pursuing his dream 'Vette, Hall attended the Newark College of Engineering (today New Jersey Institute of Technology), and also worked two jobs: delivering for a Chicken Delight franchise in Teaneck, N.J. and selling paint at Sears. He owned an MGA but, like many young men at the time, badly wanted a Corvette.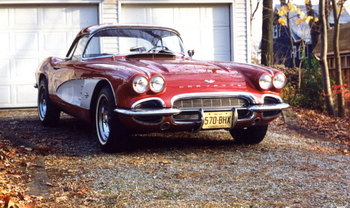 His curiosity piqued when a 1961 model advertised remained in the paper for three days. He and his father paid a visit and found the Honduras Maroon and white 'Vette had no problems, just an owner who refused to budge from his $1,300 asking price. The car's dual four-barrel, 283-ci V-8 was coupled to a four-speed and 4.11-geared Positraction axle. It was a solid go-fast recipe, if a bit high-revving on the highway.

Hall had $1,200, and no amount of negotiating - even offering to take the car without the hardtop - would secure the 'Vette. To close the deal he borrowed $100 from a friend.

"I didn't even have money left over for gas," he said. "I paid my friend back the next week, and the Corvette has been the history of my life since."

That history can be seen in the car's service records, which verify 250,000-plus miles, and in a patina that could only come from the original paint and interior. Hall put on the deep-dish Keystone wheels in 1968 but kept the original Vette hubcaps.

"The Keystones have a three-inch offset, so the car looks visually stronger with the wheels kicked out to the corners," Hall said. The Keystones came with spinner-style center caps, or at least two of them did.

"For the next 40 years, that would be the Holy Grail to find at any car swap meet," he said. He finally found one more wheel, and then two years ago, a friend called from a swap meet at Charlotte Motor Speedway while looking at a pair.

Read the entire article

Source: Jim Koscs - Hagerty
Submitted by Phil Ellison
5/15/16


Maine man reunited with Corvette
Edward Chaisson was 19-years-old when he saw it on a car lot in southeastern Massachusetts: A red 1984 Chevy Corvette.

The Quincy, Mass. native bought it for $7,500 in 1995. He drove it a year before joining the Air Force and placed it in storage. It moved from one place to another, and eventually he sold it.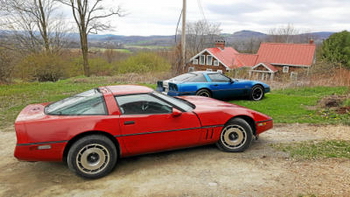 "When I was a kid in high school, these cars were it - they were the car you had to have," Chaisson, now a York, Maine resident, said Friday. Driving it, he said, "was like riding on rails. You couldn't ask for anything better."

He's since had five Corvettes, he said, but never forgot his first because of the sentimental value.

But thanks to some sleuthing and an anonymous tip, Chaisson tracked the Corvette down to a North Bennington barn and bought it this month for a second time.

He was working as a tow-truck driver, he said, when it came onto a Hanover, Mass. car dealership's lot.

"It was a Florida car - a couple drove it from Cape Cod every year," he said. "The top was faded and it needed a paint job."

He drove it for a year, he said, before he joined the air force. The car moved from one garage to another as he was stationed 3,500 miles away. He sold it in 2000.

"I was a punk kid, but this started making me a grown man," he said. He had to make car payments so his mom, the cosigner, wouldn't kill him. And he credits that responsibility to be one reason he went back to get a high school diploma.

There's more with a unique twist - Read the entire article

Source: Battleboro Reformer; Edward Damon
Submitted by Phil Ellison
5/8/16


Corvette, Porsche set to battle at Leguna Seca
One of the most talked-about moments from the last IMSA WeatherTech SportsCar Championship race, the BUBBA burger Sports Car Grand Prix at Long Beach, was the incident that took the No. 4 Corvette Racing C7.R of Tommy Milner and Oliver Gavin out of the GT Le Mans lead with only two minutes left.

Milner and Gavin were going for their third straight win -- a sweep of the season so far -- when the No. 912 Porsche North America 911 RSR driven by Frederic Makowiecki hit the Corvette driven by Milner in the passenger-side rear, taking out both cars, and deeding the win to the third-place No. 911 team Porsche driven by Patrick Pilet and Nick Tandy.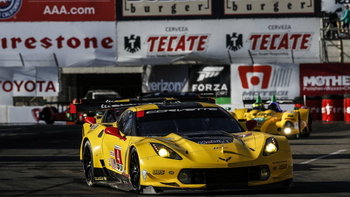 Makowiecki later accepted blame for the wreck -- he was "a touch too optimistic," he said -- and he was penalized by IMSA, but his car was too damaged to serve the actual penalty.

Which brings us to this weekend's Continental Tire Monterey Grand Prix Powered by Mazda at Mazda Raceway Laguna Seca in California: If there wasn't an intense rivalry between the Chevrolets and Porsches before -- and there was -- it's heated up to a boil now, the last race for the GT Le Mans class before they take a break from IMSA competition for the 24 Hours of Le Mans.

"Long Beach is over and everyone on the No. 4 Corvette team is ready to move on to Laguna Seca," Milner said. "It's a great place to be and is one of my favorite stops on our schedule. Leaving here with the points lead and a victory would give us great momentum ahead of our return to Le Mans in June."

Not only are Chevrolet and Porsche eager for another win this weekend, but BMW - the fastest of the entries in the GT Le Mans class this year, with the two BMW M6 GTLMs fielded by BMW Team RLL -- is still looking for a win, and the team is the defending champion at Laguna Seca. Also looking to make it into the win column are the new Ferrari 488 GTEs of Risi Competizione and Scuderia Corsa. The new Ford Chip Ganassi Racing Ford GTs also would love a victory to send them to Le Mans on a high note.

Read the entire article

Source: Autoweek; By Steven Cole Smith, IMSA Wire Service
Submitted by Phil Ellison
5/1/16


Pertronix Pointless Kit
Just wanted to share an experience. I have a '69 big block. Points and condenser have always been an issue. Even the best of points usually wouldn't last more than a couple of years. And over the years the manufacturing quality has tanked - as my friend Scott Smith, owner of Scotty's Southwest Corvettes recently expressed - "you can now buy 6 boxes of new points, and maybe - maybe one set will work".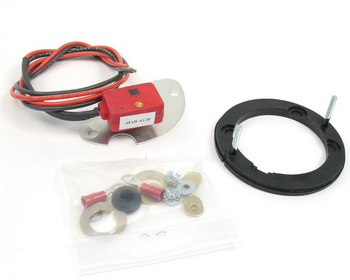 Back up to the summer of 2015 - I started having "issues" that caused enough concern that I wouldn't take the '69 more than a few blocks from home (how far do you want to walk home if this dies?) I tinkered, replaced multiple things that were probably perfectly good - but couldn't shake the problems. Complete new electrical - plugs, wires, cap "points", the works. Still a no-go - actually a little worse.

As I usually do - I thought long and hard, then decided this must be a valve issue. Well, luckily before I started into the heavy lifting - I decided to replace the points with an electronic set. I was skeptical because this very same kit had been in my garage for about 10 years. I had tried this once before, and while I cannot remember why, at that time I didn't feel the kit worked well.

So I pop the kit in (quite easy - worst part is physically pulling the distributor out - or should I say - putting the distributor shaft back IN). Got all back in place, hit the key and like magic - the problems I had grown used to all disappeared. The timing did change on me - not sure why, but that's an easy fix. I've only had this new pointless system in for a week, but so far so good.

Source: Phil Ellison firsthand knowledge
Submitted by Phil Ellison
4/24/16


Corvette Racing at Long Beach
DETROIT (April 12, 2016) - Since its first race in 1999, Corvette Racing has accumulated one of sports car racing's most enviable records. Now the sport's leading GT team is on the verge of reaching another milestone as it heads west for the next two races of the International Motor Sports Association (IMSA) season.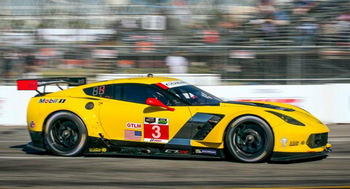 Corvette Racing's next victory will be its 100th - a mark that no other North American professional sports car entrant can come close to matching. The first opportunity to claim No. 100 comes this weekend at the Bubba Burger Sports Car Grand Prix from the famed Long Beach street circuit. It will be Corvette Racing's 10th appearance at Long Beach with five class wins already in-hand.

Oliver Gavin and Tommy Milner, who share the No. 4 Chevrolet Corvette C7.R, arrive at Long Beach with consecutive wins in the Rolex 24 At Daytona and the Mobil 1 Twelve Hours of Sebring. As a result, the pairing leads in GT Le Mans (GTLM) points for the WeatherTech SportsCar Championship. Gavin and Milner won together at Long Beach in 2012 to start their run to the American Le Mans Series GT title. Gavin has two other Long Beach wins to his credit - 2007 and 2009.

Corvette Racing's two-car effort also includes Antonio Garcia and Jan Magnussen in the No. 3 Corvette C7.R. They recorded the C7.R's first victory in the 2014 Long Beach race - the first of four straight in IMSA competition. The Garcia/Magnussen duo were third last year, and Magnussen had previously won at Long Beach in 2007.

Read the entire article

Source: Corvette Racing
Submitted by Phil Ellison
4/17/16


More stories can be viewed using the "News & Stories" link

NMCA, PO Box 91355, Albuquerque, NM 87199 :: info@nmcorvette.org