Welcome To The
New Mexico Corvette Association
'67 L71 Coupe (Story Below)
Latest Updates To This Site
EVENTS updated- 2/17/17
NEWSLETTER / MINUTES added - 2/17/17
STORY added - 2/17/17
FOR SALE updated - 1/27/17
PHOTOS OR VIDEO added - 7/18/16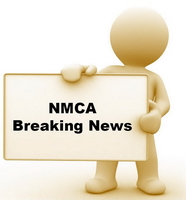 NMCA congratulates Celeste English & Jean Haydu for being voted the NMCA Persons Of The Year for their outstanding efforts above and beyond the call. Thank you for your contributions.


'67 L71 Coupe
About 20 years ago Quentin Carbone was starting his construction business in New York City. He needed a subcontractor who was excellent at building and renovating storefronts, and his father recommended a friend by the name of John Tara. Carbone and Tara did end up doing business with one another, and out of that grew a friendship, strengthened in large measure by their mutual love for vintage cars. Tara had a fairly substantial collection that included a few Corvettes, and Carbone was well on his way to becoming a self-described Corvette fanatic himself.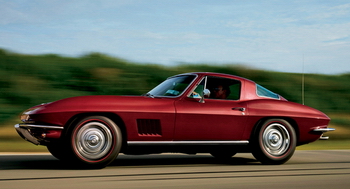 "I had a 1968 convertible that I purchased in 1986," he remembers. "I really enjoyed driving the car, but it sat in the garage a lot because it wasn't very reliable." The lightly modified C3 was "gorgeous," according to Carbone, thanks to its candy-apple red paint, Centerline rims, white top and chromed-out LT-1 engine. "I loved it, but I started to realize that getting a stock…Corvette may be a better way to go."

At the time Carbone was driving a black-on-black '89 convertible with a six-speed, and while he describes that C4 as "a lot of fun," the allure of another classic model was too strong to resist. "I wanted an old one that was reliable and that I could drive without worrying," he says.

Tara took notice of Carbone's increasing appreciation for vintage Corvettes and began showing him photos of some of the cars in his collection. "One day he showed me a photo of a 1967 big-block coupe parked right in front of Rockefeller Center," recalls Carbone. "It was Marlboro Maroon with a black hood 'stinger,' and I was instantly hooked on that particular car, so my begging and groveling began."

To the dismay of Carbone, Tara didn't want to sell the '67. Making matters worse in a way, it was an original L71 427/435 car, and by the late 1980s the value of original '67 435-horsepower Vettes had skyrocketed to the point that Carbone didn't think he could afford it even if Tara were willing to sell. Still, he didn't permit that minor inconvenience to dissuade him from frequently reminding Tara he was interested in buying the car. This went on for years, and though Carbone eventually resigned himself to the likelihood that his friend would never sell, he didn't stop asking. Then one day the phone rang, and all of his tenacity paid off.

"Unbelievably to me, one day in 1996 John decided to let go of a couple of his cars, and he was kind enough to offer me the 1967 before he brought it to market," Carbone relates. "The only [question] was, how could I afford it? I haggled with him for days over the price, eventually convincing him that his lack of paperwork for the car negatively impacted its value. So I ended up buying it at a very discounted price, which I was able to afford after selling my '68."

The "very discounted" price reflected the fact that there appeared to be no documentation accompanying the sale, a major impediment to establishing the value of any old Corvette with highly desirable options such the Tri-Power 427. But as it turned out, that documentation was actually right there under Carbone's nose-he just needed to look for it. Not long after he got home with the car, he located the original owner's manual and Protect-O-Plate, still in their original plastic bag, stashed underneath the passenger's seat. At which point he received another pleasant surprise.

Read the entire story + many more photos

Source: Richard Prince - Corvette Magazine
Submitted by Phil Ellison
2/17/17


The Missing 1983 Corvette
Those familiar with Corvette history are well aware that there was no 1983 Corvette. The industry standard Corvette Black Book certainly shows no entry between the 1982 and 1984 Corvettes.

Imagine my amazement this past Saturday at the National Corvette Museum standing in front of a white 1983 Corvette! This unique Corvette is shown below.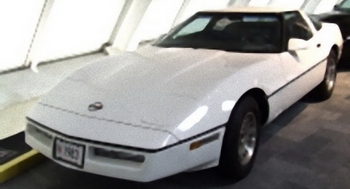 The sign on the exhibit explains: "The planned 1983 Corvette brought forward some of the most far reaching design changes in Corvette's history. Many changes included high-technology that had not been proven for automobile application….Although the technology was available, it had to be developed into the manufacturing process with the quality, reliability, and durability proven before production of saleable vehicles could begin. The initial plan called for introduction of the newly designed 1983 in October 1982. There were 43 pre-production models built (but) a decision was made to withhold production (for sale) until January 1983 and to serialize them as 1984 models. The Corvette was named "Car of the Year" by Motor Trend Magazine in 1984."

So, why were they held off until January? Before production lines began, California voted to make emission controls more stringent than ever, and the 1983 model wasn't prepared to deal with it.

All 43 prototypes were ordered to be destroyed but canny assembly plant personnel hid one vehicle for years, changing the paint scheme, and moving it around until they received a commitment from GM that it wouldn't be destroyed. You can see it today for yourself at the Museum!

Read the entire story

Source: Bill Connell, Corvette Blog
Submitted by Phil Ellison
2/10/17


Reincarnation
As a young boy growing up in Buffalo, New York, Cliff Kancler spent hour upon hour building models in the basement of his family's house. Shunning outside assistance, he liked to figure things out on his own, relishing the challenge of creating his own parts or wiring his own electrical circuit. That he grew up to become an engineer surprised no one. Similarly, the fact that he singlehandedly restored the '69 Corvette on these pages makes absolute sense. Still, the degree to which Kancler reengineered this coupe is impressive. Beneath its stock Cortez Silver paint-which Kancler applied his own garage-is a lightweight, LS3-powered machine with a highly tuned, autocross-ready suspension.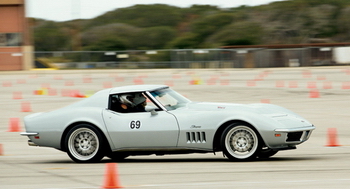 As more or less a Corvette purist, Kancler never really imagined himself performing what some might consider a "restomod" job. You see, he's owned this particular '69 coupe since 1972. At that point he was newly married and just a few years into his engineering job at Lockheed Martin in San Jose, California. He had sold his Pontiac GTO to buy a wedding ring and, for the first time since he got his driver's license, was without a performance car. Feeling sorry for him, his wife suggested they start a fund to buy his dream car-a Corvette. Having witnessed the Mako Shark show car at the New York Auto Show in 1965, Kancler had a soft spot for third-generation Vettes. After a few years of saving money, however, he and his wife were well short of the funds needed for a new C3. "The jar never got full," he says. A '71 Corvette stickered for $5,800; they had amassed less than half that.

Undaunted, Kancler began searching for used examples. He found one in San Francisco, where he and his wife were living at the time. It was a an L46-equipped machine with a four-speed manual transmission. The original owner had driven it out from Ohio and put in a couple years of hard use, subjecting the car to street parking in San Francisco. As a result, the Cortez Silver C3 was no beauty queen. And even then, the contents of Kancler's piggy bank didn't add up to the asking price. Fortunately, after explaining that $2,600 was all he had, Kancler was able to drive off in the Corvette. And, for the next few decades, he kept on driving. The '69 served as his daily driver-for much of the time, it was his only car-shuttling Kancler to and from Lockheed Martin until 2007, when he retired. At that point, the odometer read 280,000 miles. "That's a trip to the moon and partway back," he notes.

Read the entire story

Source: Eric Gustafson, Corvette Magazine
Submitted by Phil Ellison
2/3/17


Corvette Racing at Le Mans
Le Mans, France (June 19, 2016) - A total team effort from Corvette Racing resulted in one of its Chevrolet Corvette C7.R race cars completing the 24 Hours of Le Mans today - the 17th time America's premier GT team has tackled the famed French endurance race.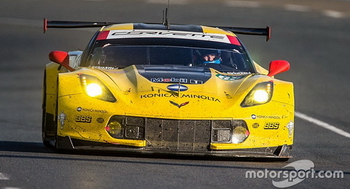 The No. 63 Konica Minolta/Mobil 1/SiriusXM Chevrolet Corvette C7.R of Antonio Garcia, Jan Magnussen and Ricky Taylor finished seventh in the GTE Pro class after starting 14th in the category and last on the grid. The trio ran a steady, clean race with none of the major mistakes that claimed many of the other runners in the class.

Corvette Racing was going for its ninth class victory at Le Mans and sixth consecutive endurance Triple Crown victory - having won the last two years in the Rolex 24 At Daytona and Mobil 1 Twelve Hours of Sebring, in addition to last year's Le Mans.

Taylor took the checkered flag in the No. 63 Corvette to cap his first Le Mans with Corvette Racing. It capped a determined effort which saw the trio climb into the top-10 for good prior to the halfway mark. The opening 52 minutes were run behind the safety car, owning to heavy rains which soaked an already saturated circuit.

Read the story

Source: MotorSports.com
Submitted by Phil Ellison
1/27/17


The '53 Test Mule
The Corvette started life with a serious - nearly terminal - disadvantage. Chevrolet's new-for-1953 sports car was tragically underpowered, hamstrung by the in-line six-cylinder under its hood, a warmed-over version of the engine used in Chevy sedans. The car's Powerglide automatic transmission didn't help performance, and sales were further hampered by quality problems and a slow production ramp-up.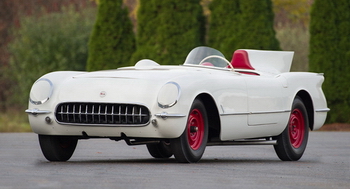 Cancellation of the model was a distinct possibility, but a timely rescue arrived in the form of a compact, lightweight V-8. For 1955 models, General Motors management, urged on by Chevy engineers, agreed to put the company's new 265-cid Small Block V-8 in the Corvette. Before it could become a production model, though, there was much testing and validation to be done; prototypes, known in the industry as test mules, had to be assembled. Among them was Corvette No. 5951, designated EX-87, a car that would later become a test bed for Zora Arkus-Duntov, Chevrolet's legendary engineer and performance maven.

Incredibly, this Corvette still exists, and commensurate with its vital role in Corvette history, it occupies a place of honor in the collection of Ken Lingenfelter, owner of Lingenfelter Performance Engineering in Brighton, Mich. Over time, during which record-keeping was less than meticulous, many details of the car's service have been lost. Still, the overall picture is clear: It is historically significant.

Lingenfelter purchased the gently restored car in 2009. He has an affinity for General Motors cars and owns hundreds, including, at last count, 65 Corvettes, the model closest to his heart.

With the expert help of Christo Datini, lead archivist for the GM Media Archive, I was able to study documents relating to the car at the General Motors Heritage Center. Many were revealing. For example, correspondence of April 1954 notes that two '53 Corvette bodies were repurposed for V-8 testing. An Engineering Department Build Order of Aug. 1, 1954 requests the purchase of '54 Corvette frames and instructs technicians to modify them to meet '55 specs.

That build order answers a question raised over the years: When and why was the car's '54 frame replaced with a '55 frame? It appears that it wasn't replaced; it was altered before testing began. And since '53 and '55 bodies were identical, 5951 was effectively a '55 model when it went into testing; subsequent documents describe it as such.

After tests at GM's Michigan proving grounds, the car was released to Duntov for use as a mule for engine performance projects, including speed-record attempts. Based on various GM documents, Duntov took delivery of the car in October 1955.

Read the story

Source: Paul Stenquist, Hagerty
Submitted by Phil Ellison
1/20/17


All news postings can be viewed using the "News" link

NMCA, PO Box 91355, Albuquerque, NM 87199 :: info@nmcorvette.org