Welcome To The
New Mexico Corvette Association
Spring Or Fall - A True Classic
Latest Updates To This Site
EVENTS updated- 4/24/16
NEWSLETTER / MINUTES added - 5/1/16
STORY added - 5/1/16
FOR SALE updated - 4/17/16
PHOTOS OR VIDEO added - 4/17/16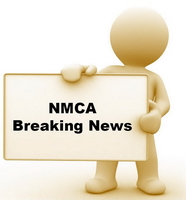 NFC Performance NMCA Discounts - Use Code NMCA10 - Look for new link in "links" area, under Corvette Parts


Each week see a new home page photo - see them all in Photos section

Corvette, Porsche set to battle at Leguna Seca
One of the most talked-about moments from the last IMSA WeatherTech SportsCar Championship race, the BUBBA burger Sports Car Grand Prix at Long Beach, was the incident that took the No. 4 Corvette Racing C7.R of Tommy Milner and Oliver Gavin out of the GT Le Mans lead with only two minutes left.

Milner and Gavin were going for their third straight win -- a sweep of the season so far -- when the No. 912 Porsche North America 911 RSR driven by Frederic Makowiecki hit the Corvette driven by Milner in the passenger-side rear, taking out both cars, and deeding the win to the third-place No. 911 team Porsche driven by Patrick Pilet and Nick Tandy.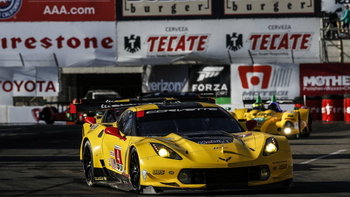 Makowiecki later accepted blame for the wreck -- he was "a touch too optimistic," he said -- and he was penalized by IMSA, but his car was too damaged to serve the actual penalty.

Which brings us to this weekend's Continental Tire Monterey Grand Prix Powered by Mazda at Mazda Raceway Laguna Seca in California: If there wasn't an intense rivalry between the Chevrolets and Porsches before -- and there was -- it's heated up to a boil now, the last race for the GT Le Mans class before they take a break from IMSA competition for the 24 Hours of Le Mans.

"Long Beach is over and everyone on the No. 4 Corvette team is ready to move on to Laguna Seca," Milner said. "It's a great place to be and is one of my favorite stops on our schedule. Leaving here with the points lead and a victory would give us great momentum ahead of our return to Le Mans in June."

Not only are Chevrolet and Porsche eager for another win this weekend, but BMW - the fastest of the entries in the GT Le Mans class this year, with the two BMW M6 GTLMs fielded by BMW Team RLL -- is still looking for a win, and the team is the defending champion at Laguna Seca. Also looking to make it into the win column are the new Ferrari 488 GTEs of Risi Competizione and Scuderia Corsa. The new Ford Chip Ganassi Racing Ford GTs also would love a victory to send them to Le Mans on a high note.

Read the entire article

Source: Autoweek; By Steven Cole Smith, IMSA Wire Service
Submitted by Phil Ellison
5/1/16


Pertronix Pointless Kit
Just wanted to share an experience. I have a '69 big block. Points and condenser have always been an issue. Even the best of points usually wouldn't last more than a couple of years. And over the years the manufacturing quality has tanked - as my friend Scott Smith, owner of Scotty's Southwest Corvettes recently expressed - "you can now buy 6 boxes of new points, and maybe - maybe one set will work".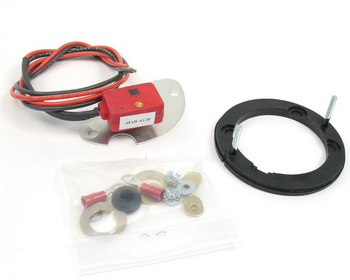 Back up to the summer of 2015 - I started having "issues" that caused enough concern that I wouldn't take the '69 more than a few blocks from home (how far do you want to walk home if this dies?) I tinkered, replaced multiple things that were probably perfectly good - but couldn't shake the problems. Complete new electrical - plugs, wires, cap "points", the works. Still a no-go - actually a little worse.

As I usually do - I thought long and hard, then decided this must be a valve issue. Well, luckily before I started into the heavy lifting - I decided to replace the points with an electronic set. I was skeptical because this very same kit had been in my garage for about 10 years. I had tried this once before, and while I cannot remember why, at that time I didn't feel the kit worked well.

So I pop the kit in (quite easy - worst part is physically pulling the distributor out - or should I say - putting the distributor shaft back IN). Got all back in place, hit the key and like magic - the problems I had grown used to all disappeared. The timing did change on me - not sure why, but that's an easy fix. I've only had this new pointless system in for a week, but so far so good.

Source: Phil Ellison firsthand knowledge
Submitted by Phil Ellison
4/24/16


Corvette Racing at Long Beach
DETROIT (April 12, 2016) - Since its first race in 1999, Corvette Racing has accumulated one of sports car racing's most enviable records. Now the sport's leading GT team is on the verge of reaching another milestone as it heads west for the next two races of the International Motor Sports Association (IMSA) season.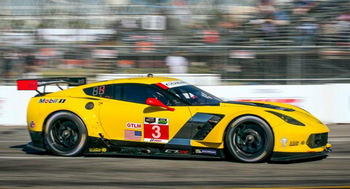 Corvette Racing's next victory will be its 100th - a mark that no other North American professional sports car entrant can come close to matching. The first opportunity to claim No. 100 comes this weekend at the Bubba Burger Sports Car Grand Prix from the famed Long Beach street circuit. It will be Corvette Racing's 10th appearance at Long Beach with five class wins already in-hand.

Oliver Gavin and Tommy Milner, who share the No. 4 Chevrolet Corvette C7.R, arrive at Long Beach with consecutive wins in the Rolex 24 At Daytona and the Mobil 1 Twelve Hours of Sebring. As a result, the pairing leads in GT Le Mans (GTLM) points for the WeatherTech SportsCar Championship. Gavin and Milner won together at Long Beach in 2012 to start their run to the American Le Mans Series GT title. Gavin has two other Long Beach wins to his credit - 2007 and 2009.

Corvette Racing's two-car effort also includes Antonio Garcia and Jan Magnussen in the No. 3 Corvette C7.R. They recorded the C7.R's first victory in the 2014 Long Beach race - the first of four straight in IMSA competition. The Garcia/Magnussen duo were third last year, and Magnussen had previously won at Long Beach in 2007.

Read the entire article

Source: Corvette Racing
Submitted by Phil Ellison
4/17/16


C-7 Kwik 7-Speed Billet Shifter
Pick up a Kwik billet 7-speed shifter for your C7 Corvette at Zip Corvette today and we will show you how to install it. This is a easy installation that will only require an hour to two of your time to install. You are going to need a couple of tools to install the new shifter, all of them are fairly common and if you do not have them please do not attempt the installation until you do. You are going to need a ¼ ratchet with extension with the following sockets, 10mm.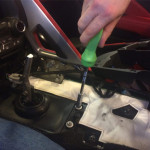 You will need a small micro flat blade screwdriver or a Delphi pin remover Zip part number TL-164. This is used to help remove some of the electrical plugs on the underside of the console. You will also need a trim remover, the plastic ones would be best so that you do not scratch anything on the console. If you are used to removing GM trim than you may be able to do it by hand, but I would not recommend that since you could break or damage the console. You can find the trim removers at most NAPA stores or SnapOn and MAC tools also have them on the trucks. You will also need a Torx T-25 socket or nut driver. I would highly recommend the SnapOn ratchet nut driver, you will see the one I use in the instruction picture. It helps when tightening the parts back in place because you will not be able to over torque and break anything.

Read the entire article

Source: Zip Corvette Parts
Submitted by Phil Ellison
4/3/16


C5 Shifter Upgrade
The C5 Corvette six-speed is an all-out blast to drive. With a solid linkage and a rear-mounted transmission, it's one of the best-engineered gearboxes available in a street car. Problem is, it doesn't take much to push the C5 Corvette shifter to its limits under hard driving. That's when shifter response and actuation can be challenging. Missed shifts and a lazy stick feel are very common and can become an instant source of frustration.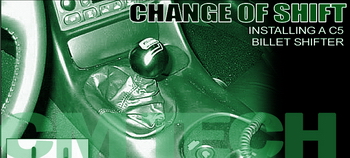 To address this problem, C5 Corvette owners should consider the installation of a short-throw billet shifter. We sampled Kirban's Kwik Six-Speed Shifter, which features solid billet construction and a 20% overall reduction in shift throws by using a shorter handle, thus altering the pivot geometry. Additionally, this shifter is engineered with heavier detent springs, allowing for a much crisper shifter action. Missed shifts are virtually eliminated.

Installation of this shifter is surprisingly easy. Remember that before you begin, please make sure the emergency brake is set and the shifter is in fourth gear. With some basic hand tools, you can install it in about 11/2 hours. We topped it off with a Kirban billet shift knob. The results were remarkable. We bought our C5 Corvette shifter from Zip Corvette Parts, 8067 Fast Lane, Mechanicsville, VA 23111, 1-800-962-9632.

Read the entire article

Source: Chris Byrd and Paul Zazarine, Corvette Magazine
Submitted by Phil Ellison
3/27/16


More stories can be viewed using the "News & Stories" link

NMCA, PO Box 91355, Albuquerque, NM 87199 :: info@nmcorvette.org