Welcome To The
New Mexico Corvette Association
Ford Fusion Crushes Classic 1959 Vette (Story Below)
Latest Updates To This Site
EVENTS updated- 3/24/17
NEWSLETTER / MINUTES added - 3/10/17
STORY added - 3/24/17
FOR SALE updated - 3/20/17
PHOTOS OR VIDEO added - 7/18/16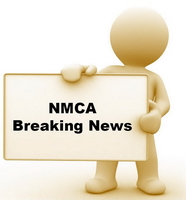 NMCA congratulates Celeste English & Jean Haydu for being voted the NMCA Persons Of The Year for their outstanding efforts above and beyond the call. Thank you for your contributions.


Ford Fusion Crushes Classic 1959 Vette
No, that's not a poorly photoshopped picture of a Ford Fusion resting on a 1959 Chevrolet Corvette -- it's real, and it's not the result of some hypertraditionalist who hated the Cragar wheels wrapped in wide whitewall rubber.

No, it was just a confused elderly woman. According to a post on the Corvette Forum, she confused her gas and brake pedals and promptly parked her Ford Fusion on top of the vintage Corvette.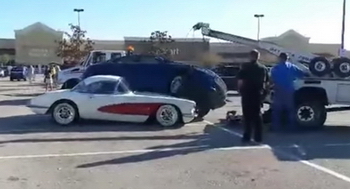 Considering the situation, the Corvette seems to have come out OK, though you can't see what exactly is going on underneath the shards of broken fiberglass. There's definitely a trip to the body shop in its future.

Read the story & see more photos

Source: Wesley Wren - Autoweek
Submitted by Phil Ellison
3/24/17


2019 Chevy Corvette C8 Spied
What It Is: Even casual readers of this publication are no doubt aware of our particular multi-decade obsession with General Motors finally pulling the trigger and mounting the Corvette's engine behind the driver and passenger, where God, Ferry Porsche, and Zora Arkus-Duntov intended it to be. First spied by us 18 months ago cosplaying as a DTM-grade Holden Ute, Chevy's mid-engined mules have seemingly taken on a more conventional, disguised-supercar wardrobe.

Why It Matters: Why it matters? Why it matters? Have you not been reading our rantings about such a thing over the past five decades? As per our latest report on the car published just last month, expect the totally new machine to arrive at the 2018 Detroit auto show and go on sale later that year. It'll be the most important fundamental change to the Chevrolet Corvette since GM dropped in an eight-cylinder engine in 1955.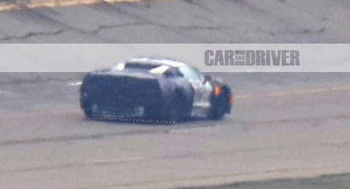 Platform: The C8 will ride on a new platform shared with nothing else in the GM portfolio, until Cadillac CEO Johan de Nysschen decides to bring back the XLR.

Powertrain: Expect the next Corvette to launch carrying a version of the venerable Chevrolet pushrod small-block engine behind the occupants. A year later, there should be a mid-engined revival of the original ZR-1 engine concept: a 32-valve V-8. And given that GM has trademarked "E-Ray," we expect some form of hybrid powertrain option.

Competition: Audi R8, Ferrari 488GTB, Jaguar F-type, Lamborghini Huracán LP610-4, Porsche 718 Cayman, Porsche 911.

Estimated Arrival and Price: The car will arrive in 2018 as a 2019 model. Pricing is expected to start at $80,000 or so, rising quickly as more power is introduced.

Read the story & see more photos

Source: Davey Johnson - Car & Driver
Submitted by Phil Ellison
3/17/17


My 1960 Corvette Story
For as long as I can remember, I have been a car guy. Even when I was little, my first and favorite memories are of cars. When I was four, my father owned a 1972 Corvette convertible, Elkhart Green with a black vinyl mesh interior. I remember standing up (this was long before airbags, crumple zones, mandatory seat belt laws, or the hyper-safety-conscious society of today) in the passenger seat, convertible top down, with Dad's foot deep in the throttle on a two-lane Missouri highway. I would squeal in delight as that big V-8 roared down the road, blowing my hair back, watching all my surroundings speed up in synchronicity with that green bullet. I loved his Corvette, and was forever hooked on those fiberglass wonders.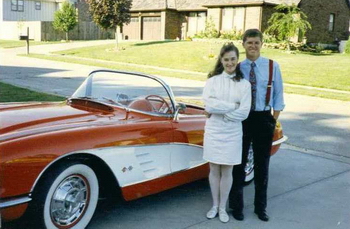 When I was 14, my father began looking for a Corvette close to his high school graduation year, 1961. He liked the styling of the previous model year, because is still had the sweeping, rounded rear end. Dad had been in an accident when he was in college that had done some permanent damage to his ankle, so automatic transmissions were easier to drive. He wanted a car that was original, not modified. He also loved the red with white cove paint scheme. This search pre-dated the internet by quite some time, so the best place to look was the local newspaper. The trouble was, I was so infatuated with cars, I would read all the classified ads every weekend, even before I could drive. If Dad wanted to look for a Corvette, he had to beat me to the classifieds. Eventually, he just started asking me what was for sale each weekend.

After about a year of checking, I found an ad for a car I thought my father would like. It was a 1960 Chevrolet Corvette, red and white, numbers matching 283/230hp engine, and a Powerglide automatic transmission. It had 29,000 original miles on it, and had never been wrecked or damaged. The gentleman who owned the car lived in a little town on the other side of the city. I remember riding to his house with my father, in his 1976 Corvette. The seller had a driveway full of other great cars, but nothing as cool to me as that 1960. Dad drove the car, negotiated his purchase price, wrote the seller a check, shook hands, and agreed to pick up the car in a couple of days.

I remember Dad drove the car for a few months, then parked it in an airplane hangar. We didn't have enough space for it at home, and my father was a private pilot, so he parked it with his plane. I didn't see it much for a few years.

I barely graduated high school. (Dad says I got out on a plea bargain.) It wasn't that I was incapable (I was in the gifted program-and in-school suspension), it was that I was bored. I wasn't much interested in most of my school work. I was far more interested in cars and girls. So when I did graduate, my father told me I should go find a new car. He gave me a budget and a few other parameters, and let me go. I chose a little red Mazda RX-7 GTU. Dad called to find out how much insurance would be. Little did he know, I had paid off a truckload of speeding tickets over the past three years. The insurance agent just laughed, then told him "around $3,000 a year". The old man was livid. While yelling at me, he said, "For that kind of money, you could be driving a Corvette!" Lightning had struck. I watched the look on his face change as the idea took hold. Then he asked, "How would like to have my old Corvette?" That is how a skinny, irresponsible, 18-year-old punk from Kansas came to own a vintage Corvette convertible three days before his high school graduation. Dad was thrilled because he saved the purchase price of an RX-7 GTU. I was thrilled because I got to look like King Stud of the Universe.

Read the story & see many more photos

Source: Classic Car Land (online) - Brett Hatfield
Submitted by Phil Ellison
3/10/17


Exploring the Curious Cult of the Corvette
It was an oppressively hot day in White Plains, and Guy Zani Jr. was driving one of his Corvettes with the roof down. ''I'm a little low now,'' he said. ''I've only got six Corvettes. Usually, I've got eight or ten. This one's a 1957. Some great-looking car, right?''

Streets and cars became a blur. Mr. Zani kept up his Corvette monologue. ''I have to warn you, I'm not normal,'' he said, not without pride. ''I'm really gone on this car. It's hard for me to explain it. After you've owned one for a while, you get what I call the fever. When I'm behind the wheel of a Corvette, I feel like a new me.''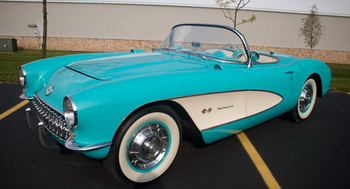 Mr. Zani got into Corvettes early. In 1958, when he was 15, a Corvette used to be parked across the street from his grandfather's garage. When nobody was looking, Mr. Zani would climb into it, shut his eyes and dream that he was piloting it at 300 miles an hour. The best night of the week was when the television series ''Route 66'' came on, because he could watch Martin Milner and George Maharis barrel down the highway in a shiny Corvette.

A chatty, weathered-looking man with a tidy beard, Mr. Zani today owns his grandfather's garage. Over the years, he has bought and restored dozens of Corvettes. He can talk Corvettes about seven or eight hours longer than most people are willing to listen. Whenever he learns of an old Corvette for sale, he will hop into one of his Corvettes and roar off for a look. One time, acting on a tip, he drove three hours and found a Thunderbird. He was depressed all night.

Mr. Zani belongs to a peculiar, possessed, mysterious cult. He is a certifiable Corvette nut.

The Chevrolet division of General Motors, which makes the Corvette, does not object to these eccentricities. Year after year, it sells about $1 billion worth of Corvettes.

There are hundreds of thousands of people like Guy Zani, who, defying normalcy, are obsessed by Corvettes. Some people love Jaguars and others think nothing equals a vintage Plymouth Duster, but in the hierarchy of car freaks none ranks above the Corvette nut. Vette Vues, a monthly magazine devoted to the Corvette, attempted to summarize the phenomenon: ''The Corvette carries a very strange, almost unexplainable mystique; one that can turn perfectly rational, sane, mature human beings into incoherent, delirious blabbering idiots!'' There are people like Les Bieri, a former nuclear engineer whose idea of retirement is to dismantle and reassemble the 17 Corvettes he keeps near his home in Poquoson, Va. ''I have dedicated my life to my Corvettes,'' he said. There is a man in Illinois who keeps two Corvettes in his playroom. The doors have been removed and he uses the cars as large armchairs.

Read the entire story

Source: N.R. Kleinfield - NY Times (first published 7/19/1987)
Submitted by Phil Ellison
3/3/17


NCM Restoration of '62 Coupe
In the three years since the February 12, 2014, sinkhole collapse of the Skydome floor at the National Corvette Museum in Bowling Green, Kentucky, two of the eight cars damaged have been restored. Another five had been deemed beyond repair, which left the 1962 Corvette donated to the museum in 2011 by David Donoho as the sole rescued car awaiting restoration. In honor of the third anniversary of the sinkhole opening, the museum has announced that the on-site restoration of the '62 Corvette has begun, and the year-long process will give visitors a chance to witness the car's rebirth firsthand.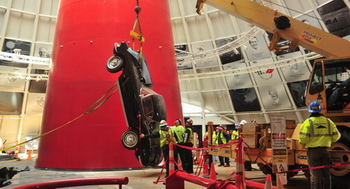 Of the Corvettes involved in disaster, only the 2008 ZR1 Blue Devil prototype and the 1992 millionth-built (a white convertible with a red leather interior) have been restored, both by General Motors at its Heritage Center. Restoring the 1992 convertible became infinitely more complicated when disassembly revealed the signatures of line workers originally involved in the car's construction. Wherever possible, GM tracked down the employees to sign replacement panels, while other signatures were recreated digitally.

The Corvettes deemed unrepairable were a 1984 PPG Indy Car World Series Pace Car; a 1993 ZR-1 Spyder; a 1993 40th Anniversary coupe; a 2001 Mallet Hammer Z06; and a 2009 convertible, the 1.5-millionth Corvette assembled. All have since been preserved in their "as recovered" state, and remain on display in the rebuilt Skydome.

Last March, the museum expanded its maintenance department, enlarging the space to allow for in-house preservation and restoration projects. At the time, it was announced that the museum would restore the sinkhole-damaged 1962 Corvette in-house, and on February 9, the car was moved from the Skydome display area to the maintenance garage to begin the process.

While much of the restorative work will be tackled by the museum's staff, including vehicle maintenance and preservation coordinator Daniel Decker, some tasks (such as straightening the car's frame, tweaked in the collapse) will be farmed out to specialist shops. Visitors to the museum will be able to watch any work taking place on-site, and the museum hopes this now-famous Corvette's restoration will prove to be a popular exhibit.

Repairs are expected to run $25,000 for the parts, materials and outside labor needed to return the Corvette to its as-donated condition. While General Motors won't be restoring this particular Corvette for the museum, it has agreed to pay the costs associated with the car's rebirth.

Read the entire story plus more photos

Source: Kurt Ernst - Hemmings daily
Submitted by Phil Ellison
2/24/17


All news postings can be viewed using the "News" link

NMCA, PO Box 91355, Albuquerque, NM 87199 :: info@nmcorvette.org