Welcome To The
New Mexico Corvette Association
Why?
Latest Updates To This Site
EVENTS updated- 3/22/15
NEWSLETTER / MINUTES added - 3/1/14
STORY added - 3/22/15
FOR SALE updated - 3/8/15
PHOTOS OR VIDEO added - 2/22/15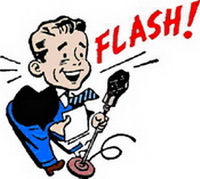 Best Pit Stop Tire Change Video Ever
Click here to watch an amazing, short video

Watch as C-7 hits 200 mph
Click here to watch video

Corvette collection starting from 1954 - all with original black paint
Click here to watch video


Each week see a new home page photo - see them all in Photos section

Vette News - Faster Shifting Corvette Gearbox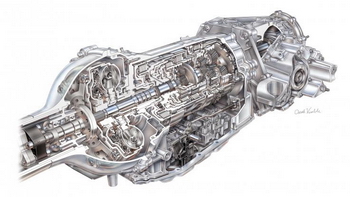 Chevrolet has officially revealed the new 8L90 eight-speed automatic transmission destined for duty in the 2015 Corvette. The 6.2-liter V8/eight-speed combo is good for a 0-60 time of 3.7 seconds, 29 mpg and faster shifts than many dual-clutch transmissions -- most notably the one found in the Porsche 911.

We tested the 2015 Corvette on General Motors' famous Milford Road Course test track and the streets surrounding. We're not going to say the new automatic is better than a manual transmission; it isn't. There's still no way it can match the involvement or control of rowing your own gears. But we can say with authority that a dual-clutch isn't the only way to go if you insist on letting the car shift itself.

Chevy went with the torque-converter automatic over a dual-clutch for a few reasons: The DCTs on the market wouldn't fit in the space reserved for the 2014's six-speed, and it also works better with the Corvette's Active Fuel Management system that helps get that 29-mpg EPA estimate.

The 8L90 weighs about 8 pounds less than the outgoing six-speed automatic thanks to extensive use of magnesium and aluminum. A taller top gear leads to an 8 percent decrease in engine rpm at 70 mph.

Out on the roller coaster that is the Milford Road Course, we threw the Corvette into track mode, tossed in our SD cards for the Performance Data Recorders and left the gear shift in D. It takes about two turns and a hard braking event to get the trans to realize you're on a racetrack, then it switches into what we'll call "redline mode." At that point, the transmission kicks into the lowest gear possible at the current speed. It'll drop down three when you're on the brakes hard, and hold at high rpms indefinitely if you keep the throttle steady.

We only caught the new transmission hunting once in about 12 laps on the difficult course, and that could have been our fault with sloppy pedal work -- feathering the gas when we should be flooring it, or the other way around. It is a little unsettling seeing the shift lights on the dash flashing, which means "shift," while and transmission just hangs in gear and the exhaust wails at full rpm.

Once your driving has settled down off the track, the eight-speed automatically adjusts back into "street mode."

After driving three high-powered cars with eight-speed, torque-converter automatics (Challenger SRT Hellcat, Jaguar F-Type R and now the Corvette), we can say the newest models are every bit as good as the dual-clutch setups. They can shift as fast, feel smoother and aren't rough on low-speed launches like many of the performance-oriented DCTs on the market, giving you all of the advantages and none of the disadvantages.

No automatic offers the connected driving experience of a true manual, but they get closer every year; Corvette buyers who want an automatic now have the option of one of the best units on the market today.

Source: Autoweek
Submitted by Phil Ellison
3/22/15

Vette News - Imposter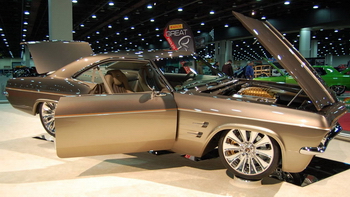 An 'Imposter' has been named the world's hottest hot rod, but there's no funny business going on.

Custom car builder Chip Foose took home the Ridler Award for best in show at the 2015 Detroit Autorama with a 1965 Chevrolet Impala that's not at all what it appears to be.

The two-door hardtop was created for Foose's longtime customer Don Voth and his wife Elma. Don's first car was a '65 Impala SS and the two used it on their honeymoon 46 years ago.

Foose originally planned to update an original with some modern Chevrolet Corvette parts, but decided to drop the Impala body onto the chassis of a 2008 Chevy Corvette instead, hence the 'Imposter' name.

This meant stretching the Corvette's wheelbase 9 inches, and shortening the Impala's body by over a foot -- not just at the ends, but in the middle of the roof and rear fenders.

An egg crate grille, round taillights, and front fender vents bring a little Corvette style to the outside, while the two-seat cabin wraps the donor car's modern tech in a new design that was clay modeled over it.

Interestingly, Foose didn't set out to build this car with winning the Ridler in mind. Typically, every part of the cars entered in that competition is custom made, while the 'Imposter' features all of the original Corvette chassis and drivetrain components, although they were refinished for style by Foose's team.

Source: Fox News Internet
Submitted by Phil Ellison
3/15/15

Vette News - Rock On - The Hwy 191 Adventure



This is a personal story submitted by Phil Ellison. Other NMCA members should feel free to submit their own "interesting" stories for publication on the club website.

The early months of 1980 saw my 1969 427 4 speed on jacks, as the engine was out and being rebuilt and slightly "modified'. Skip ahead to May 1982 when I had a road trip to take, and started looking at the map for some open road. 1982 - no Internet, paper maps, and leaded gasoline was next to impossible to locate. My trip was from Albuquerque to Seattle. To make it scenic I planned my trip through Yellowstone. I was traveling alone. After much homework, my plan was formed. Rock Springs, WY to Pinedale, WY - highway 191 - a nice, relatively straight good two lane road without many interruptions. I drove hard the first day, making it from Albuquerque to Rock Springs in about 11 hours. This was my first extended trip in my '69 (fresh engine, new shocks, all systems "go"). I'm slightly embarrassed to admit that by the time I got to Las Vegas, NM, my butt was aching. GM didn't spend any extra on the seats for the C-3!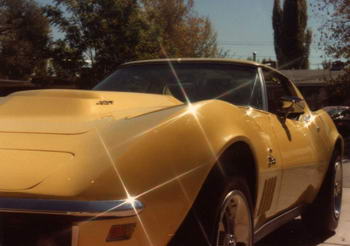 I awoke in Rock Springs, WY on Friday May 28th - a gorgeous day. Rock Springs to Pinedale was 99 miles - minus a couple miles on either end to "get out of town". I also had my newly purchased Escort radar detector acting as my watchdog (which picked up the new X band radar - I was untouchable)! It was just me and a 99 mile stretch of flat inviting pavement - the only two considerations I had were #1 - at 120 mph, I'd eat gas at 6 mpg - call it 17 gallons with a 20 gallon tank. And #2 - what exactly was the price to be paid if for some reason my co-pilot (Escort) failed me and I was face to face with the law? Hey - when you're 20 something - #2 didn't seem like such a big deal - so with a full tank, a clear sky and my mind focused on the next 40 minutes, I set out.

Rock Springs had several access points leaving town, so I burned the first 3 or 4 miles playing it cool. Finally I passed what I believed was the last civilization as I headed north on 191. Slowly the right foot got heavy on the pedal. I believe the speed limit was 45, but that was just a suggestion as far as I was concerned. 80 - 90 -100 - running strong and smooth. I am king of the world. I could see for what seemed like miles ahead - and far in the distance, but getting closer by the minute was a bunch of dust, like from a side road. Sure enough, a very large, very much unwanted dump truck (a big sucker) had pulled onto the highway, headed north. Ok, so I get to pass someone - this will make his day I thought. Now I'm about half a mile behind him, slowing a little just for safety sake. All of a sudden large round rocks are bouncing past me on the road - golf ball sized. The dump truck was loaded - no - overloaded with rock. He lost more rock than most people ever buy in a lifetime for landscaping. The brakes go on - I'm down to under 30 mph and I can't get any closer than about 500 feet. This poor old boy was working by the hour, and was in no hurry. Each time he shifted another barrage of rocks rained off his truck, bouncing all around me. One rock would take out my windshield, and maybe me with it. I was stuck. This truck lumbered along, finally reaching the blazing speed of 40 mph, and all along continuing to throw rock. No way on earth could I pass him without certain fiberglass repairs in my future. My options actually included turning around and going back to Rock Springs to sit for a few hours, or to hope he would turn off before too long. I did have a timetable, so sitting around for 2-3 hours wasn't really an option. By now there are 10 cars behind me, all knowing exactly why I (and they) couldn't pass and were staying far back. This killjoy drove almost all the way to Pinedale, completely killing my highlight of the entire trip. But - I didn't suffer any damage, I didn't get a ticket, and I managed 12 mpg. All along I'm thinking that if I'd departed a minute earlier - this story would be dramatically different. I can also report that I saw very few cars coming the other direction - and the long arm of the law was never seen once. My 40 minute dash with high octane pouring through 4 barrels of excitement became a 2+ hour slow crawl of sorrow. I even started thinking the truck driver was some sort of anti-Corvette twisted individual!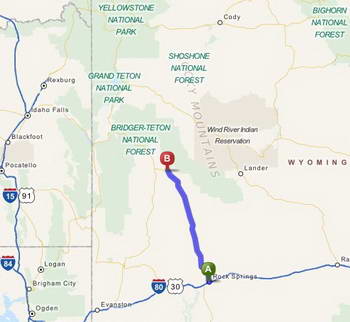 To add insult to injury, as I went over Yellowstone pass about 90 minutes after Pinedale, it started to snow - and snow hard. May 28th and I'm in a semi white-out, still climbing, spinning my wheels, white-knuckled and wondering how my day had gone so badly. I did make it over the pass with a new appreciation of how poorly my C-3 handled in the snow.

Ahhhhh - the "interesting" priorities of a mere youngster, who happened to command a 427 cubic inch rocket ship. (PS: I plan to return to Hwy 191 someday to complete the zippy trip I initially envisioned - after all - I still have the Vette, and I still have that Escort!)

Source: Phil Ellison
Submitted by Phil Ellison
3/8/15

Vette News - Stolen Corvette Found After 42 Years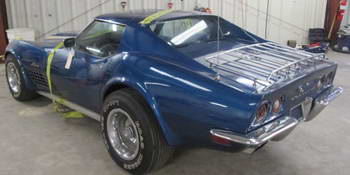 The best news can turn bad so quickly.

Terry Dietrich of Duluth, Ga., recently got a call from the cops to tell her that her missing Chevrolet Corvette had been found about 178 miles away in Forest City, N.C. That's the blue T-top Stingray that was stolen 42 years ago.

Turns out, the 1972 coupe her father helped her buy had been in Forest City since at least 1975, according to local used car dealer Gary Greene, who had his eyes on it all that time and bought it a couple of weeks ago when its owner passed away. Mismatched vehicle identification numbers tipped him off that something might be wrong. Sure enough, police tracked down an old stolen car report, and called Dietrich, who still lives at the home she did way back when.

"If I could get that car back, it could roll back up the same driveway, pull back into the same carport it left 11-14-72. How awesome is that?" Unfortunately, it might not be so easy.

Dietrich doesn't have the title for the car anymore, and neither does her insurance company, Allstate, which technically became the owner when it paid out the claim. The issue is further complicated by the fact that the Georgia DMV also can't find a copy or record of the title.

The North Carolina authorities won't release the car without one, or at least a court order. An Allstate spokeswoman tells Fox News it has every intention of reuniting Dietrich with the Corvette, but doesn't know exactly if or when they'll able to pull it off. In the meantime, the car is sitting in an Asheville, N.C., impound lot and could end up going to auction.

As for what Dietrich would have to pay to buy the car back from Allstate, that's to be decided between her and the company. Insurance industry experts tell Fox News that when companies offer to sell recovered goods back to their original owners, they often try to recover some of the payout, but the current value is affected by a variety of factors. In the case of something that's potentially appreciated over time, it's definitely handled on a case by case basis.

1972 Corvettes cost roughly $5,000 when they were new, but can be worth many times that today. Greene says this one is in good condition, but has had a few modifications, including a new hood and interior upholstery that could affect its value one way or another. Allstate could just decide to take the hit and hand it over to Dietrich out of goodwill.

Dietrich says if she can't get it back, she doesn't even want to see it. No use having to get over it again.

Hopefully for her, she'll get another call with good news, soon.

Source: Fox News (Internet)
Submitted by Phil Ellison
3/1/15

Vette News - Unbelievable - 1967 Corvette - 3,000 miles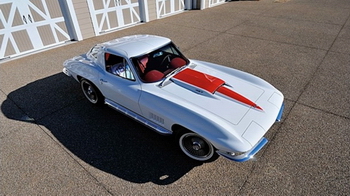 Finding low-mileage classic cars tucked away in garages isn't exactly big news these days, but this one is a little different… In April, the Houston Mecum Auction will feature the most unmolested Corvette Stingray in all of consumer Corvette history and maybe the most valuable. Here's the car's crazy story:

When a 30 yr old Colorado Springs man, Don McNamara, celebrated his discharge from the Marines with a trip to Vegas in the fall of 1966, he got a little lucky - winning $5,000. Obviously, he put it all towards the purchase of a 1967 big-block Corvette Stingray.

The car came just as he wanted… White paint, red stinger stripe, 4-speed, bolt-on aluminum wheels, side-pipes, and more. As Stingrays go, it was pretty much stacked. When it was delivered on May 20 by Ray Motor Co. in Lamar, CO, Don hit the town in his new baby. But then after just a couple months the car disappeared. Don repeatedly told others he no longer owned the car, but people were right not to be convinced. When Don passed away in 2011 his neighbors, to whom he had willed his ENTIRE estate, found quite a surprise in the garage: the white '67 Corvette Stingray Don purchased new in 1966. It had less than 3,000 miles.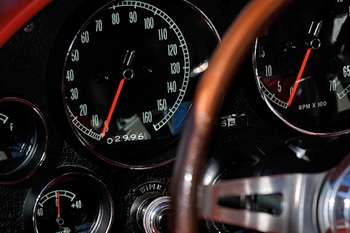 Apparently Don did drive the car during the 70s and 80s, but only under the cover of darkness. When the odometer approached 3,000 he parked it for good, creating a strange shrine to America in and around it with his belongings.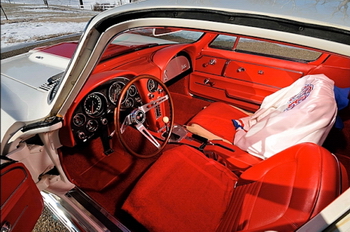 Here are some of the most insane details about this car from Mecum:
Unrestored with 2,996 original miles
One owner until July 2011
Documented with practically every original document including the window sticker, Protect-O-Plate, purchase receipt, title, registration, photos and owner's manual
The original owner, Don McNamara is the only person to have driven the car
3 people are known to have sat in the car
No one has sat in the passenger seat
Last driven regularly in October 1967 and not driven since the mid 1980s
Mr. McNamara's belongings remain in the car

Source: Austin Coop - Roadtrippers
Submitted by Phil Ellison
2/22/15

More stories can be viewed using the "News & Stories" link

NMCA, PO Box 91355, Albuquerque, NM 87199 :: info@nmcorvette.org