Welcome To The
New Mexico Corvette Association
Interesting Corvette Facts (Story Below)
Latest Updates To This Site
EVENTS updated- 5/12/17
NEWSLETTER / MINUTES added - 4/28/17
STORY added - 5/19/17
FOR SALE updated - 5/19/17
PHOTOS OR VIDEO added - 7/18/16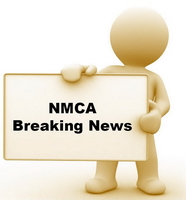 No breaking news at the moment!

11 Things You May Not Know About Corvette
Part I of a II part series

1. The first Corvettes were too advanced for the factory. Because the Corvette was the first fiberglass body that GM mass produced, the factory was ill-equipped to handle the new tech, and they didn't know how to ground the car. The first few cars they made wouldn't start. Instead of driving them off the assembly line, they had to push.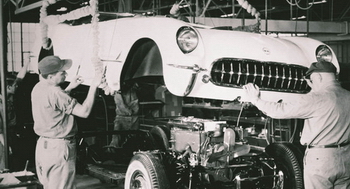 2. The Corvette story involves Nazis, prostitutes and Christmas. Zora Arkus Duntov, a.k.a. "Father of the Corvette," was a Russian Jew born on Christmas in Belgium. He grew up in Germany, and was living in Paris when his wife had to outrun Nazis to Bordeaux in an MG while he hid in a bordello.

3. The first Corvette logo was illegal. Originally the Corvette was supposed to have a checkered flag and an American flag… until they realized that you can't trademark the American flag without changing it into an interpretation.

4. Corvette wasn't the original name. The car's code name was Opel while they were developing it.

5. It's not even the original Corvette. Chevrolet's head photographer actually named it, after a class of warships.

Read the full story

Source: Aaron Miller, Thrillist Cars
Submitted by Phil Ellison
5/19/17


Conversion Machine
Four hundred and five horsepower for roughly $20K - the C5 Z06 is a car that turns buyers into true believers.

In 2013, Barry MacKinnon was not a Corvette enthusiast. Sure, he admired the model, but only from a distance. He was a car nut while growing up in his native New Zealand and had owned some performance machinery over the years, but felt that his sports-car days were behind him. The last one he had owned was a 280ZX, back in the '80s when Nissans were still called Datsuns. The San Francisco Bay Area resident was resigned to the fate of driving boring, transportation devices; his ride at the time was a Prius. Buying any Corvette, much less the 405-horsepower beast on these pages, was the last thing on MacKinnon's mind.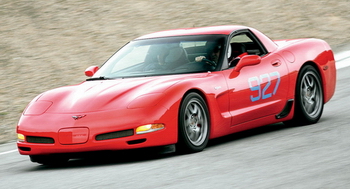 A guy named George Robinson changed all that, steering the mild-mannered physicist on a path that not only led to C5 Z06 ownership but driving said car flat-out on racetracks. You see, Robinson is somewhat of a Corvette evangelist, serving as president of the Northern California Corvette Association, the oldest Corvette club in the nation. Wanting to convert new members to the fold, he often barrages them with generosity.

In MacKinnon's case, it was the offer of driving Robinson's C6 convertible in an Oakland autocross, the Chariots of the Coliseum no less. The two had gotten to know each other as members of an Autodesk user group. Though their political views were divergent, the pair found plenty of common ground, especially when it came to talking about cars. Still, Robinson's kind offer came as a surprise to MacKinnon; beyond the fact that the two hardly knew each other, MacKinnon had never autocrossed before, nor had he driven a Corvette. Though MacKinnon demurred, Robinson insisted on the baptism-and it worked.

"The car was like a rocket," says MacKinnon of his experience behind the C6's wheel. "The way it handled was unbelievable to me. It didn't even lean-cornered flat as a tack." He was also impressed with the car's balance. The hopped-up Holdens he had owned back in New Zealand were prone to oversteer when pushed, but this Corvette remained dead neutral no matter how hard he flogged it. After a few short blasts around the cones, MacKinnon had been converted.

Read the full story

Source: Eric Gustafson, Corvette Magazine
Submitted by Phil Ellison
5/12/17


100 Octane Gas At The Pump Comeback?
As automakers ramped up to the horsepower wars of the 1960s, oil companies stepped up to the plate to produce fuel that could keep high-compression engines from blowing up pistons. Eventually, the fun stopped and the Clean Air Act, outlandish insurance premiums and an oil crisis killed the demand for 100-plus octane fuel at your local pumps, which made performance enthusiasts and hobby racers either hunt for 100-plus octane race gas or detune their cars to run on 91 octane. Automakers and enthusiasts have done a great job at making power with the lower octane fuels in recent years, but those gains might plateau soon without better fuel.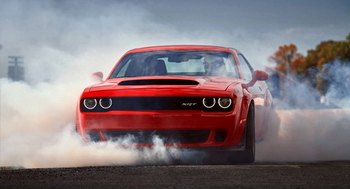 Good news -- the Detroit Free Press reports automakers are quietly working with oil companies to bring back super premium fuels, which will help automakers introduce engines with higher boost pressures and compression ratios. Higher compression ratios and more boost will make engines more efficient, but both are limited by how the fuel resists detonation. This is good news for the 3,300 folks who get to own Dodge's Challenger SRT Demon, which makes 840 hp on 100-plus octane gas and only 808 hp on 91 octane.

Editor note: While this article focuses on Dodge - I believe all sports car enthusiast will appreciate and benefit from this potential development. But at what cost per gallon? I doubt this will come cheap.

Source: Wesley Wren, AutoWeek
Submitted by Phil Ellison
5/5/17


1964 Corvette Vanishes One Part At A Time
"The first feeling I had was it was a convertible, but the chrome on the pillar appeared to be a LeMans or a GTO because the door was off."Staring between boards in the side of a garage, Kenny Orr felt a little like an intruder. He had driven 60 miles north from his home in Canal Winchester, Ohio, on a longshot.

Most people would say, "Ah, forget it. That's a bunch of bull." Orr loves the thrill of the hunt for old cars and couldn't resist a tip on a midyear Corvette. His son Jason had overheard a conversation in the break room about a Corvette and a 1957 Nomad in a building near a school in the small town of Cardington, Ohio, population 2,050.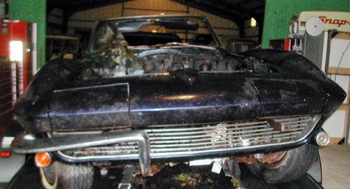 "I drove up and started looking for a building that could house a couple of cars. I drove all over and there was nothing around there that would hold two cars."

Orr called his son to ask for more hints. While cruising neighborhoods in Cardington, Orr told Jason all he could see was a one-car building near a couple of real huge pine trees.

Jason said, "That's it. See if you can look in the building."

Apparently, two big pine trees were close to "X marks the spot." Orr parked in what looked like the driveway to a house and got out, a little apprehensive, to investigate the garage. He peeked between boards to see the chrome and pillar of a convertible. Not satisfied with the view, he walked to the back of the old garage to discover a much larger hole.

Orr could see clearly the vandalized remains of a midyear Corvette convertible. The driver's door was gone. The passenger side and door was up against a wall. The left rear quarter-panel was busted. The old Vette was in bad condition, but fit Orr's vision of a restomod project he had in mind.

"I go next door and these people were just renting their house. They had no clue who the owner was. Then, I looked through the trees, there were no leaves on them, and I could make out what appeared to be a car back there in the woods behind the garage."

Orr walked into the woods to discover the remains of a 1957 Nomad sports wagon. The car was sitting on what appeared to be the concrete pad of a garage.

"The 1957 was toast. I mean it was like total burnout, total rust, roof caved in from a fallen tree. I thought somebody stripped this thing down, which probably wasn't a bad idea before it caught on fire."

Read the entire article and see some great photos

Source: Jerry Heasley, SuperChevy.com
Submitted by Phil Ellison
4/28/17


Corvette Escapades Part II
It was late on a 1960 summer night when I saw my buddy Howard's '57 Chevy in the lot at the local White Castle Drive-in restaurant. Rumors had spread among our crowd that he had hopped-up his engine. All that was obvious were two-four's, anything else had to be hidden in the engine. "Anything" could include an Isky 5-cycle cam and maybe over-sized pistons, just for starters. The usual bravado about whose car is fastest led to the inevitable challenge of: "do you want to talk or race?"

My '60 Corvette, to which I had added three Rochester 2-barrel carburetors on straight linkage plus additional enhancements, put out about 300 raw horsepower. The only external change to the car was the addition of French Marchal head lamps to replace the outboard standard sealed beam lights. Though it wasn't set up for drag racing, it turned a respectable 99.3 MPH in the quarter-mile.

Rules agreed to, we pulled onto Reading Road, a 4-lane residential street in the northern part of Cincinnati. Just past Elizabeth Place we leveled off at twenty-five miles per hour. I rolled my window down to hear the count, as Howard's passenger shouted above the din, "One...two...three!"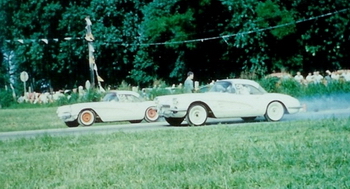 At the sound of the magic number, I stabbed the throttle and hit the high beam switch. The sudden acceleration slammed me to the seatback as I fixed one eye on the tach and put my full attention into hearing the engine. I got the jump on him, the three-two's and a lower first gear ratio, having the advantage on the low end. The recent tune-up had not been in vain. In second gear of my close-ratio 4-speed transmission (he had a 3-speed) my lead increased. Once into third and as we neared the top of the hill, just before Langdon Road, he began to close the distance - his two-four's and whatever else he had, now had the edge.

Cresting the hill, almost side by side and, at a little over a hundred, the powerful Marchal headlamps illuminated the reflective decals on the side of a city police car waiting for the light at Langdon Road. I could see by the condition of the walk-wait signal that the light was about to change to red for our north bound cars. It was too late now. At about seventy we went through the red light together, Howard in his 270+ Chevy and me in my hopped-up Vette. The cop didn't waste anytime in turning on his "bubble gum machine" and pulling around the line of cars waiting with him. Howard stopped in front of the high school, but I kept right on going, while flipping the switches I had installed to turn my tail and brake lights out.

Source: Chuck Klein, Chuck Klein Author.com
Submitted by Phil Ellison
4/21/17


Corvette Escapades Part I
At 50 +/- MPH, it had to appear that we were hurtling straight for the telephone pole...then at what must have seemed like the absolute last possible moment - as the tires chirped on the hard dirt in a full panic stop - she was thrown forward, her knuckles white against the black "chicken bar." Suddenly realizing we weren't going to hit the pole, the pony-tailed blond surely believed we were going to roll. Now, she was slammed against the passenger door as the open roadster made a very hard left while the rear end swung out and the engine roared. Surviving all that, as we headed down the straight-a-way, she was now pinned to the seatback - a prisoner of acceleration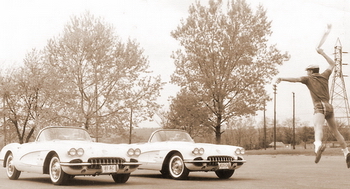 After three times around, I pulled into the infield and grinned at my passenger, a 16 year old honey. She was wide-eyed and as white as my Ermine White Vette. "I, I, I...was never so scared. I thought we were going to hit that pole...and roll over...lets do it again," she stammered. Stop watches in hand, my buddy and the 5/8 mile dirt track owner were striding over excitedly proclaiming that I had broken the track record.

This was spring, 1960, and I was just getting the feel of my combination 18th birthday gift and high school graduation present, a new 230 HP, 3-speed (close-ratio) Corvette (with options of AM Push-Button radio, White-wall tires and heater, the cost was $3433.01). The track, laid out in some farmer's field, was near Middletown, about an hour north of Cincinnati. It was the only place around that allowed anyone with a driver's license to race. Passengers were also allowed - this, in the days long before the proliferation of lawyers got into everything. I loved road racing, but being only 18, SCCA was out of the question for three more years.

Post-graduation, and against my parent's wishes, I took a job instead of going to college. I needed money to build my Vette - I mean what's more important, playing Joe College with a stocker or having a fast machine?

During the rest of the summer, as funds permitted, I added: Marchal headlamps, quick steering adapter, HD shocks, metallic brake linings, 4-speed transmission, HD clutch, three two-barrel carburetors on an Offenhauser manifold, Duntov 097 cam with solid lifters, dual points and a Mallory 50K volt coil. The last item was one of the most significant improvements - in relation to other hi-performance 283 Chevys. When I first installed the coil, the engine developed a miss. I figured the coil was bad, but before taking it back, for some reason, I thought to turn the lights out in the garage and watch the engine run with the hood up. There were sparks all over the place.

Though I had replaced the factory graphite spark plug wires with stranded type wires, voltage was leaking everywhere. I took some neoprene fuel, slit pieces to match each plug wire and then sealed the wires in the neoprene with electrician's tape. Now, there was no leakage and performance was significantly enhanced.

Source: Chuck Klein, Chuck Klein Author.com
Submitted by Phil Ellison
4/14/17


Vietnam Vet Has Corvette Carjacked
A red Corvette stolen from an elderly veteran, who was beaten unconscious during the carjacking, has been found, and police have made an arrest, Tuesday evening. Police said 72-year-old Omar Sixto's prized Corvette, a 2000 Corvette convertible with a tan top, was found in Miami Gardens, near Northwest 203rd Terrace and 43rd Avenue, Tuesday.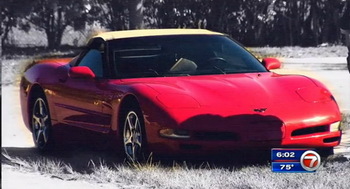 The Vietnam War veteran became the victim of the violent carjacking, Sunday afternoon, near his friend's house, located at Northwest Sixth Street and 28th Avenue in Miami. He has since been recovering at his brother's house and said Tuesday that he's lucky a 7News viewer spotted his car and called police.

"This is my car, and it looks good," he said. "I thought that I would never see it again."

7News was at the scene as police towed Sixto's Corvette away and also put a subject in handcuffs, Tuesday afternoon, who has since been identified as 23-year-old Arturo Breton. Sixto said he was fixing the windshield wiper on his Corvette when he noticed a clean-cut man in his early 20s walking back and forth across the street.

"He hit me on the back of the head with something. I don't even know if it was a pistol," he said. "I fell down, and I got up. I don't remember how I got down, I don't remember how I got up, but I know that I was bleeding," he said.

Read the story

Source: Walter Morris, Miami News 7 TV
Submitted by Phil Ellison
4/7/17


All news postings can be viewed using the "News" link

NMCA, PO Box 91355, Albuquerque, NM 87199 :: info@nmcorvette.org