Welcome To The
New Mexico Corvette Association
A Real Silver Bullet
Latest Updates To This Site
EVENTS updated- 11/20/16
NEWSLETTER / MINUTES added - 11/27/16
STORY added - 11/27/16
FOR SALE updated - 11/20/16
PHOTOS OR VIDEO added - 7/18/16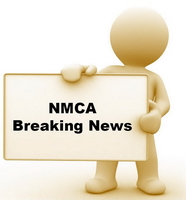 NO NMCA Council Meeting in December

2017 NMCA Officers Announced - see Club Information section

New NCCC Event Scheduled for mid January, Sierra Vista, AZ - see Events


Each week see a new home page photo - see them all in Photos section

Wrecked Corvette
A recent Jalopnik post let readers gripe about warranty repairs. In my "real" job, I am an attorney and specialize in "Lemon Law," having filed thousands of lawsuits on behalf of aggrieved buyers of unfixable cars. It gets to the point where phone calls that start with, "My transmission fell out of my car on the day I bought my car," don't get my attention the way they used to. I've been doing this for 23 years.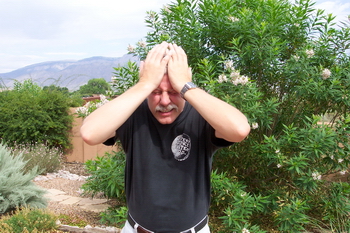 But, when people ask me about the most egregious story I've come across in my time suing manufacturers and dealers, I usually tell the Corvette Story.

My client's husband gave her a Corvette for her birthday. It was her dream car and I even saw the pics she took of it the morning she got it, wrapped in a big red bow.

With under 2,000 miles on the clock, the rearview mirror began to rattle ever so slightly. For those of you who study how drama is created, note that the problem with her car is as slight as it could possibly be. Wonder where this is going?

She brought the car to the dealer and asked them to secure, tighten, or whatever you do to make the mirror stop vibrating. They told her to leave it and that they would call her when it was done later that afternoon.

When they didn't call as they had promised, she called them. A service advisor handed her off to the service manager (huh?) and she then was told that "We fixed the mirror but a customer backed into your car on the lot and put a little ding in it. We will fix it for you for free but it will take a few days."

Something in his voice led her to realize that the man was lying to her. Or, as I tell clients when it comes to bad people, "If their mouth is moving and sound is coming out of it, they are lying to you." Either way, she hopped in her husband's car and raced to the dealership. She headed to the body shop.

There was her car with three flat tires, a smashed front end and scrape marks raked from front to back, evidence of whatever it was that tore the convertible top back.

Read the entire article

Source: Steve Lehto, freelance writer
Submitted by Phil Ellison
11/27/16


1970 Corvette Road Test
Another Corvette road test? One more plunge into the verbal thicket in an attempt to describe the exact sensation in the region of the fourth pelvic vertebrae when the throttle is punched on a 427-cu. in., 435-horsepower Stingray? More open combat with similes and metaphors for the sake of establishing the fact that the Corvette is a very rapid and exciting automobile-already an article of faith among the entire population, including pre-pubescent schoolgirls? Let's dispense with all that.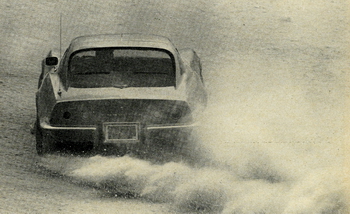 If we are going to discuss the Corvette at all, let's accept a dozen premises in its behalf and hopefully avoid traveling the same old paragraphs to the same old conclusions:

(1) The Corvette is surely the most popular high-performance sports car ever built, with something in the neighborhood of 250,000 examples having been sold since it was introduced in September, 1963.

(2) It is available with a variety of powertrain options, from the popular 350 cu. in., 300-hp "small engine" versions (which account for over 60% of sales) to the blockbuster 427 cu. in. units with outputs ranging from 390 to 435 horsepower, depending on which of the five optional setups is chosen.

(3) The small-engine Corvettes are marginally faster and extraordinarily civilized.

(4) The large-engine Corvettes are extraordinarily fast and marginally civilized.

Read the entire article

Source: Car and Driver
Submitted by Phil Ellison
11/20/16


Corvette & Sports Car Burnouts
No real article this week - instead - a collection of Corvette's plus some other fine sports cars conducting burnouts - or as I call them, a quick trip to the tire store! There are several videos tied together - start with the link below and you'll get the whole package.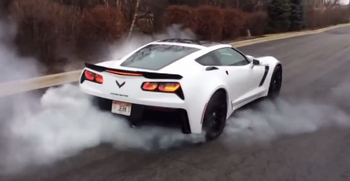 Source: YouTube
Submitted by Phil Ellison
11/13/16


Corvette Birthday Celebration
Residents of the Homestead Assisted Living of Hastings invited a special guest to its own birthday party Thursday: The Corvette.

The first-ever Chevrolet Corvette model - called C1 - entered production on June 30, 1953, in Flint, Michigan.

Homestead activity director Ashley Schroeder said that although the center had held car shows in the past, they had not had a Corvette show up until now. Her father, the owner of a 2004 magnetic red Corvette coupe, had given her people to contact for Thursday's show.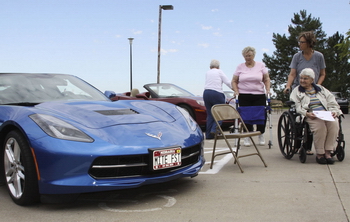 We decided to put together a little car show to kind of have some fun and let the residents get interested in Corvettes," she said. "This is something that everybody likes at this time of year. It's kind of a patriotic thing, car shows."

A variety of models were shown off at the center for residents to view, with seven models ranging from 1958 to 2016 spread out across the parking lot. Dale Schultz of Hastings owns the 2016 model, which has been nicknamed "the Batmobile" because of its the shark gray color. "I showed it to my friend, and he says, 'Oh, this looks like the Batmobile,' " he said. "So, that's how (the name) came about."

Schultz purchased the car shortly after retiring in February 2015. He said he always wanted to buy a sports car after he retired. "So I looked at a number of sports cars, including the Camaro and the Mustang and the BMW and all those, and I decided that when they came out with a new design, this is the one I wanted," Schultz said. Schultz said he liked this particular car because of its parking assist curb cameras, seven-speed transmission and quieter engine. "It looks more luxurious than some of the older models," he said. "I like the streamline design, and I guess I just like the way it drives."

Read the entire article

Source: Hastings Tribune
Submitted by Phil Ellison
11/6/16


Restoration Nightmare
Imagine wrapping up the final test drive after the lengthy restoration of your classic Corvette, and having your prized possession wind up in this condition. Talk about a bummer, right? After spending years and over $105,000 restoring his classic 1961 fuelie Corvette to Bloomington Gold standards, it was hit on its first test drive. .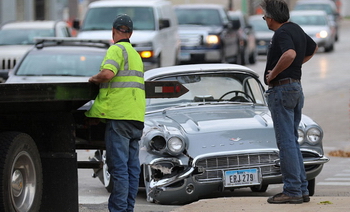 Yup, my guess is horrible, exactly how the 'Vette's owner, Lee Snell, is feeling after a Chevy Impala driven by a 16 year old boy who just got his license in the morning and swerved into the Corvette during the test drive, according to the Globe Gazette report. The 'Vette was being driven by Ray Shimak of Ray's Collision, who was just about to ship the car to Snell where he lives in Florida.

Apparently, Snell has been restoring the Corvette little by little since he purchased it in the '70s, after spending years tracking down parts for the car. Shimak actually took over the restoration of the Corvette in 2006.

Both the Corvette's rear and front end were damaged in the accident. But on a brighter note, Shimak said he'll have Snell's Corvette ready for another "final" test drive by January 1. br>
Read the entire article

Source: Hastings Tribune
Submitted by Phil Ellison
10/30/16


New Engine & Buyers Tour Combo At NCM
If you are thinking about participating in the Corvette Z06 Engine Build program and Buyers' Tour, the programs can now be a one-visit experience. "The benefit of the new Engine Build Experience is that your build will be compressed so that you can complete both programs during one visit to Bowling Green instead of having days or even weeks between the two," said Shane Webb, Delivery Department Manager at the National Corvette Museum.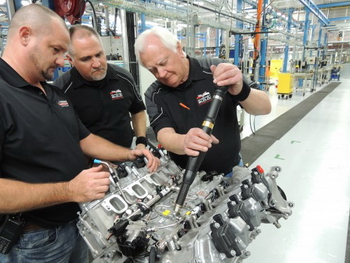 The new experience and tour is available to anyone ordering a new Z06, regardless of trim level, and is an all-encompassing event over two or three consecutive days. Participants will build their engine on day one, then on day two they can participate in a tour of the National Corvette Museum, and day three is spent back at the GM Corvette Assembly Plant watching their Corvette being built. In some cases the experience is compressed into just two days.

The Engine Build Experience is the combination of two options for a total price tag of $7,500 (RPO PBC - $5,000 and RPO PD5 - $2,500) and includes the engine build, buyer's tour, a photo album of your Corvette's assembly and dinner with a senior manager from Bowling Green Assembly and a NCM representative. The option is available on sold orders only. Contact your favorite Chevrolet dealer to add this option on to your Corvette Z06 order.

Read the article

Source: NCM
Submitted by Phil Ellison
10/23/16


2017 Corvette Grand Sport Test Drive
Chevy knows its customers. When they asked for an inexpensive sports car that could take on the best in Europe, it delivered with the Corvette Stingray. When they wanted the big Z06 engine, with the automatic transmission AND the convertible top, it acquiesced. And when customers wanted a middle model, something that sat firmly between the Stingray and the Z06, it brought us the Grand Sport. The name goes back a bit, though: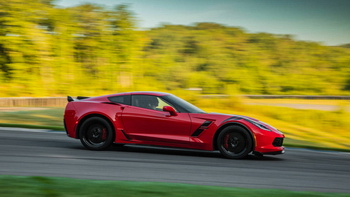 The Grand Sport idea came to be in 1960 when Corvette Godfather Zora Arkus-Duntov and legendary driver Briggs Cunningham entered three "mostly stock" Corvettes in the 24 Hours of Le Mans. It won its class and placed eighth overall. A few years later, Arkus-Duntov and Chevy planned to create 125 Grand Sport Corvettes for homologation -- that is, the necessary production number which allowed it to race -- but the plan was cut short when General Motors killed its factory racing support. Still, a few Grand Sports slipped out to customers.

The legend grew, and in 1984 Chevy introduced the Z51 package, a hi-po set of handling options that was the precursor to the true Grand Sport. In 1996, Chevy took the final step. It built 1,000 Corvettes labeled Grand Sport, all with an admiral blue exterior, an arctic white stripe and red hash marks on the left-front fender.

The legend grew, and in 1984 Chevy introduced the Z51 package, a hi-po set of handling options that was the precursor to the true Grand Sport. In 1996, Chevy took the final step. It built 1,000 Corvettes labeled Grand Sport, all with an admiral blue exterior, an arctic white stripe and red hash marks on the left-front fender.

Read the article

Source: AutoWeek
Submitted by Phil Ellison
10/9/16


$700 Jalopy on Craigslist = Million-Dollar Corvette
Anybody can go poking around Craigslist and find a junker car for $700. But nobody at all snapped up a jalopy listed five years ago and described thusly: "SERIAL # X53L on documented 1953 pre-production Corvette Frame. We believe this to be a 1953 Pontiac prototype that was to assume the name Longoria? Info received todate indicates that ZAGATO designed and PINNAFARINA constructed the body for GM in late 52." As Fox News reports via Hagerty, that listing turned out to be a storied 1960 Corvette known as the Cunningham Corvette No. 1-one of three turned into racecars by Briggs Cunningham, who put the cars through their paces at the 24 Hours of Le Mans in 1960. All three eventually were converted back to be street-legal, and were sold. No. 1 was the final one to resurface, now in "gaudy purple paint, poorly applied."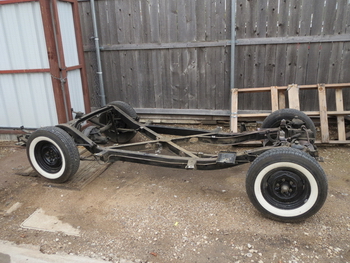 We'll likely never know where No. 1 spent its missing half-century. It may have been drag-raced, and its engine is missing. It's currently sitting in Indiana, the property of car collector Gino Burelli after a lengthy legal battle, and will head to New York state for a restoration that's estimated to take up to a year and cost upward of half a million dollars. Sound steep? Burelli is "shopping it," says a vintage car lawyer, who estimates that he should get well over the $700 the Corvette once failed to command-between $3 million and $7 million. (This stolen hot rod also turned out to be worth quite a lot of money.)

Read the article

Source: Poly Davis Poig
Submitted by Phil Ellison
10/2/16


More stories can be viewed using the "News & Stories" link

NMCA, PO Box 91355, Albuquerque, NM 87199 :: info@nmcorvette.org