Welcome To The
New Mexico Corvette Association
Who Wants To Be Here, Instead Of Anywhere Else?
Latest Updates To This Site
EVENTS updated- 3/1/15
NEWSLETTER / MINUTES added - 3/1/14
STORY added - 3/1/15
FOR SALE updated - 1/19/15
PHOTOS OR VIDEO added - 2/22/15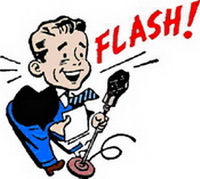 Best Pit Stop Tire Change Video Ever
Click here to watch an amazing, short video

Watch as C-7 hits 200 mph
Click here to watch video

Corvette collection starting from 1954 - all with original black paint
Click here to watch video


Each week see a new home page photo - see them all in Photos section

Vette News - Stolen Corvette Found After 42 Years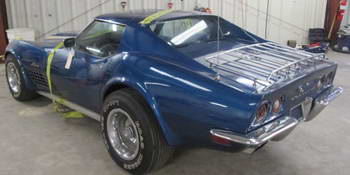 The best news can turn bad so quickly.

Terry Dietrich of Duluth, Ga., recently got a call from the cops to tell her that her missing Chevrolet Corvette had been found about 178 miles away in Forest City, N.C. That's the blue T-top Stingray that was stolen 42 years ago.

Turns out, the 1972 coupe her father helped her buy had been in Forest City since at least 1975, according to local used car dealer Gary Greene, who had his eyes on it all that time and bought it a couple of weeks ago when its owner passed away. Mismatched vehicle identification numbers tipped him off that something might be wrong. Sure enough, police tracked down an old stolen car report, and called Dietrich, who still lives at the home she did way back when.

"If I could get that car back, it could roll back up the same driveway, pull back into the same carport it left 11-14-72. How awesome is that?" Unfortunately, it might not be so easy.

Dietrich doesn't have the title for the car anymore, and neither does her insurance company, Allstate, which technically became the owner when it paid out the claim. The issue is further complicated by the fact that the Georgia DMV also can't find a copy or record of the title.

The North Carolina authorities won't release the car without one, or at least a court order. An Allstate spokeswoman tells Fox News it has every intention of reuniting Dietrich with the Corvette, but doesn't know exactly if or when they'll able to pull it off. In the meantime, the car is sitting in an Asheville, N.C., impound lot and could end up going to auction.

As for what Dietrich would have to pay to buy the car back from Allstate, that's to be decided between her and the company. Insurance industry experts tell Fox News that when companies offer to sell recovered goods back to their original owners, they often try to recover some of the payout, but the current value is affected by a variety of factors. In the case of something that's potentially appreciated over time, it's definitely handled on a case by case basis.

1972 Corvettes cost roughly $5,000 when they were new, but can be worth many times that today. Greene says this one is in good condition, but has had a few modifications, including a new hood and interior upholstery that could affect its value one way or another. Allstate could just decide to take the hit and hand it over to Dietrich out of goodwill.

Dietrich says if she can't get it back, she doesn't even want to see it. No use having to get over it again.

Hopefully for her, she'll get another call with good news, soon.

Source: Fox News (Internet)
Submitted by Phil Ellison
3/1/15

Vette News - Unbelievable - 1967 Corvette - 3,000 miles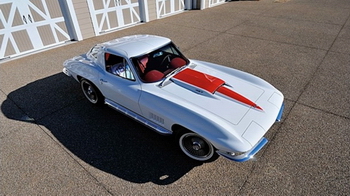 Finding low-mileage classic cars tucked away in garages isn't exactly big news these days, but this one is a little different… In April, the Houston Mecum Auction will feature the most unmolested Corvette Stingray in all of consumer Corvette history and maybe the most valuable. Here's the car's crazy story:

When a 30 yr old Colorado Springs man, Don McNamara, celebrated his discharge from the Marines with a trip to Vegas in the fall of 1966, he got a little lucky - winning $5,000. Obviously, he put it all towards the purchase of a 1967 big-block Corvette Stingray.

The car came just as he wanted… White paint, red stinger stripe, 4-speed, bolt-on aluminum wheels, side-pipes, and more. As Stingrays go, it was pretty much stacked. When it was delivered on May 20 by Ray Motor Co. in Lamar, CO, Don hit the town in his new baby. But then after just a couple months the car disappeared. Don repeatedly told others he no longer owned the car, but people were right not to be convinced. When Don passed away in 2011 his neighbors, to whom he had willed his ENTIRE estate, found quite a surprise in the garage: the white '67 Corvette Stingray Don purchased new in 1966. It had less than 3,000 miles.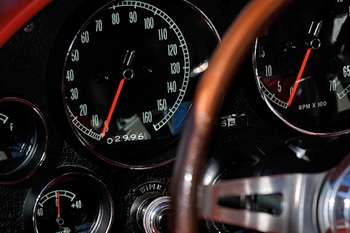 Apparently Don did drive the car during the 70s and 80s, but only under the cover of darkness. When the odometer approached 3,000 he parked it for good, creating a strange shrine to America in and around it with his belongings.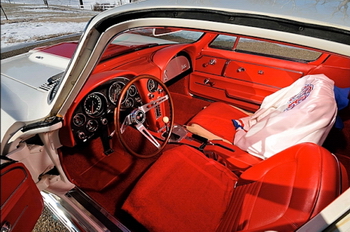 Here are some of the most insane details about this car from Mecum:
Unrestored with 2,996 original miles
One owner until July 2011
Documented with practically every original document including the window sticker, Protect-O-Plate, purchase receipt, title, registration, photos and owner's manual
The original owner, Don McNamara is the only person to have driven the car
3 people are known to have sat in the car
No one has sat in the passenger seat
Last driven regularly in October 1967 and not driven since the mid 1980s
Mr. McNamara's belongings remain in the car

Source: Austin Coop - Roadtrippers
Submitted by Phil Ellison
2/22/15

Vette News - How Fast Is Too Fast?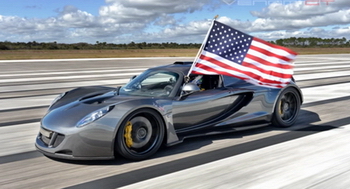 At 1244 hp it is more powerful than the Bugatti Veyron Super Sport.
Here's A Fun Couple of Minutes for You.

When you drive a Chevrolet Corvette powered Hennessey Venom GT you don't
shift into fourth gear until 160 MPH! The top speed is incredible!

Fasten seat belt and click here.

Source: YouTube Videos
Submitted by Phil Ellison
2/15/15

Vette News - The Stig's Wife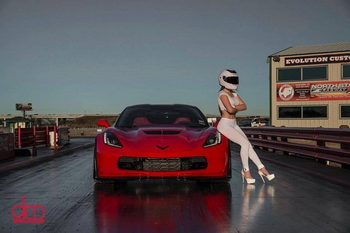 We all know about Top Gear's tame racing driver, The Stig, but have you met his wife? I suppose, technically, we don't know either of them because of that whole secret identity thing, but what we do know is that Mrs. The Stig likes cars just as much as her husband, if this picture is any indication.

Mrs. The Stig has posed along with her shiny red Chevrolet Corvette Z06 on the track and looks like she's just waiting for the cameras to finish bothering her before she heads out for a ride. The hounding photographer in question would be one Dale Martin who captured these pictures at the North Star Dragway in Texas.

What she was doing in Texas, we have no idea, and there's been no news of the Top Gear guys offending American's lately so it's likely she and The Stig were just enjoying a little vacation time in the states. One would imagine this would involve driving around this Texas track as fast as possible until they ran out of gas or passed out, whichever happened first.

Some say, she makes The Stig look like a little old lady on the track, all we know is she drives a fine looking Corvette.

Source: Bold Ride by Nicole Wakelin
Submitted by Phil Ellison
2/8/15

Vette News - Mid-Engine Spied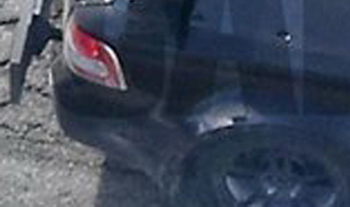 Is It The Zora?

It looks like all the rumors are about to prove true: a very early test mule for what appears to be a large mid-engined car has been spotted testing near a General Motors Company facility in the U.S.

Several images posted on Car and Driver show the test mule whose body has been composed from several vehicles, including a Holden Commodore Ute for the front and rear sections and what looks like the current C7 Corvette's mid-section. Of course, hidden behind the two-seat cabin is likely to be a V-8 powerplant.

The test mule's sighting comes just months after new rumors emerged suggesting that the next-generation Corvette, the C8, would be moving to a mid-engine platform. But while the C8 isn't due until the end of the decade, a car riding on its platform may appear much sooner than that.

Test-mule for mid-engined Chevrolet Corvette spy shots - Image via Car and Driver.

We're talking about a successor for the Corvette ZR1, which reports suggest may be launched as early as the 2017 model year and sport a price tag of around $150,000. This means that while it's technically a C8, the ZR1 successor will be sold alongside the current C7 Corvette for its first years on the market. Eventually, the C7 Corvette will be replaced by the new C8 Corvette, with all the variants being based on the mid-engine platform. Yes, even the base 'Vette.

The reason for the platform's quick gestation is because GM reportedly started working on a mid-engine Corvette prior to its bankruptcy in 2009, and current Corvette chief engineer Tadge Juechter is said to be one of the key people involved in the original project. We also hear that the basis for the new platform will be the C7 Corvette's aluminum spaceframe structure rather than a completely all-new design.

But why rock the boat with such a dramatic change to the Corvette formula? Apparently the front engine, rear-wheel-drive layout is reaching its limits in cars like the 2015 Corvette Z06. Also, the Alpha-based 2016 Camaro may end up lighter than the C7 Corvette, giving it the performance edge over its bigger brother. Thus, to help separate future Corvettes from the Camaro, including the ZR1 successor, a more exotic design was required. This change will also help the C8 Corvette become a semi-exotic halo model for Chevrolet worldwide, a bit like the NSX for Acura/Honda and the R8 for Audi.

A small-block V-8 is expected to remain the powertrain of choice for the ZR1 successor-it's an exotic but not that kind of exotic-and there's a strong possibility it will come with a single transmission: a seven-speed dual-clutch. By the time regular C8 Corvettes arrive, however, a manual transmission should also be available. We could also see the ZR1 successor adopt hybrid technology to ensure it can keep up in the technology stakes against its German and Japanese rivals.

Finally, the Zora name may feature in the car's full title. The usage would serve as a tribute to Corvette father Zora Arkus-Duntov, a huge fan of the mid-engine layout, and we know GM recently trademarked it.

Source: Viknesh Vijayenthiran, Motor Authority
Submitted by Phil Ellison
2/1/15

More stories can be viewed using the "News & Stories" link

NMCA, PO Box 91355, Albuquerque, NM 87199 :: info@nmcorvette.org