Welcome To The
New Mexico Corvette Association
A Great Day At The Beach
Latest Updates To This Site
EVENTS updated- 12/14/14
NEWSLETTER / MINUTES added - 11/23/14
STORY added - 12/14/14
FOR SALE updated - 12/7/14
PHOTOS OR VIDEO added - 11/9/14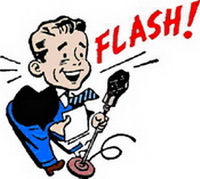 December 21st Fun Run details in Events section

Best Pit Stop Tire Change Video Ever
Click here to watch an amazing, short video

Watch as C-7 hits 200 mph
Click here to watch video

Corvette collection starting from 1954 - all with original black paint
Click here to watch video


Each week see a new home page photo - see them all in Photos section

Vette News - 2015 Z06 Issues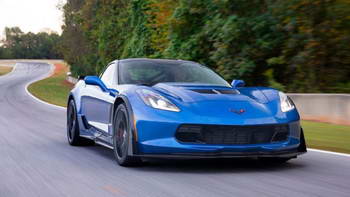 The 2015 Corvette Z06 is supposed to be insane on the track. But thanks to emissions regulations that force a conservative ECU tune, the 650 horsepower insane machine is experiencing some issues after heavy use.

After several laps on the track or a few hard acceleration runs on the highway, owners of the brand new Super Vette are reporting noticeable power loss from the supercharged LT4 V8. Originally it was thought that it was heat soak from the supercharger, but, it is, in fact, conservative tuning of the ECU to help the drivetrain survive for 100,000 miles as well as allow the Z06 to meet stringent US emissions regs.

Chevy knows that this is happening, but feels that almost every Z06 owner will be totally satisfied with their car, and if they aren't, there are aftermarket tuners that they can go to that'll gladly liberalize that ECU to give it more unrestricted power.

Source: Jalopnik


Submitted by Phil Ellison
12/14/14

A Glance Back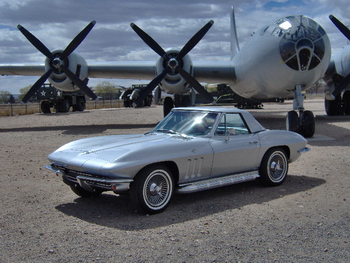 In 1968 I purchased a silver '65 Corvette ($2,800) - and still own that beauty today. I was tinkering with the idea of owning a new Shark, with a big block of course. I visited Galles-Groesbeeck Chevrolet (now just Galles) on May 4th, 1968 and sat with the special order representative to get a quote on a new 1968 big block.

Recently I came across that long lost quote (I did not buy the C-3 by the way). Looking at this quote brings back fond memories and I can still remember the back and forth I had with myself about making this somewhat major purchase. Funny how one innocent piece of paper can bring back such vivid and good memories. Seems like yesterday.

Editor note: Click to see Donnie's 1968 quote
Submitted by Donnie Marchi
12/9/14

Classics For Sale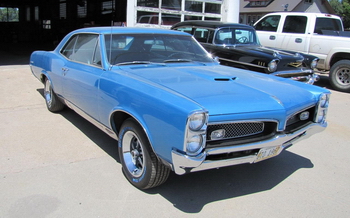 VanDerBrink Auctions of Minnesota has managed to ferret out one of those legendary barn find situations in Nebraska. And it's not just one car, it's about 200 of them, plus an unquantifiable amount of parts. It has all the hallmarks of a romantic barn find story: a family collection, photos of dust-caked American iron, the possibility of an immensely rare model hiding next to the vanilla sedans.

The Bullocks acquired the massive collection as a necessary part of the restoration business they ran in addition to the dealership. Also, some cars that they'd sold were traded back to them. Among the forgettable filler are a couple gems: there's a restored 1967 Pontiac GTO coupe, a restored 1937 Diamond T pickup … and so on, and so forth. The PDF of the auction catalog runs to 121 pages. Boats, campers, NOS parts from the 1930s-it's almost overwhelming.

Everything is no reserve, so if you're itching to sniff out the really good stuff from underneath all that dust, you can head to Grant, Nebraska on September 6th.

Check out the story and cars/parts up or grabs:
https://autos.yahoo.com/news/not-just-one--but-200-barn-finds-go-to-auction-235138431.html
Submitted by Phil Ellison (from Yahoo News)
8/17/14

Tach Tip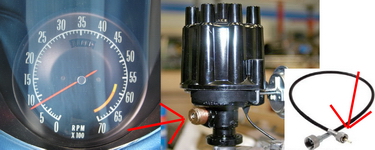 When you look at the tachometer on your dash - you '62 - '74 owners - you probably think what a marvelous gadget and let it go at that. Well, if you do, it will. It must be greased every 15,000 miles or so. A penny's worth of grease will save you money and lots of grief. Here's how: At the base of the distributor, un-screw the drive cable; next remove the brass threaded bushing by carefully turning it out of the distributor housing. When it is in your hand, you will notice a small gear which comes out of the center. Grease this small shaft. Next put a large finger-full of chassis lube or white grease into the hole in the distributor and reassemble. If you want to grease the cable, it must be removed from the dash side.
Submitted by Donnie Marchi
7/5/14

NMCA Caravan To Los Alamos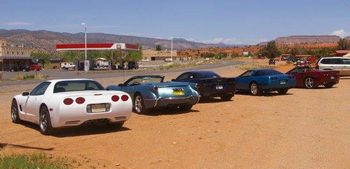 Ten members enjoyed perfect weather, Vettes (and a Monte Carlo, my Vette is still sans hood), friends and pizza on Saturday as we drove through the Jemez Mountains. A great time was had by all! Many pictures were taken and we topped off the run by invading the Atomic City Corvette meeting room at Time Out Pizza in White Rock. Thanks to Larry English for setting up our run!

Note: see the photos in the Photo area of this site.
Submitted by Stephen Hopkins
5/18/14

More stories can be viewed using the "News & Stories" link

NMCA, PO Box 91355, Albuquerque, NM 87199 :: info@nmcorvette.org