Welcome To The
New Mexico Corvette Association
Follow The Leader
Latest Updates To This Site
EVENTS updated- 5/3/15
NEWSLETTER / MINUTES added - 4/26/14
STORY added - 5/3/15
FOR SALE updated - 4/22/15
PHOTOS OR VIDEO added - 2/22/15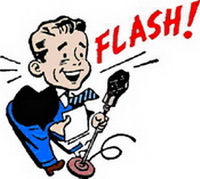 CARAVAN CHANGE:
Due to poor weather, 4/26 photo caravan now scheduled for May 3rd


Corvette collection starting from 1954 - all with original black paint
Click here to watch video


Each week see a new home page photo - see them all in Photos section

Vette News - Corvette: Milestones & More - C2
Over its 60-odd-year run, the Corvette has largely stuck to its original objective of providing homegrown performance wrapped in a stylish, two-seat package. Its journey has at times been an uncertain one, but now in its seventh generation, it's safe to say the hits have outnumber the misses. Here's our look at the Corvette story from conception to the C7. This is article two in a series of seven.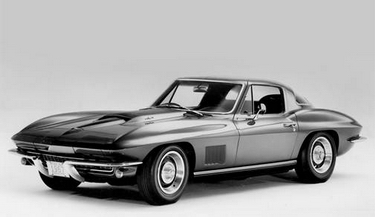 C-2: 1963 - 1967

1963-1964: Restyled along lines laid down by design boss Bill Mitchell's 1959 race car and re-engineered to be the first Corvette that Duntov wouldn't be ashamed to drive in Europe, the Sting Ray arrives for '63 with hidden headlamps the famed "split-window" fastback that lasts for only one model year. It is smaller, has an independent rear suspension with a single transverse leaf spring, and offers electronic ignition. The Z06 Special Performance Equipment option is introduced on the 1963 Sting Ray (199 built), and the Corvette Grand Sport program builds five lightweight, race-ready cars, all sold to racing privateers.

1965: The big block V-8 arrives in the form of Chevy's 396-cubic-inch "L78" engine. Four-wheel disc brakes become standard, and fuel injection disappears until 1982's throttle-body injection.

1966: The big block grows to 427 cubes. Originally listed at 450 horsepower in Chevy literature, numbers for the solid lifter beast were revised to 425 after introduction. This is solely an administrative decision, and no changes to the engine were made. Backup lamps and Holley carbs (previously available only on certain models) were made standard.

1967: The C2's swan song, the 1967 model introduces the legendary L88 cast-iron big-block engine. GM rates it at 430 hp, but it routinely tops 500 hp in independent testing. Aluminum cylinder heads became an option for the L71 engine, and a dual-master-cylinder braking system becomes standard.

Credits: Internet article/series by Andrew Wendler and Kevin Wilson
Submitted by Phil Ellison
5/3/15


Vette News - Corvette: Milestones & More - C1


Over its 60-odd-year run, the Corvette has largely stuck to its original objective of providing homegrown performance wrapped in a stylish, two-seat package. Its journey has at times been an uncertain one, but now in its seventh generation, it's safe to say the hits have outnumber the misses. Here's our look at the Corvette story from conception to the C7. This is article one in a series of seven.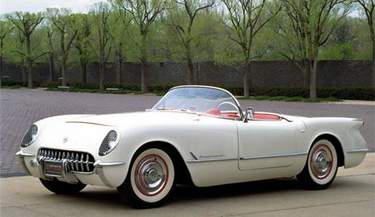 C-1: 1953 - 1962

1951: Harley Earl, GM's chief designer, drives the Le Sabre concept car to Watkins Glen, where he falls in love with the Jaguar XK120. The wheels begin to turn.

1953: Chevrolet reveals the Corvette dream car on January 17, 1953, at New York's Waldorf Astoria hotel, as part of the kickoff to that year's GM Motorama. Named after small, highly maneuverable naval escort ship, the show car is also known as the EX-122. On June 30 of the same year, the first production 1953 Corvette rolls off the assembly line in Flint, Michigan. Production is capped at 300 units, all in the now iconic Polo White/Sportsman Red exterior/interior color scheme and powered by the 150-hp, three-carb "Blue Flame" inline-six and a two-speed Powerglide transmission. The only options are a heater and an AM radio.

1954: Corvette production begins at GM's St. Louis, Missouri, facility on January 1. Chevrolet expands the exterior color choices to include Pennant Blue, Sportsman Red, and Black. Beige is added as an interior option. The straight-six engine gets bumped to 155 hp. Just 3640 Corvettes are produced by year's end.

1955: The small block Chevy V-8 makes its first appearance between a Corvette's fiberglass fenders, and a three-speed manual appears as an option. The year closes with the six-cylinder bidding adieu. Production totals 700 units.

1956: Factory-installed removable hardtops are offered for the first time, and the exterior gets exposed headlamps, sculpted side coves, and roll-up windows. Seatbelts make the scene as a dealer-installed option, and one-hundred and eleven buyers drop $188.30 on a high-lift cam (order code: RPO #449). Head Corvette engineer (and future legend) Zora Arkus-Duntov tells the brass to go racing, but his pleas for a racing program fall on deaf corporate ears. Two four-barrel carbs enhance the 265-cubic-inch (4.3-liter) V-8, and our own Karl Ludvigsen (back when we were known as Sports Cars Illustrated) deems the '56 credible: "Without qualification, General Motors is now building a sports car."

1957: The V-8 grows to 283 cubic inches, and can be ordered with fuel injection and a four-speed manual transmission. (Our original June 1957 test says the setup "works very well indeed.") So equipped, the small block produces up to 283 horsepower, propelling the fiberglass wonder to a reported 132 mph. An optional column-mounted tach makes its first appearance on fuelie Vettes.

1958-1962: A redesigned hood with louvered vents and 160-mph speedo appear for 1958, while 1960 brings an aluminum radiator option. 1961 marks the Corvette's first use of four round taillights, and the aluminum radiator becomes standard. That year's mild styling tweaks mean the exhaust no longer exits through the bodywork. The engine grows to 327 cubic inches (5.4 liters) in 1962, which was also the last year for the solid rear axle and (until the C6) exposed headlamps. We note in our 1962 test that "rear-axle bounce is a problem on standing starts, in spite of the torque arms above the axle."

Credits: Internet article/series by Andrew Wendler and Kevin Wilson
Submitted by Phil Ellison
4/26/15


Vette News - 36 Corvette Give-Away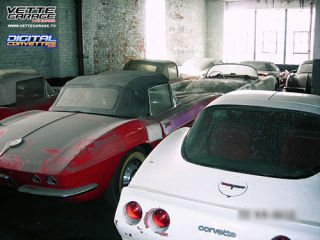 In 1989, VH1 gave away 36 vintage Corvettes in a contest. The winner sold those cars to artist Peter Max, who let them rot in a Brooklyn parking garage for twenty years. The cars recently disappeared. This is their story.

Thanks to the smart work of Daniel McDermon over at the New York Times, we're finally piecing together a story that we had heard snippets of for years but never nailed down.

In 1988, VH1 was struggling for ratings. As part of a publicity stunt, the music video network spent a truckload of money on 36 vintage Corvettes. The cars were given away in a telephone sweepstakes the next year, and one winner walked off with the complete set.

The contest was the brainchild of freelance TV producer Jim Cahill. VH1 charged him with the task of raising the network's national profile and attracting the then-vibrant baby-boomer demographic. He came up with the idea - give away one car from every year of the Corvette's three-and-a-half-decade history - while sitting on the freeway in Los Angeles.

What followed was a buying spree of epic proportions. Over the course of several months in 1988, Cahill spent $610,000 - roughly $1.1 million when adjusted for inflation - of VH1's money on what must have seemed like the automotive purchasing orgy of a lifetime. According to a period article in Vette magazine, the 36 cars that he bought were "drivers," not "Bloomington cars." Fourteen were convertibles, and 25 of the 36 contained automatic transmissions (eww). Cahill shepherded the cars from commercial shoot to commercial shoot, kept them fastidiously clean, and generally went to town with the whole mess. He also did what any of us would do - he drove one home each night for 36 nights. (He has since noted that, although some of the cars were healthy and drove well, many of them were nightmarishly bad.)

To facilitate the contest and help recoup some of the investment, VH1 set up a 900 number that charged two dollars per call. Prospective entrants called the number to register, and AT&T gave the network $1.49 from every call. 190,000 people called in the first day, 1.3 million registered in total, and VH1 made its money back in less than two weeks. Amazingly, the contest was won by Dennis Amadeo, a carpenter from Long Island who entered only once. He flew to California and was given the five-pound bag of keys by ex-Beach Boy Mike Love in a ceremony in Culver City.

This is where it gets weird.

Enter Peter Max. Max, a Manhattan-dwelling American graphic artist responsible for a large part of the 1960s psychedelic design movement, was, and is not, a car guy. He gained fame for his "Cosmic '60s" style and use of vibrant color, and while he has painted everything from a Boeing 777 to Dale Earnhardt's NASCAR Monte Carlo, he isn't the type of celebrity to have a Lenoesque garage full of automotive weirdness.

Nevertheless, he bought the cars from Amadeo. As he tells it, he found out about the collection through a friend, fell asleep shortly after, and had a dream that included cheerleaders, the 36 'vettes, and a stadium full of people yelling "They're Peter Max's cars!" Naturally, when he woke up, he got out his wallet. (We make our spontaneous, million-dollar decisions based on REM sleep, too. Doesn't everybody?)

Max contacted Amadeo, made a deal - $250,000 cash plus $250,000 in artwork and a portion of the proceeds should the cars be sold again - and, despite a few reservations, had the Corvettes shipped to New York. Cahill facilitated the preparation and handover of all 36 cars, ensuring that they were both clean and driveable when they were put on the truck.

This is where it starts to get depressing: Because Max was then involved in a number of different projects (not the least of which was an IRS investigation), the Corvettes sat, were moved, and then sat again. They eventually ended up in the basement of a Brooklyn apartment building that had once been a New York Daily News printing plant. They sat there, gathering dust, for years.

It would not be an exaggeration to say that Max's cars were left to rot, nor that he essentially abandoned them. They remained largely hidden until May of 2005, when a New York magazine writer discovered them and wrote a column. A member of the enthusiast forum Digital Corvettes read the column, got interested, and went to take a look. When he posted pictures, the Internet went nuts.

The people who lived in the 'vettes' apartment building soon complained, bitching and moaning because their valuable Big Apple parking spaces were being taken up by a celebrity's fiberglass junkyard. A handful of Digital Corvettes members, including site owner Patrick Gramm, went to New York to find the cars, take a quasi-legal look, and get some questions answered. (Big-block cars? Rare options? A '53?) Countless people wrote emails and forum posts, offering to maintain the cars for free just so they wouldn't rot away. No one listened, Max remained mum, and nothing happened until a few weeks ago, when the cars disappeared.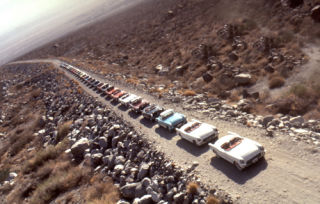 That, too, prompted an uprising. The collection was so provocative that the New York Times ran a story and several blog posts on it, even going so far as to get David Burroughs, the CEO of Bloomington Gold, to issue a sight-unseen appraisal on the lot. ($840,000, for the record.) A tenant in the apartment building in question tweeted about the cars' disappearance, expressing joy. A Times writer (the aforementioned McDermon) also lived in the building, and his curiosity prompted him to do extensive research, dig up Cahill, and talk to Max. The result was fairly predictable: The Corvettes were in a new, undisclosed location; Max still planned to do something with them but was waiting on financial backing; and Cahill was a bit sad.

And that, it seemed, was that. Or not.

HERE'S THE COOLEST PART: The Digital Corvettes community got its shit together and found the cars. Their new hiding place was discovered by a forum member. The following images appeared on DC two days ago:

...as did, predictably, a new round of outrage.

Max's plans? He wants to buy 14 more cars, bringing the collection to an even 50 examples and the 2003 model year. He also told the New York Times that he wants to paint the cars in a more respectful manner and auction them off. Cahill came out of the woodwork, signing up for a Digital Corvettes membership and spilling the beans on the collection's early days. (Random depression: Max's shippers didn't even want the car covers.) And we are, like everyone else, a little sad.

There is a lesson here, but we'll be damned if we know what it is. Regardless, one thing is for sure: No matter who you are, you shouldn't buy a passel of Corvettes if you're going to let them fester in a basement. And Max, if you're out there, listen up: When people offer to fix your cars for free, you listen. Do us a favor and stop hiding your fiberglass light under a bushel, huh?

UPDATE: We received the following from Jim Cahill after publishing this post. It contains a small correction (we had originally noted that he was not a Corvette enthusiast) and a description of how the 36-car giveaway came to be.

The only thing I could add is that I was a Corvette enthusiast when I conceived of the contest. In fact, I had wanted a 'vette all my life, I had just never gotten around to getting myself one. I stupidly bought a Cadillac Seville the first time I could walk into a showroom and buy a great car. After a couple of misguided purchases of Mercedes-Benzes and BMWs (trying to keep up with the SoCal Joneses), I just "forgot" I was a Chevy man and plum forgot to get myself a 'Vette.

But I never stopped loving [the car] and always wanted one...

When I got the VH1 assignment, I was sitting in traffic on the Ventura Freeway near Universal City on the 101-right by the Burbank split to the 134. Awful traffic...and slowly rolls by me a pristine pearl white '62 Corvette. Top down, perfect condition, blinding sun gleaming off the chrome. It was going by slowly enough that the entire idea came to me in what you describe as the "come to Zora" moment. As it passed next to me, I thought, "Damn, son - why haven't you gotten yourself that Corvette?"

I was on my way to Palm Springs at the time, and I started thinking to myself, OK, Jimmy boy, which one would you buy if you could get one?"

The answer was so simple...

ALL OF THEM! I WANT ALL OF THEM!...and thus was born the BIG concept-I WANT THEM ALL DAMMIT!

By the time I got to Palm Springs, I had the math done in my head. The next week, I was in New York with my client pitching the most exciting giveaway in TV history.

Thanks for listening.

Credits: Tony Senicola/NYT/Jim Cahill/Digital Corvettes/Jenna Stern
Submitted by Phil Ellison
4/5/15

Vette News - C8 Mid Engine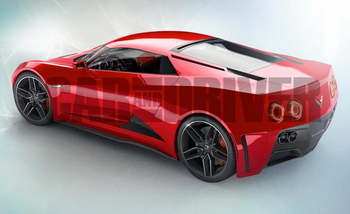 GM's head of global product development, Mark Reuss, confirms that the company is working on the next Corvette. Our sources elaborate on this salient piece of information, telling us that, after 61 years of evolution, the C8 will be revolutionary. The new Corvette will be the mid-engined American Dream Machine that Chevy couldn't, until now, muster the courage to build. In truth, the factory is still not prepared to detail what's coming, which is why you're looking at the 2017 model year through our freshly waxed crystal ball.

Why mid-engine? Because the C7 Corvette, especially the Z06 edition, is tapped out. Adding more power to a front-engine design only accelerates the conversion of rubber into smoke at the rear. Moving the engine's mass closer to the drive tires is the most effective means of improving Corvette acceleration and braking.

The second reason is less engineering-driven: Chevy wants to finally move the Corvette past the basic proportions and form language it has used since the C3. Today's Stingray is a dream car for men on the wrong side of 50. But by updating the exterior with a radical remix of its visual masses, the Corvette could sweep the odd Aventador, LaFerrari, P1, and 918 posters off adolescents' bedroom walls. As Chevy well knows, kids grow up quickly, and the fortunate ones convert their salaries to sports cars. Read on for how the C8 will take shape.

The C8 flagship, the Zora ZR1, will debut the new mid-engine architecture. Launching as a 2017 model, it will define the top of the Corvette hierarchy just as its precursors did in the 1990-1995 C4 generation and 2009-2013 C6 model years. As before, the ZR1 will be low volume, roughly 1500 units per annum, and high priced. We figure around $150,000. It'll be a stand-alone special that will peacefully coexist in Chevy showrooms with C7 models for a few years. The new platform, with appropriate bodywork and cockpit changes, could also support a revived Cadillac XLR (with better sales success than the last one, we hope). By 2020, we expect the C7 to take its rightful place in the National Corvette/Sinkhole Museum and that all future models-yes, even the base Corvette will shift to the mid-engine platform.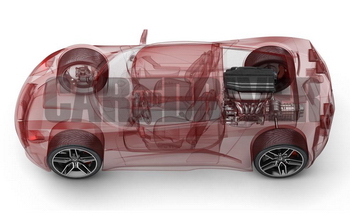 Those who fear the demise of GM's immortal small-block can relax because V-8s will surely propel the eighth-gen car. Using a single cam in the block plus pushrods offers weight, bulk, and cost incentives too valuable to squander. And the direct-injection, modular-displacement (cylinder shutdown), and variable-cam-timing technologies implemented for the C7 give this engine another lease on life. While it's premature to quote displacement, power, and aspiration details, we expect the C8 to soundly beat today's Stingray Z51's acceleration (zero to 60 in 3.9 seconds), its 181-mph top speed, and its fuel-economy bogies.

Alternative power sources are planned to keep the Corvette viable when regulations clamp down more aggressively on fuel consumption. Potent V-6s with and without boost are inevitable. Moving the engine behind the cockpit clears space for an electric motor to drive the front wheels; by 2020, a four-wheel-drive Corvette hybrid is a distinct possibility.

Porsche's Boxster and Cayman are worthy case studies for the next Corvette because they've astutely answered knotty questions, such as "How do you construct a mid-engined roadster?" and "What about trunk space?"

Lacking million-dollar computer-drafting tools, we instead conducted our packaging study in 1/24 scale with help from Sam Haase, a crack model builder from Belleville, Michigan. The small-block V-8 he pirated from a Corvette kit didn't quite fit the hole intended for the Boxster S's 3.4-liter flat-six (full-scale measurements reveal that the V-8 is 3.5 inches longer, 2.3 inches taller, but 6.0 inches narrower than the Porsche flat-six). This necessitated a 4.0-inch scale wheelbase increase, yielding a C8/Porsche mock-up about the same length as today's Corvette but with a 5.3-inch shorter wheelbase.

The radiator required to cool the Corvette's larger engine would diminish the size of the Porsches' five-cubic-foot front trunk-assuming said radiator is located in the nose. A viable alternative is to position all heat exchangers, including those for the engine, transaxle, and air conditioning, at the sides of the car between the door openings and the rear wheels, Ferrari Testarossa-style. A benefit of this arrangement would be shorter plumbing runs, but the C8's aerodynamic engineers would have their work cut out coaxing enough airflow through such radiators.

A Corvette-sized muffler would fight for the space occupied by the Boxster's five-cubic-foot rear trunk. This will surely disappoint golfers who drive their C7s to the links with more than one set of clubs in their 10-to-15-cubic-foot cargo holds. The new Zora ZR1 will be for those who enjoy long drives without using clubs.

Another packaging issue is the fuel-tank location. Porsche stuck with its historic ahead-of-the-cockpit spot for balance, but we imagine GM is more likely to tuck the C8's gas tank in a center tunnel where it could share space with coolant plumbing.

Since the engine no longer impedes the driver's view ahead, a lower seating position is practical. A much shorter hood would also improve forward sightlines. This is the designer's delicate balancing act, because rear visibility will be hampered by the new engine location.

We'd also love to see a larger touch screen in the center dash to take over additional secondary-control functions. This would be an ideal opportunity to switch from the common landscape format to a portrait-mode (taller, narrower) screen, à la Tesla Model S. As long as round knobs for basic entertainment and HVAC functions remain, we'll be happy. The absence of a traditional gear-stirring stick means that new space will be available for a smartphone dock, storage bins, and the requisite cup holders.

We're hoping that the lessons learned from today's GT and Competition Sport seats help the Corvette team home in on one improved bucket suitable for both soft- and hard-core users.

Doors are the next logical candidate for conversion from sheet-molded fiberglass to lighter, stiffer, crash-resistant carbon-composite assemblies. Current Corvette supplier Plasan Carbon Composites manufactures carbon-fiber panels for both the Corvette and the Viper, and this firm has the interest and ability to supply additional parts using its advanced pressure-press processes.

Source: Car & Driver
Submitted by Phil Ellison
3/29/15

Vette News - Faster Shifting Corvette Gearbox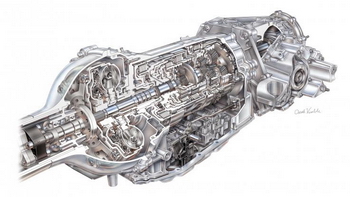 Chevrolet has officially revealed the new 8L90 eight-speed automatic transmission destined for duty in the 2015 Corvette. The 6.2-liter V8/eight-speed combo is good for a 0-60 time of 3.7 seconds, 29 mpg and faster shifts than many dual-clutch transmissions -- most notably the one found in the Porsche 911.

We tested the 2015 Corvette on General Motors' famous Milford Road Course test track and the streets surrounding. We're not going to say the new automatic is better than a manual transmission; it isn't. There's still no way it can match the involvement or control of rowing your own gears. But we can say with authority that a dual-clutch isn't the only way to go if you insist on letting the car shift itself.

Chevy went with the torque-converter automatic over a dual-clutch for a few reasons: The DCTs on the market wouldn't fit in the space reserved for the 2014's six-speed, and it also works better with the Corvette's Active Fuel Management system that helps get that 29-mpg EPA estimate.

The 8L90 weighs about 8 pounds less than the outgoing six-speed automatic thanks to extensive use of magnesium and aluminum. A taller top gear leads to an 8 percent decrease in engine rpm at 70 mph.

Out on the roller coaster that is the Milford Road Course, we threw the Corvette into track mode, tossed in our SD cards for the Performance Data Recorders and left the gear shift in D. It takes about two turns and a hard braking event to get the trans to realize you're on a racetrack, then it switches into what we'll call "redline mode." At that point, the transmission kicks into the lowest gear possible at the current speed. It'll drop down three when you're on the brakes hard, and hold at high rpms indefinitely if you keep the throttle steady.

We only caught the new transmission hunting once in about 12 laps on the difficult course, and that could have been our fault with sloppy pedal work -- feathering the gas when we should be flooring it, or the other way around. It is a little unsettling seeing the shift lights on the dash flashing, which means "shift," while and transmission just hangs in gear and the exhaust wails at full rpm.

Once your driving has settled down off the track, the eight-speed automatically adjusts back into "street mode."

After driving three high-powered cars with eight-speed, torque-converter automatics (Challenger SRT Hellcat, Jaguar F-Type R and now the Corvette), we can say the newest models are every bit as good as the dual-clutch setups. They can shift as fast, feel smoother and aren't rough on low-speed launches like many of the performance-oriented DCTs on the market, giving you all of the advantages and none of the disadvantages.

No automatic offers the connected driving experience of a true manual, but they get closer every year; Corvette buyers who want an automatic now have the option of one of the best units on the market today.

Source: Autoweek
Submitted by Phil Ellison
3/22/15

More stories can be viewed using the "News & Stories" link

NMCA, PO Box 91355, Albuquerque, NM 87199 :: info@nmcorvette.org