Welcome To The
New Mexico Corvette Association
Was This A GM Option?
Latest Updates To This Site
EVENTS updated- 1/18/15
NEWSLETTER / MINUTES added - 1/25/14
STORY added - 1/25/15
FOR SALE updated - 1/19/15
PHOTOS OR VIDEO added - 11/9/14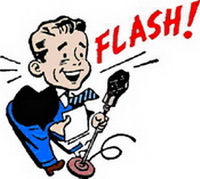 Congratulations to Larry and Celeste English:
NMCA's 2014 Person's of the Year

Permanent General Meeting location change - see Events for details

Best Pit Stop Tire Change Video Ever
Click here to watch an amazing, short video

Watch as C-7 hits 200 mph
Click here to watch video

Corvette collection starting from 1954 - all with original black paint
Click here to watch video


Each week see a new home page photo - see them all in Photos section

Vette News - 1978 Jet Corvette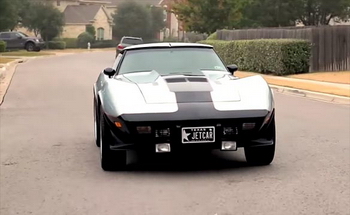 Way back in ancient times, say in the era of the 1960s, there was great interest amongst the world's great automotive companies in a new and remarkable power source, the gas turbine, more commonly referred to as the jet engine. It was a time when the Jet Age showed signs of coming down to earth.

But, as we all know, the great Jet Age on wheels never got off the ground. Vince Granatelli, however, was not convinced and when a customer came into his Pit Stop Service shop in the late '70s seeking an outrageous custom car, he immediately thought of a gas turbine power plant. If the name Granatelli sounds familiar to you, it should-Vince is the son of Andy Granatelli of STP and Indy 500 fame. Andy entered the most famous turbine-powered car in Indy 500 history in 1967, one that came within a whisker of winning the whole shebang. With a big lead and only three laps left in the 200-lap race, the turbine car ate a $6 transmission bearing and coasted to a stop.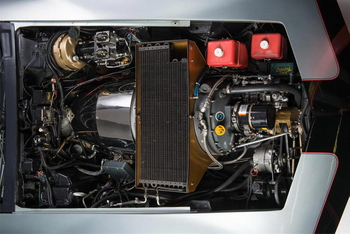 The powers at Indy saddled future turbine-powered cars with so many restrictions that they became uncompetitive and faded back into the woodwork-except in Vince Granatelli's shop where he had a few left over from his father's turbine adventures. One of the few cars available that could accommodate the gas turbine under the hood was the Corvette, so it became Vince's choice to convert into a fire breathing jet.

The result is a stock-looking 1978 Corvette that is like no other. While the body may look stock, the entire front end of the chassis was modified to take an 880 horsepower Pratt & Whitney gas turbine engine. Oversize disc brakes are needed to provide the stopping power and a modified GM transmission connected to a beefed-up driveshaft deals with the monster 1,160 lb-ft of torque that the engine provides.

A special gearbox is required to reduce the normal engine speed of 37,500 rpm to a more transmission-friendly 6,320 rpm and a cleaver bit of ductwork handles the tremendous amount of hot exhaust gas from the engine. If you look carefully at the car, it appears to, and actually does, have an increased ride height. This allows the entire underside to be a huge exhaust duct which extends across the entire width of the rear of the car.

How is the car to drive? In a word, different. The idle speed of the turbine will drive the car at 60 mph, so most of the driver's effort is keeping the brake on to limit the speed. Due to the massive torque, acceleration is brisk at any speed, although there is a bit of a lag between movement of your right foot and actual acceleration. The 0-60 mph time of 3.2 seconds was, no doubt, impressive for its time, but some of today's supercars can match that without the issues raised by the turbine engine.

Milton Verrett bought the car in 1982 for $550,000. It was recently offered at the Barrett-Jackson Scottsdale auction, but the top offer didn't match the reserve.

If you're looking for a Corvette that is totally unique, the jet-powered Corvette is still available. You may rest assured the no one else will show up at the local cruise-in with one just like it.

Source: Bruce Troxell - CNN & Barrett-Jackson
Submitted by Phil Ellison
1/25/15

Vette News - Exclusive Corvette Engine Build Experience Returns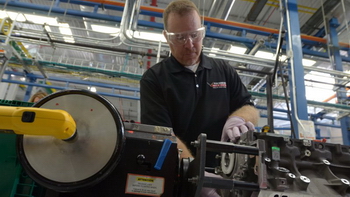 Bowling Green, Ky. - Chevrolet announced today it is resuming the exclusive Engine Build Experience for Corvette Z06 customers - the only program of its kind for supercar customers.

Starting in March 2015, Corvette Z06 customers will be able to assemble the 650-hp supercharged LT4 engine for their cars at the new Performance Build Center inside the Bowling Green Assembly Plant.

"Chevrolet recognizes the passion customers have for Corvette and the Engine Build Experience offers them a truly unique opportunity for hands-on involvement in the creation of the heart of their new car," said Harlan Charles, Corvette product manager. "It's a chance to bond with their new car."

The Engine Build Experience is selected with order code PBC and is offered on all Z06 trim levels. The $5,000 package includes a full day with a Performance Build Center engine assembly technician who instructs and oversees the build, a personalized engine plaque identifying the owner/builder and the date of the engine build, and professional photography of the experience.

After the order is submitted, personnel from the National Corvette Museum will handle concierge services for the customer, following up on the scheduled build date and handling logistics on the day of the build. The customer is responsible for travel costs to Bowling Green and lodging.

Upon completion, the engine moves to the vehicle assembly area of the plant, where it will be installed with the scheduled assembly of the customer's Z06.

"It's important for customers to understand their engine won't be installed the day after they built it," said Charles. "It will flow into the scheduling process for vehicle assembly, which depends on a number of logistical variables."

Customers can catch their Corvette being assembled through a special tour organized by the National Corvette Museum. They can also opt for Museum Delivery (order code R8C), which personalizes the buying experience with delivery at the National Corvette Museum, located across the road from the Bowling Green Assembly Plant.

The assembly line tour and Museum Delivery are available for Corvette Stingray and Z06 customers.

Source: Corvette News
Submitted by Phil Ellison
1/18/15

Vette News - 1956 Corvette Race Car On Sale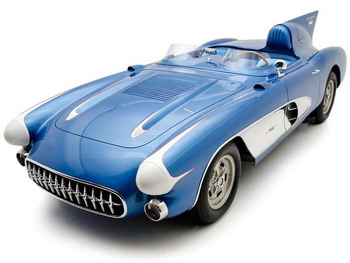 The Chevrolet Corvette has always been one of the greatest performance car bargains in the world, but there's at least one that won't come cheap.

The first Corvette ever built for racing by Chevrolet is currently on sale for $6.85 million, according to the DuPont Registry. The 1956 Corvette SR-2 CORVETTE was developed for GM design honcho Harley Earl's son, who had been racing a Ferrari. Dad thought he could do better.

With the help of GM's director of high performance, Zora Arkus-Duntov, a stock Corvette was modified with racing brakes and suspension, and a sleek new style that included covered headlamps, twin chopped windscreens, cooling scoops, and a small stabilizer fin down the center of the trunk lid.

A year later the fin was replaced with a much larger one behind the driver's head, and the car's 336 cubic inch V8 was upgraded with fuel injection and rated at 331 hp. The car had a top speed of over 150 mph.

Only three of the vehicles were produced before Chevrolet and the other American automakers officially pulled out of racing at the end of 1957 due to public sentiment about the safety of the sport. It was sold and privately raced for many years afterwards, on everything from road courses to drag strips, and is now in fully restored condition. Its current owner purchased it in 1986.

The car is being sold via "private treaty" by Corvette Mike and won't be crossing the block at of those televised auctions, but it will be on display at Scottsdale Sport and Classic Autocars during the Scottsdale auction week, from Jan 12-14th.

Source: Fox News
Submitted by Phil Ellison
1/11/15

Vette News - 2015 Z06 Engine Blows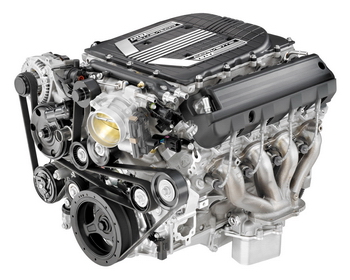 First 2015 Chevy Corvette Z06 engine blows up at just 891 miles.

You've waited and watched and waited some more for the arrival of your 650-horsepower, $78,000 Chevrolet Corvette Z06. Finally, that joyous day arrives and you eagerly, but gingerly, begin to break-in the 6.2-liter supercharged V8 monster under your hood. Then 900-odd miles after delivery, your excitement grinds, quite literally, to a halt. That's what the owner of one 2015 Z06 claimed happened to him when a simple break-in drive resulted in a lunched engine.

The owner, known as Lawdogg149 on Corvette Forum, says he was out breaking-in his car ahead of a January track event when it happened.

"While making a pull from 35 miles per hour, I accelerated and shifted short of redline, and boom - the car began knocking. I pulled over and popped the hood. I could hear a loud knock coming from the No. 6 cylinder area along with a serious, grinding, metal-on-metal sound coming from the supercharger area," Lawdogg wrote.

A subsequent trip to the dealer confirmed his concerns, with the service facility telling Lawdogg that the No. 6 valvetrain had failed. The dealer couldn't research the issue further, though, as General Motors requested the engine be returned for a more thorough evaluation. The good news for the Z06's unlucky owner, at least, is that GM will be covering the engine replacement under warranty, an expense that Corvette Forum estimates is a nearly $24,000 procedure.

At this point, the two leading theories behind the engine's detonation involve a manufacturing defect - which could be why GM is so keen to tear the blown powerplant down - or a mistake on the part of Lawdogg. As Motor Authority points out, such an error could be something as simple as the Z06's owner accidentally shifting to first rather than third during his 35-mph pull. If, however, there's a deeper manufacturing problem with the Z06's engine, this might not be the only case we end up hearing about.

Source: Yahoo News
Submitted by Phil Ellison
1/4/15

Vette News - Corvette & Future GM Designs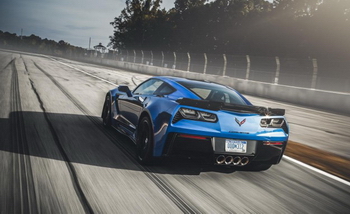 It doesn't get talked about much in a sea of "OMG-cheap-supercar-America-vs.-the-World" fawning, cooing, and general superlative-hurling, but one of the very best things about the Corvette Stingray is the view over the hood. The fender peaks help you place the car on the road, diminishing its perceived width. The lower center affords a fine view of the road ahead, despite the low-slung seating position. Practical considerations aside, the tableau offers a genuine sense that you're punting something special down the road. According to Ed Welburn, global design honcho at GM, echoes of that lovely hood are going to be found in future mainstream Chevrolet products.

Speaking to Automotive News, Welburn comments, "I always look at the hood of the Corvette and the sectioning, the way it's taut, very lean, very sporty. That will be a part of really everything we do for Chevrolet."

The C7 design hasn't been an unqualified smash hit. There are those who hate the big, flat rump; the italicized-rectangle taillamps with their Juggalo eye makeup; and the heavily festooned body with vents that aren't NACA ducts. It is very, to quote former Ford American design chief Peter Horbury, "Hi! I'm Dave! I'm American!"

Beyond the hood treatment-which likely won't be as radical on other models due to platform constraints-those consternation-causing taillights will also find a home in future designs, though not quite as in-your-face. Which is probably for the best. It won't be the first time that mainline Chevys have borrowed Corvette cues: Witness the killer, quad-circle taillight treatment the Chevelle wore in '71 and '72 (which was carried forward through the '73 restyle, though less successfully). The quad, bumper-mounted taillights remained through '77 on the El Camino, and in fact, the 2009-2014 Camaro tails resemble those old El Camino lamps more than they do '69 Camaro units.

What we're getting at is there's a precedent here; it can be used for good or for evil. Here's hoping Welburn's crew opts for the former.

Source: Car & Driver magazine
Submitted by Phil Ellison
12/28/14

More stories can be viewed using the "News & Stories" link

NMCA, PO Box 91355, Albuquerque, NM 87199 :: info@nmcorvette.org