Welcome To The
New Mexico Corvette Association
Tuning A Corvette Engine (Story Below)
Latest Updates To This Site
EVENTS updated- 4/20/18
NEWSLETTER / MINUTES added - 4/20/18
STORY added - 4/20/18
FOR SALE updated - 3/30/18
PHOTOS OR VIDEO added - 2/16/18 (available shortly)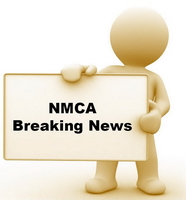 May 5th car & tractor show - Corrales
More information about this show

New spring/summer events listed - see Events page.

New Council Meeting location: Please see Events page for details.



Tuning A Corvette Engine
What do you do as a Chevy engineer?
I make Corvettes sound like Corvettes. I fine-tune what the engine sounds like, both inside and outside the car, at our Milford, Mich., testing facility, the Milford Proving Ground. There's a 65-year heritage behind the way these performance cars sound, so we take the work very seriously. I'm the composer of a symphony, in a way.

How would you describe the Corvette's engine sound?
It's different for each of our three latest models. The base model's sound is the tamest. The Grand Sport, our midlevel model, has a wider body and sits lower, and the engine sound is more rambunctious. The Z06, our supercar, has a powerful, aggressive sound.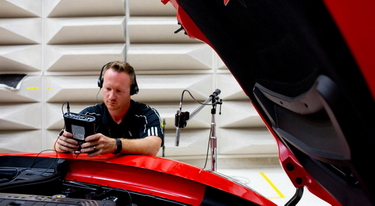 Charlie Rusher, 31, is a noise and vibration engineer at Chevrolet in Milford, Mich.

Have you always been into cars?
I've liked mechanical things since I was a kid. As a teenager, I attended stock car races with my best friend, who raced on dirt tracks. I also helped him work on his car. I loved being around that culture. At 16, I got my license and my first truck. I'd tinker with the engine and the exhaust system, which I work on now.

How do you develop the sound?
The sound is a combination of the engine and exhaust system outputs, and there needs to be a balance between the two. I manually adjust pipes in the exhaust system and record engine sounds digitally and adjust them. We place microphones all over the car for recording. I might do 40 iterations of the engine and exhaust system sounds before I'm satisfied.

Read the entire article

Source: Patricia Olsen - New York Times
Submitted by Phil Ellison
4/20/18


My Neighbor's Baby
I bought my 1980 4-speed Corvette from my neighbor in 1984. This car was Paul's baby. I saw him spend many hours washing and waxing her, and then gently tucking her to bed each night, wrapping her in her custom made 'car cover pajamas'. But in 84 Paul was overtaken by the urge to purchase the latest model.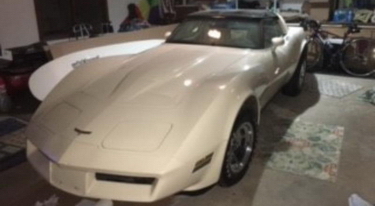 After the 1983 Corvette 'layoff', Paul was smitten with the 84's new sleek and slender look so he placed an order for one, and put his 80 up for sale. It took me NO time to make him an offer, which he accepted. She was mine! Still like new, no scratches, low mileage, and even with the lovely new leather seat scent waffling within her cabin. She also had plenty of lively response left in her pedal.

The day I bought her was one of my finest days. Meanwhile Paul waited two weeks from that day in maddening anticipation before his '84 order was ready for pick-up and he was finally able to pick it up. But, unfortunately on his maiden voyage back home from the dealership, some idiot in a pick-up ran a red light as Paul was passing through the intersection and T-Boned his brand new copper-tone colored Vette, mangling it terribly.

Paul was ok physically, but he was just as wrecked inwardly as his new 84 was now outwardly. Needless to say when Paul finally made it home his long agonizing, envious glances to his old baby sitting in its new home on my driveway were torturing him. Although I had plenty of empathy for him, I could really only think to myself one loud thought - Sorry Paul but she's my baby now!

Read the entire article

Source: Nick Ross, MidAmerica Motorworks
Submitted by Phil Ellison
4/13/18


Corvette Mechanic Update
With the unfortunate loss of Scott Smith, Scottys Southwest Corvettes, club members have been on the hunt for a good replacement facility and knowledgeable mechanic(s) who truly know Corvettes of most any generation.

To date two such facilities have been used by me personally so as to get a feel. Both of my visits involved work on my own C5. Here is what I've found.

Beeline Automotive
2505 Vermont NE, Albuquerque, NM 87110
505-275-6731

Owner is Mark. His son Ryan seems to be the Corvette specialist. Smaller shop, but seems efficient enough. Karen (Marks wife) is the admin and front end person. All very pleasant. I believe rate is $90/hour plus parts. I inquired about me purchasing a part and bringing it to them for install, and this seemed agreeable. I don't know if they would feel the same way about brining oil and filter in, as Scotty would allow.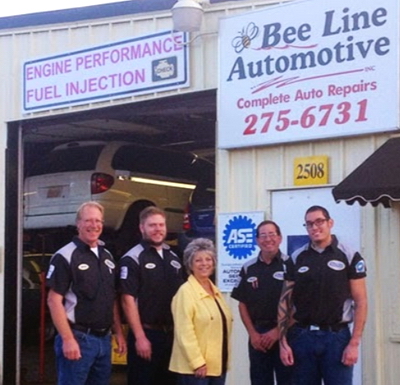 I also have first-hand experience with Southwest Speed.
5116 Industrial Park loop, Rio Rancho, NM 87124
505-554-9898

Owner is Ivan Price. He has three very knowledgeable wrench turners - Frank, Jonathan and Angel. Ivan is the primary Dyno-Tune guy with experience a mile long, and a great persionality.

For those who view the west side as a different state, Southwest Speed may be a hike - but worth it I believe.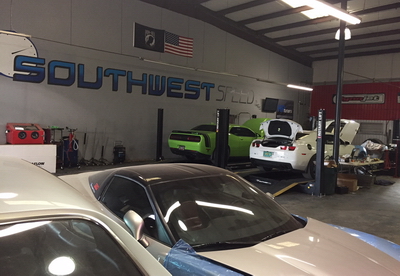 Southwest Speed has graciously allowed NMCA members a 15% discount off total invoice. They will work on any car, much like Scotty, but performance is what they specialize in. Dyno-tuning, after-market go-fast add-ons, horsepower - that is where these guys shine. Rate is higher - $129/hour (same as Reliable Chevrolet), but active NMCA members receive a 15% discount.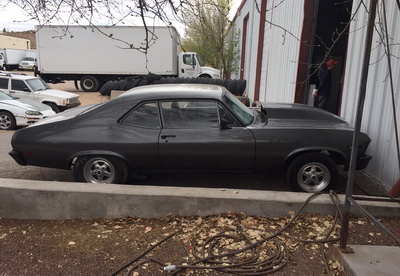 Both of these shops are welcome to the idea of NMCA members dropping by to check things out. Just my opinion here, but I received a lot more face-to-face and interaction with the mechanics at Southwest Speed.

For those with a Corvette no longer covered by warranty, I know Southwest Speed, and probably Beeline can access and tweak your computer. Southwest Speed does require a one-time $100 authorization fee which they must pay GM - but from that moment on they can do whatever computer work you want without additional GM fees. I'm uncertain about a GM fee using Beeline.

And finally, as a favor to me and the club, Southwest Speed is a location I suggest all members to drop in on. You're likely to see some cool cars! Meet the crew, identify yourself as coming from NMCA, and have a look around. I have been to this shop several times - and each time there I have seen a different, seriously enhanced vehicle. This shop is primarily a Corvette/GM shop, but they have close ties with the ford and Mopar groups in town.

I hope this information is of some benefit. Do yourself a favor and stop by each location. And as always, if you happen across a Corvette mechanic and shop where you get that good "gut" feeling, please bring this information to our attention. Happy motoring!

Source: Phil Ellison, NMCA
Submitted by Phil Ellison
4/6/18


40th Anniversary Edition
I have liked Corvettes since my teen years back in the 60's, but I never thought I would own one. Over the years, I have kept an eye out for the perfect one. Unfortunately, I could never afford one that I wanted to buy.

This year, I was looking over the inventory at Exotic Motors here in Tarpon Springs, FL and found a 40th edition (C4) Corvette in extremely nice condition and at a price of less than $10,000. I thought it must be too good to be true. I sent them several emails before finally going to take a look at it in person. When I got there I found the car in near showroom condition. The salesman said they had too many cars on the lot and were letting some go at low prices.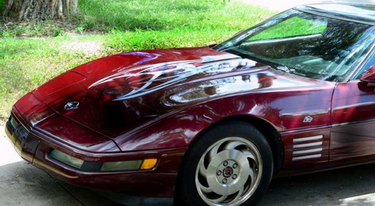 I was able to get the car checked out in their shop, had a few adjustments done and bought the car for only $7900. The credit union I financed it at said they wanted a certified appraisal done on the car. It was done a few days later and came back appraised at $18,000. Needless to say I have been more than happy. It has the 6 speed manual transmission, 5.7 liter 350 engine. Runs great and looks excellent. I did have to replace the brakes master cycler and power booster recently due to a leak in the master cylinder.

Now I am getting ready to take it to a few local car shows and who knows what from there. My wife always wanted a Corvette too, but she passed away in June 2015 before ever getting one. She may be looking down on me now and thinking, sure, now he has one. LOL

Read the entire article

Source: Phil Grierson, MidAmerica Motorworks
Submitted by Phil Ellison
3/30/18


Living The Dream
The first time I fell in Love with a Corvette it was 1987 and I was in the 7th grade. My Sister had purchased a 1973 Red Stingray Coupe. It had been refurbished and was in immaculate condition. I could not stop staring at that car and enjoyed every chance I got to ride in it.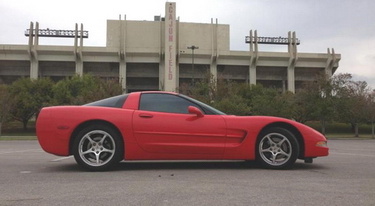 Fast forward to 2010. I am 35 years old and in the market for a Corvette of my own. I really wanted a black C6 but my budget would only allow for a C5. After months of searching I found an immaculate 2000 Torch Red Coupe. I bought a one way flight to Dallas, TX. and purchased the car.

First ride in it was a six hour ride home and I enjoyed every minute of it. I enjoyed that C5 for six years and 12,000 miles. I attended numerous car shows and won several awards but deep down inside I wanted that illusive C6. In July of 2015 I went to a local dealer to get an oil change in my C5. While being serviced I walked the dealer's lot and saw my Dream Car. It was a 2012 Centennial Edition Grand Sport. I had wanted a Centennial Edition ever since it debuted in 2012. I didn't go home with it that day but a week later it was mine. As I always say, "Living The Dream." Thanks to Corvette.

Read the entire article

Source: Brent Seaux, MidAmerica Motorworks
Submitted by Phil Ellison
3/23/18


Great "Black" Shark
My name is Dan Skopp. I bought my first Corvette in 2007; a white 1981 "Great White Shark".

I joined a local Corvette Club and have made a lot of friends. During club functions, a beautiful, black C5 would always catch my attention. Over the years, I became friends with the owners of the C5.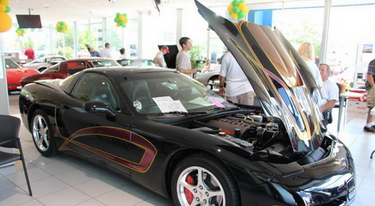 As the years went along, I enjoyed my 1981 and went to my first Corvette Funfest in September of 2008. I became friends with Mike Yager and his family and the whole crew at Mid America Motorworks.

I became aware that the owners of the C5 wanted to sell their car and I told them that I wanted it. I am the fourth owner. The first owner had it for a month, the second owner had it for 5 years, the third owner had it for 10 years, and I got it in April of 2016.

What a difference between the C3 and the C5! The 1981 still remains in the family (my daughter drives it now). The Black on Black 1998 has a stock engine and stock interior but has a special paint scheme. "She" manages to catch the eye of most attendees at car shows.

I have the build sheet and the window sticker to show the information about the car. I plan to have the 1998 C5 a good long time!

Read the entire article

Source: Daniel Skopp, MidAmerica Motorworks
Submitted by Phil Ellison
3/16/18


My Little Stingray
My wife was very sick; she once asked me I what I would do if I lost her. I said I would buy a Sting Ray to keep myself busy, which was an answer she was happy with.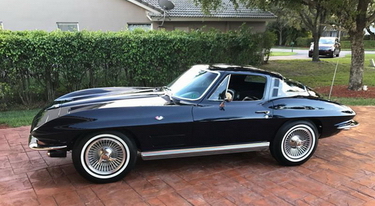 I began my search and found a very nice, well documented car. She was built the last day of the 1964 production run on July 21, 1964. Her body is an A.O. Smith and she was assembled in St. Louis.

Besides being the cutest little Sting Ray, she has some hidden all original attributes, like: an L76 327 365hp engine with first year Holley 4-bbl, Muncie M20 4-speed transmission, C60 Factory Air Conditioning, N11 off-road exhaust, G81 3:70.1 Positraction, J65 & J50 Power Metallic Brakes. She also has an AM-FM radio and the optional reverse lights.

She has won a Duntov Award, Bloomington Gold and she was even displayed in the Corvette Museum for 6 months in 2000. My little Coupe is even referenced numerous times in Nolan Adams restoration guide (she's VIN 122152).

I'm always tweaking or changing fluids and washing to keep her looking and running perfectly. I recently bought her new shoes (knock-off wheels). I have photos of one of her previous owners back in the 70's with a set on so I figure it's OK to stray a little from all original.

I drive her 3 or 4 times a week and I swear she runs better every time, these Corvettes were meant to run.

I sure my wife is pleased with how I spend my spare time.

Read the entire article

Source: Michael Dart, MidAmerica Motorworks
Submitted by Phil Ellison
3/9/18


My Corvette Raffle Ticket
In 2011, I mailed in a picture of my black Corvette Convertible to the National Corvette Museum. At that time they were doing a month by month contest featuring the best Corvette photo of that month. My Corvette was selected as the best photo of the month and they even put it on raffle tickets.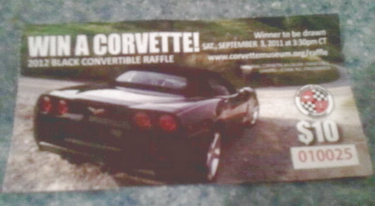 This photo is the raffle ticket that was for sale all over the country.

Read the entire article


Source: John Biggio, MidAmerica Motorworks
Submitted by Phil Ellison
3/2/18


All previous news postings can be viewed using the "News" link

NMCA, PO Box 91355, Albuquerque, NM 87199 :: info@nmcorvette.org