Welcome To The
New Mexico Corvette Association
Happy Father's Day
Latest Updates To This Site
EVENTS updated- 6/19/16
NEWSLETTER / MINUTES added - 6/19/16
STORY added - 6/19/16
FOR SALE updated - 5/12/16
PHOTOS OR VIDEO added - 4/17/16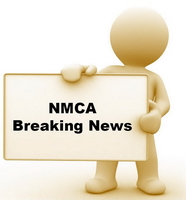 OEM Corvette Wheels - Look for new link in "links" area, under Corvette Parts

NFC Performance NMCA Discounts - Use Code NMCA10 - Look for new link in "links" area, under Corvette Parts


Each week see a new home page photo - see them all in Photos section

C5 Turns 700,000 Miles
Last year, owner Mark claimed to have racked up 650,000 miles on his 2000 Chevrolet Corvette. Since then, we've started wondering just how far this car would go, and as of June 2016 the original owner of this original-engine 5 appears to be close to 710,000 miles!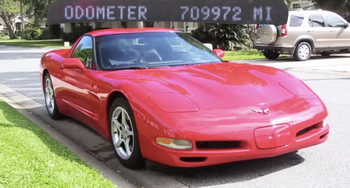 The updates Mark has offered up are pretty concise, stating only that his car is on its first engine and second transmission. Though if anyone reading has the Carfax app, Florida plate "770NRT" might yield a little more history!

The video he posted back in 2015 when he crested 650,000 miles includes a quick clip of the exhaust note which sounds a little rough to me, but perhaps one of our C5 fanatic readers can diagnose the engine's condition more astutely.

Regardless, three times the distance to the moon is impressive mileage to put on anything. I can't even imagine how many hours of seat time he would have had to invest to hit over 40,000 miles a year!

Read the entire article

Source: Andrew Collins, Jalopnik
Submitted by Phil Ellison
6/19/16


C4 Corvette May Involve Girlfriends Flashing Truckers
We already got more than 500 responses from you to the question of daily driving a cheap C4 Corvette, and here's some first-hand experience on what's it like to live with one of these beasts.

For starters, let's go back in time a bit to see what it was like to hoon a C4 in period, driving it to school and back in 1994. The microphone goes to Justin, who still has the keys:

I owned an '87 C4 Corvette as my daily driver while a Junior in High School in Michigan in 1994. It was a black 4+3 that I bought with 20k miles. I loved that car to death and went through tires like you wouldn't believe.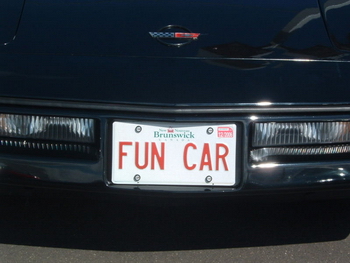 I was 17 and was one of the first in my class to get a car. I used to slide it sideways through McDonalds and do burnouts in the drive thru. I went way faster than I should have down some of central Michigan's back roads and to this day I still wonder how I didn't put it into a tree and 100+.

I fit 7 people in that car one night, 4 girls in the hatch in the back and a friend with his girlfriend on his lap in the front. Our journey only lasted 5 miles as I blew a tire from the added weight.

The car had some intricacies that only a mid-80's Corvette could have. Like the windshield wipers would pop off and slap the windshield at anything over 70 mph. I loved to drive with the roof off but that meant I had to have the windows all the way down as well cause the car would buffet with them up and it you just slightly cracked them then the windows themselves would buffet.

The roof was quick to put on as long as you were parked on a flat surface but if the car was even tweaked just a little...as I learned after 2 hours of bitching, swearing, and throwing the wrench...the top will not fit.

I drove the car to Sandusky Ohio with my girlfriend at the time who loved standing up out of the roof and flashing the truckers on the highway. On the same trip, we had a can of paint fall off the back of a truck and splash the entire hood of the car. We made it to a car wash in a little town off the highway to wash it off before it dried.

Read the entire article

Source: Mate Petrany - Jalopnik
Submitted by Phil Ellison
6/12/16


End Of An Era
1967 was the last year of the "mid year" C2 Corvettes, as the 1963 through 1967 models were known. The styling that shook the world in 1963 had proved itself everywhere, including critical praise and a sales volume that would not quit. Every model year saw a sales increase through 1966; Things cooled down for 1967 in part because it was known that a new body style would be introduced in 1968.

For all cars, 1967 would be a pivotal year. Safety and smog requirements would become the law starting in 1968 and the new regulations would affect performance cars profoundly.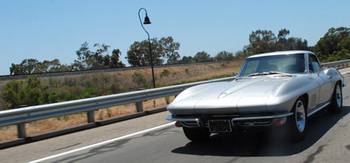 Big blocks continued to be the way to go for Corvette purchasers in 1967; of the five engine options available, four were 427 cu. in. displacement. Multiple carburetors were the secret on the L68 (400 hp, production quantity: 2,101 (9.16%), $306) and L71 (435 hp, production quantity: 3,754 (16.36%), $437) motors. They had been used with great success in the Pontiac GTO but a GM corporate ban caused them to disappear from the Pontiac. Corvette was exempted however and three 2 bbl. Holly carburetors (below) were mounted on top of an aluminum manifold. The center carb was used in normal operation; above 2000 RPM the front and rear units kicked in. Good fuel economy was part of the bargain since only one carburetor was in use most of the time.

Read the entire article

Source: The Corvette Story
Submitted by Phil Ellison
6/5/16


When is that Corvette beyond restoration?
While thoughts of finding a long-neglected 'Vette for a bargain price may keep legions of enthusiasts awake at night, making that car whole might cause nightmares. Should it be restored to factory-original spec or turned into a nice weekend driver - or perhaps given a restomod makeover?

The solution to that multi-dimensional puzzle depends on many factors. Condition is a primary concern, including how much of the original equipment, perhaps now rare and costly, remains. The finished car's potential value bears consideration too.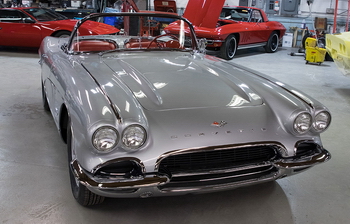 Werner Meier, of Masterworks Automotive in Madison Heights, Mich., is attuned to the tradeoffs involved. Having resuscitated countless Chevy Corvettes, Meier has a dozen or more restoration projects underway in his shop on any given day. He has hard-earned and well-informed opinions when it comes to making an old 'Vette whole again.

"You will usually do best by going back to stock," Meier said. "If you put a crate motor and aftermarket wheels in a classic Vette, it will be worth less to the purist."

Meier notes that prices paid for restomods - customized and hot-rodded cars with visual appeal - can be misleading. "Restomods that sell for $200,000 may be the result of a $400,000 investment," he said.

But that doesn't mean that a concours restoration is the only solution, Meier added. Often, a completed car's finished value doesn't justify the work's price, and a well-worn Corvette can often be resurrected as a stylish cruiser for far less than the cost of a full restoration.

Read the entire article

Source: Paul Stenquist - Hagerty
Submitted by Phil Ellison
5/29/16


A 48-year journey with a 1961 Corvette
"If there was a good Corvette in the paper, it was gone in a day," said Burton Hall. In 1967's spring and summer, Hall combed the local North Jersey newspaper classified ads for Corvettes daily. Today, he still owns the '61 he purchased that year.

While pursuing his dream 'Vette, Hall attended the Newark College of Engineering (today New Jersey Institute of Technology), and also worked two jobs: delivering for a Chicken Delight franchise in Teaneck, N.J. and selling paint at Sears. He owned an MGA but, like many young men at the time, badly wanted a Corvette.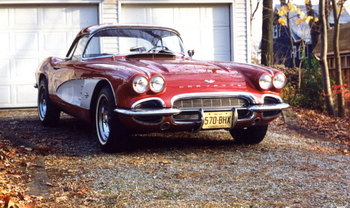 His curiosity piqued when a 1961 model advertised remained in the paper for three days. He and his father paid a visit and found the Honduras Maroon and white 'Vette had no problems, just an owner who refused to budge from his $1,300 asking price. The car's dual four-barrel, 283-ci V-8 was coupled to a four-speed and 4.11-geared Positraction axle. It was a solid go-fast recipe, if a bit high-revving on the highway.

Hall had $1,200, and no amount of negotiating - even offering to take the car without the hardtop - would secure the 'Vette. To close the deal he borrowed $100 from a friend.

"I didn't even have money left over for gas," he said. "I paid my friend back the next week, and the Corvette has been the history of my life since."

That history can be seen in the car's service records, which verify 250,000-plus miles, and in a patina that could only come from the original paint and interior. Hall put on the deep-dish Keystone wheels in 1968 but kept the original Vette hubcaps.

"The Keystones have a three-inch offset, so the car looks visually stronger with the wheels kicked out to the corners," Hall said. The Keystones came with spinner-style center caps, or at least two of them did.

"For the next 40 years, that would be the Holy Grail to find at any car swap meet," he said. He finally found one more wheel, and then two years ago, a friend called from a swap meet at Charlotte Motor Speedway while looking at a pair.

Read the entire article

Source: Jim Koscs - Hagerty
Submitted by Phil Ellison
5/15/16


Maine man reunited with Corvette
Edward Chaisson was 19-years-old when he saw it on a car lot in southeastern Massachusetts: A red 1984 Chevy Corvette.

The Quincy, Mass. native bought it for $7,500 in 1995. He drove it a year before joining the Air Force and placed it in storage. It moved from one place to another, and eventually he sold it.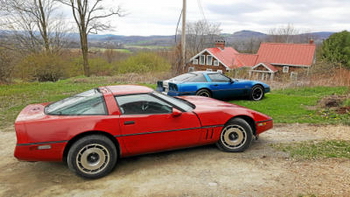 "When I was a kid in high school, these cars were it - they were the car you had to have," Chaisson, now a York, Maine resident, said Friday. Driving it, he said, "was like riding on rails. You couldn't ask for anything better."

He's since had five Corvettes, he said, but never forgot his first because of the sentimental value.

But thanks to some sleuthing and an anonymous tip, Chaisson tracked the Corvette down to a North Bennington barn and bought it this month for a second time.

He was working as a tow-truck driver, he said, when it came onto a Hanover, Mass. car dealership's lot.

"It was a Florida car - a couple drove it from Cape Cod every year," he said. "The top was faded and it needed a paint job."

He drove it for a year, he said, before he joined the air force. The car moved from one garage to another as he was stationed 3,500 miles away. He sold it in 2000.

"I was a punk kid, but this started making me a grown man," he said. He had to make car payments so his mom, the cosigner, wouldn't kill him. And he credits that responsibility to be one reason he went back to get a high school diploma.

There's more with a unique twist - Read the entire article

Source: Battleboro Reformer; Edward Damon
Submitted by Phil Ellison
5/8/16


More stories can be viewed using the "News & Stories" link

NMCA, PO Box 91355, Albuquerque, NM 87199 :: info@nmcorvette.org