Welcome To The
New Mexico Corvette Association
Fast And Faster
Latest Updates To This Site
EVENTS updated- 10/23/16
NEWSLETTER / MINUTES added - 10/23/16
STORY added - 10/23/16
FOR SALE updated - 8/2/16
PHOTOS OR VIDEO added - 7/18/16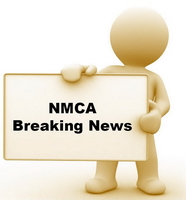 OEM Corvette Wheels - Look for new link in "links" area, under Corvette Parts

NFC Performance NMCA Discounts - Use Code NMCA10 - Look for new link in "links" area, under Corvette Parts


Each week see a new home page photo - see them all in Photos section

New Engine & Buyers Tour Combo At NCM
If you are thinking about participating in the Corvette Z06 Engine Build program and Buyers' Tour, the programs can now be a one-visit experience. "The benefit of the new Engine Build Experience is that your build will be compressed so that you can complete both programs during one visit to Bowling Green instead of having days or even weeks between the two," said Shane Webb, Delivery Department Manager at the National Corvette Museum.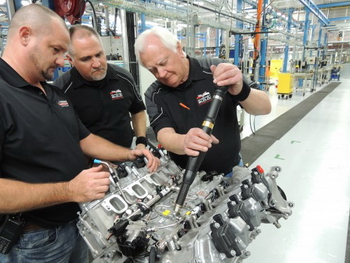 The new experience and tour is available to anyone ordering a new Z06, regardless of trim level, and is an all-encompassing event over two or three consecutive days. Participants will build their engine on day one, then on day two they can participate in a tour of the National Corvette Museum, and day three is spent back at the GM Corvette Assembly Plant watching their Corvette being built. In some cases the experience is compressed into just two days.

The Engine Build Experience is the combination of two options for a total price tag of $7,500 (RPO PBC - $5,000 and RPO PD5 - $2,500) and includes the engine build, buyer's tour, a photo album of your Corvette's assembly and dinner with a senior manager from Bowling Green Assembly and a NCM representative. The option is available on sold orders only. Contact your favorite Chevrolet dealer to add this option on to your Corvette Z06 order.

Read the article

Source: NCM
Submitted by Phil Ellison
10/23/16


2017 Corvette Grand Sport Test Drive
Chevy knows its customers. When they asked for an inexpensive sports car that could take on the best in Europe, it delivered with the Corvette Stingray. When they wanted the big Z06 engine, with the automatic transmission AND the convertible top, it acquiesced. And when customers wanted a middle model, something that sat firmly between the Stingray and the Z06, it brought us the Grand Sport. The name goes back a bit, though: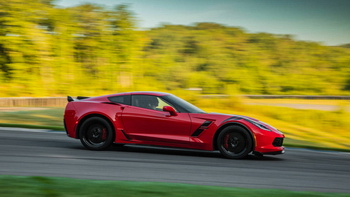 The Grand Sport idea came to be in 1960 when Corvette Godfather Zora Arkus-Duntov and legendary driver Briggs Cunningham entered three "mostly stock" Corvettes in the 24 Hours of Le Mans. It won its class and placed eighth overall. A few years later, Arkus-Duntov and Chevy planned to create 125 Grand Sport Corvettes for homologation -- that is, the necessary production number which allowed it to race -- but the plan was cut short when General Motors killed its factory racing support. Still, a few Grand Sports slipped out to customers.

The legend grew, and in 1984 Chevy introduced the Z51 package, a hi-po set of handling options that was the precursor to the true Grand Sport. In 1996, Chevy took the final step. It built 1,000 Corvettes labeled Grand Sport, all with an admiral blue exterior, an arctic white stripe and red hash marks on the left-front fender.

The legend grew, and in 1984 Chevy introduced the Z51 package, a hi-po set of handling options that was the precursor to the true Grand Sport. In 1996, Chevy took the final step. It built 1,000 Corvettes labeled Grand Sport, all with an admiral blue exterior, an arctic white stripe and red hash marks on the left-front fender.

Read the article

Source: AutoWeek
Submitted by Phil Ellison
10/9/16


$700 Jalopy on Craigslist = Million-Dollar Corvette
Anybody can go poking around Craigslist and find a junker car for $700. But nobody at all snapped up a jalopy listed five years ago and described thusly: "SERIAL # X53L on documented 1953 pre-production Corvette Frame. We believe this to be a 1953 Pontiac prototype that was to assume the name Longoria? Info received todate indicates that ZAGATO designed and PINNAFARINA constructed the body for GM in late 52." As Fox News reports via Hagerty, that listing turned out to be a storied 1960 Corvette known as the Cunningham Corvette No. 1-one of three turned into racecars by Briggs Cunningham, who put the cars through their paces at the 24 Hours of Le Mans in 1960. All three eventually were converted back to be street-legal, and were sold. No. 1 was the final one to resurface, now in "gaudy purple paint, poorly applied."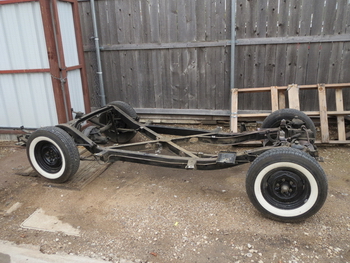 We'll likely never know where No. 1 spent its missing half-century. It may have been drag-raced, and its engine is missing. It's currently sitting in Indiana, the property of car collector Gino Burelli after a lengthy legal battle, and will head to New York state for a restoration that's estimated to take up to a year and cost upward of half a million dollars. Sound steep? Burelli is "shopping it," says a vintage car lawyer, who estimates that he should get well over the $700 the Corvette once failed to command-between $3 million and $7 million. (This stolen hot rod also turned out to be worth quite a lot of money.)

Read the article

Source: Poly Davis Poig
Submitted by Phil Ellison
10/2/16


Corvette Is King
Imagine Target trumping Saks Fifth Avenue. Timex outshining Rolex. Chevy beating Lamborghini. Actually, that last one should come as no surprise. The Chevrolet Corvette has added to its status as the world's most affordable supercar as it emerged the king of the 2015 Car and Driver Lightning Lap competition at Virginia International Raceway. It outran such thoroughbreds as the $353,115 McLaren 650S Spider, $274,120 Lamborghini Huracan and $163,000 Porsche 911 GT3.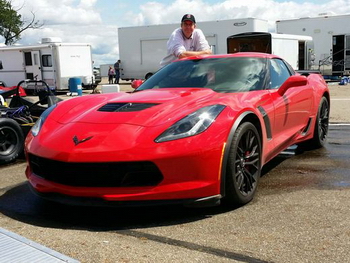 So quick was the $100,245 Z06 - Corvette's 650-horsepower performance model - that in the nine-year history of the famed Lightning Lap only one car has ever recorded a faster time: the 2014 Porsche 918 hybrid, a carbon-fiber cyborg from the future that costs nearly nine times as much the Corvette. The $875,175 Porsche was faster by a mere 1.5 seconds. That's over $250,000 per half second.

"It's incredible how much performance they pack into that $100,000 price point," Alterman said. "One of the interesting things about the Z06 is it proves the car with the highest top speed is not necessarily the fastest car around a race track. The McLaren (top speed: 204 mph), for example, was faster on the straights, but the Z06 with more down-force and grip just dominated on the more technical parts of the track."

Read the article and see photos

Source: Henry Payne, Detroit News
Submitted by Phil Ellison
9/25/16


2018 Corvette ZR-1 Spied
Aerial-photo confirmation that our speculation concerning the last great C7 Corvette is legit. Building on 1990-1995 King of the Hill and 2009-2013 Blue Devil heritage, the 2018 ZR1 will be the ultimate front-engined Corvette and a sure collector's item. Our images captured at GM's Milford, Michigan, proving ground show a hotted-up Stingray in the final phase of development. Close inspection reveals blue-painted opposed-piston brake calipers, gaping front-fascia intercooler air intakes, and attachment locations for an adjustable(?) rear airfoil.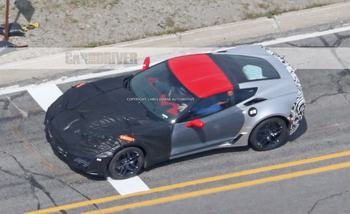 With the Dodge Viper's demise imminent, the Corvette soon will be one of only two U.S.-built sports car. (Don't forget the Ohio-built Acura NSX; the Ford GT will be assembled in Canada by Multimatic.) The new ZR1 will toast seven generations of classic American V-8 performance and value. Anyone with $100K burning a hole in their wallet would be wise to consider this Vette before they're embarrassed by one at their local track-day event.

The ZR1 will use the aluminum-spaceframe, composite-body, two-seat architecture introduced for the 2014 model year and nurtured since then with various power and handling improvements.

We expect the new ZR1 to join the 700-hp club with an aggressively supercharged and intercooled LT4 small-block. There's sufficient room inside this fifth-generation pushrod V-8 to stretch displacement past the current 6.2 liters in order to achieve sufficient output. While 750 horsepower has a nice ring to it, torque management may be necessary in the lower gears to circumvent rear-tire meltdown and to safeguard the Tremec seven-speed transaxle we expect to serve in this beast-with GM's 10-speed automatic a possible option. Members of the sacred order of the clutch should be advised that this likely will be the last hot Corvette with three pedals, as the 2019 C8 Zora due in 18 months or so is expected to be automatic-only.

Read the article and see photos

Source: Don Sherman, Corvette Magazine
Submitted by Phil Ellison
9/18/16


1969 L36
Garry Lansing is a Corvette technician from Indian Rocks Beach, Florida. That means he knows Corvettes inside and out. So when Gary falls in love with a particular Vette, you know it has to be something special. While he's owned a lot of Corvettes over the years, this 1969 big block coupe is one of Garry's all-time favorites.

"I like that one and the yellow one up there," the 48-year-old said, gesturing toward a sleek Corvette parked near Old Woodward Avenue and Merrill Street. Both roads were closed to traffic during the Saturday day-long event.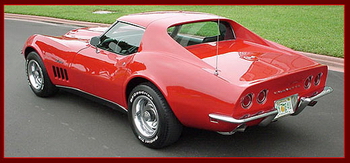 Garry purchased the '69 in August 1989 from the original owner and put the 65,108- mile Corvette in storage until he had time to restore it. In 1995 Garry pulled it out of storage and got to work. The body was repainted an alluring shade of Ferrari Red. The Corvette's Interior didn't need much; just seat covers and a new carpet set. The L36 427/390 horse engine got the cam from the 425 hp big block, aluminum intake manifold and Holley 650 carburetor and a set of Hooker Headers. When the L36 was reassembled, Dave Janus put a super tune on the big block.

Mated to the L36 is an M20 wide-ratio four-speed gearbox and a 3.36:1 Positraction rear. It's also equipped with soft ray tinted glass, power windows, power steering, headrests and AM/FM radio.

Perhaps the most amazing thing about this Corvette is, since Gary purchased it in 1989, he has put just 138 miles on the odometer. It's also a very early production car, built before the 575th unit in St. Louis. This low VIN, low mileage, lovingly restored big block Corvette is truly something special.

Read the article and see photos

Source: Paul Zazarine - Corvette Magazine
Submitted by Phil Ellison
9/11/16


More stories can be viewed using the "News & Stories" link

NMCA, PO Box 91355, Albuquerque, NM 87199 :: info@nmcorvette.org