Welcome To The
New Mexico Corvette Association
Ready For Fun
Latest Updates To This Site
EVENTS updated- 7/27/14
NEWSLETTER / MINUTES added - 7/19/14
STORY added - 7/6/14
FOR SALE updated - 7/24/14
PHOTOS OR VIDEO added - 5/24/14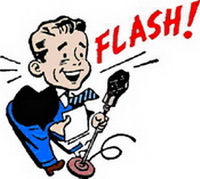 Best Pit Stop Tire Change Video Ever
Click here to watch an amazing, short video

Watch as C-7 hits 200 mph
Click here to watch video

Corvette collection starting from 1954 - all with original black paint
Click here to watch video


Each week see a new home page photo - see them all in Photos section

Who & What Is NMCA?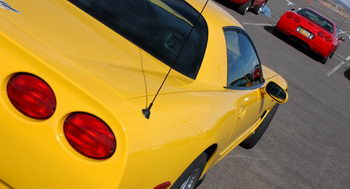 New to the area and/or considering NMCA? Let us introduce ourselves.

NMCA Overview
File size 5.8 MB - approx 2 minutes total run time


Created by Phil Ellison
2/28/13
Tach Tip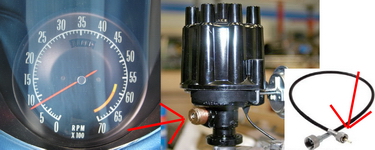 When you look at the tachometer on your dash - you '62 - '74 owners - you probably think what a marvelous gadget and let it go at that. Well, if you do, it will. It must be greased every 15,000 miles or so. A penny's worth of grease will save you money and lots of grief. Here's how: At the base of the distributor, un-screw the drive cable; next remove the brass threaded bushing by carefully turning it out of the distributor housing. When it is in your hand, you will notice a small gear which comes out of the center. Grease this small shaft. Next put a large finger-full of chassis lube or white grease into the hole in the distributor and reassemble. If you want to grease the cable, it must be removed from the dash side.
Submitted by Donnie Marchi
7/5/14

NMCA Caravan To Los Alamos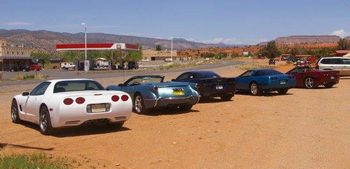 Ten members enjoyed perfect weather, Vettes (and a Monte Carlo, my Vette is still sans hood), friends and pizza on Saturday as we drove through the Jemez Mountains. A great time was had by all! Many pictures were taken and we topped off the run by invading the Atomic City Corvette meeting room at Time Out Pizza in White Rock. Thanks to Larry English for setting up our run!

Note: see the photos in the Photo area of this site.
Submitted by Stephen Hopkins
5/18/14

General Meetings Done Right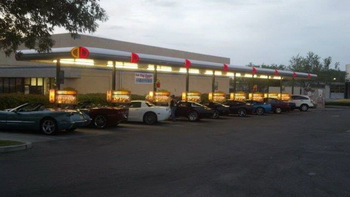 Just in case you needed a reminder - "meetings" are not boring for NMCA members. After each general meeting (third Friday of each month) members like to regroup at a local eatery and continue the "social" part of the monthly meeting. On May 16th the gang headed to Sonic and pretty much took the joint over. We're pretty sure nobody at Sonic minded much!
Submitted by Stephen Hopkins
5/18/14

Do You Know About This Corvette?
Hello,
I am an automotive historian with three books on Corvette to my credit. I am writing a book on barn finds and would very much like to include a rare Corvette with a NM connection - the white twin racing windscreen Corvette Super Sport show car (not to be confused with the XP64 SS race car) that was sold off a New Mexico used car lot and subsequently smashed with a teenage boy at the wheel.

I wonder if (and I realize this could have been 50-60 years ago) anybody remembers the used car lot's name, what the car sold for, and how badly it was smashed? I'd also like to know how it got from Michigan to NM, I am suspecting a GM employee bought it because sometimes show cars were offered to employees internally before being offered to outside GM car dealers.

If someone can come up with those facts or specific information - maybe an old ad, the car's Serial Number or Special order number (proving it was built by GM Styling), I can quote them in the book and mention your club as well.

Looking forward to hearing from solid axle fans in NM
Cordially, Wallace Wyss
Photojournalistpro@gmail.com
Submitted by Phil Ellison
4/21/14
Bad Day At The Museum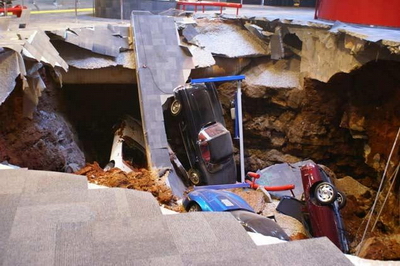 (CNN) -- The National Corvette Museum will open its doors again Thursday, a day after a sinkhole opened up inside it and swallowed eight valuable 'vettes.

The vehicles at Bowling Green, Kentucky's National Corvette Museum slid into a 40-foot-wide, 20-foot-deep sinkhole that opened up in the facility's yellow Sky Dome wing. The museum unofficially estimates it caused millions of dollars in damage.

Motion detectors alerted security that something was amiss shortly after 5:30 a.m. Wednesday, said museum spokeswoman Katie Frassinelli. An employee who first walked into the room "has been in shock all day," she said.

The painful losses have been tallied: Of the eight cars that fell, six were donated to the museum by Corvette enthusiasts, and two are owned by the car's maker, General Motors.

Here's the museum's list of cars that went down the hole:
-- a 1962 "Black Corvette"
-- a 1984 PPG pace car
-- a 2009 ZR1 "Blue Devil"
-- the 1992 white "1 Millionth Corvette"
-- a 1993 ruby red "40th Anniversary Corvette"
-- a 2001 Mallett Hammer Z06 Corvette
-- the 2009 white "1.5 Millionth Corvette"
-- a 1993 ZR-1 Spyder

The total value of the damaged cars is substantial, said museum executive director Wendell Strode. Almost all the cars have been removed from the room. "They've been setting up ramps to get the last one out," said Frassinelli. That remaining Corvette is suspended in a precarious position on a riser directly above the sinkhole.
Submitted by Phil Ellison
2/13/14

Never - Ever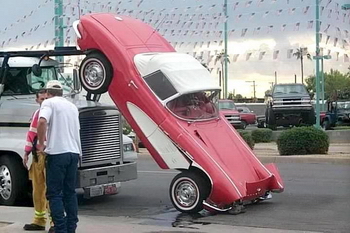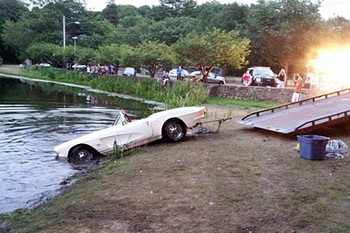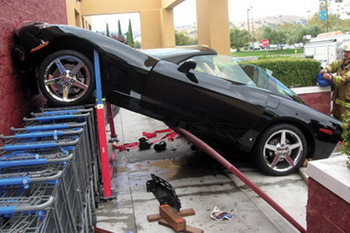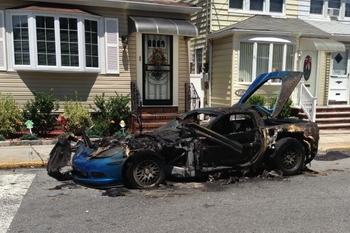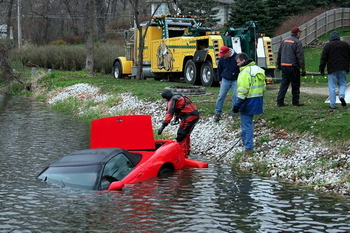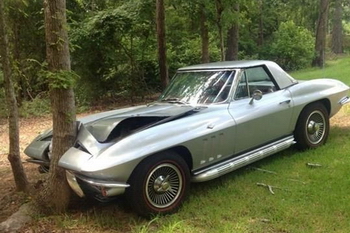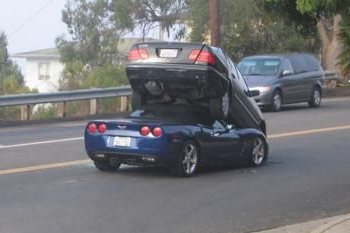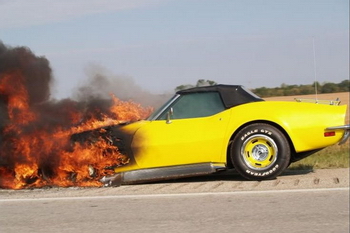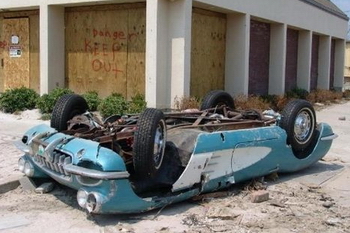 Submitted by Phil Ellison
2/8/14

NMCA Honored At 2014 Super Nationals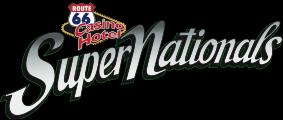 At the 2014 Super Nationals Custom Auto Show (Expo NM Jan 31 - Feb 2) NMCA's club display was awarded second place out of countless other club entries. Besides NMCA members talking with many prospective members and people who were considering a Corvette purchase, NMCA was approached to be involved in another very special show benefiting "Wounded Warriors", plus the NM Motorsports radio show would like to feature NMCA in an upcoming show.

This show was a team effort, and I personally want to thank all members for their help in set-up, tear down, showing their cars and talking with attendees. We should all be proud of the effort and award received.

Note: photos of this event will be posted at a later date.


Submitted by Stephen Hopkins
2/4/14

Looking For A Lost Friend
Trying to track down a 1960 Corvette, and from what I can find it was titled in New Mexico in 2003 and remains there (previously was in Ohio, before that owned by Pro-Team, and in Canada up until the early 1990's)

Wondering if your network would be able to help to find info on the car? Have pictures of restoration done in the late-80's and useful information on the car. My father owned it for several years. Last we saw it, it was a numbers correct 1x4bbl 4-speed car and painted a non-original dark blue. It had an aftermarket steering wheel and a Hurst shifter.

VIN is 00867S102234

Be appreciative of any help - we live in Canada and currently have a '56 and '57, we're still big fans of the C1.

Note: Please contact NMCA at info@nmcorvette.org if you have information about this Corvette. We will put you in touch with the former owner.
Submitted by Phil Ellison
1/29/14
NMCA Member Has Square Idea
Phil Ellison, long time NMCA member and officer has announced his newest creation . . . The Square Golf Ball. This is a novelty item and not intended to be struck or used in a game of golf. Originally thought of in 1995, Phil spent nearly 20 years looking for such an item. In 2012, upon discovering this item simply did not exist, he designed and patented The Square Golf Ball. This item is for sale directly from his web site, www.thesquaregolfball.com and from a growing list of retailers. The Square Golf Ball can also be custom imprinted for use in corporate, business or fraternal organization applications (or Corvette Clubs!)

Phil's business is Bright Valley Enterprises LLC, and he also offers culinary business educational programs, available at www.culinarybusinessinstitute.com.
Submitted by Phil Ellison
1/30/14
2015 Z06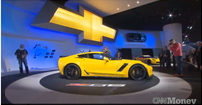 [source: CNN]

On the same day that the Chevrolet Corvette Stingray was named North American Car of the Year at the Detroit auto show, GM unveiled a different version with 170 more horsepower.

The Corvette Z06 will have a 6.2-liter supercharged V8 producing at least 625 horsepower.

The Corvette brand represents a small part of General Motors' overall sales and the Z06 will be just a sliver. But the Corvette is an important "halo car" for GM. It represents the pinnacle of the carmaker's engineering capabilities. More importantly, although it may not sell in big numbers, interest in the Corvette draws potential customers into Chevrolet showrooms.

The last-generation Z06, which went out of production after the 2013 model year, had a 505 horsepower engine and a base price of $75,600. This new Z06 has nearly as much horsepower as the last-generation Corvette ZR1 which had a price tag starting at over $100,000. Pricing for the new Z06 will be announced closer to start of production in early 2015, GM said.

One reason GM (GM, Fortune 500) produced the new Z06 was to meet racing regulations for the new C7.R race car, which was also revealed at the show. The C7.R competes in endurance races which have rules requiring that a car be closely related to ones sold to customers for street use. The Z06 is the more powerful of the two cars.

Besides all that horsepower, the Z06 also has 635 foot-pounds of torque, a crucial figure because it's a measure of the engine's pulling power. It creates the acceleration you feel when you step on the gas pedal. By comparison, the last-generation ZR1 had 604 foot-pounds.

The Z06 will be offered with a choice of either a seven-speed manual transmission or a new high-performance 8-speed automatic transmission. As in the base Corvette, the automatic transmission will have shift paddles mounted on the steering wheel, giving the driver the opportunity to select gears manually.
Submitted by Phil Ellison
1/15/14

More stories can be viewed using the "News & Stories" link

NMCA, PO Box 91355, Albuquerque, NM 87199 :: info@nmcorvette.org