Corvettes In The "D"
Visitors to the 3rd annual "Corvettes in the D" gathering, held along Detroit's riverfront on Sunday, June 28, were eager to view the stars of the show: seven stunning C5, C6 and C7 Z06 Corvettes.

"This year we featured the Z06 convertible," said event organizer Larry Courtney, "and subtitled the show 'Celebrating the Z06 Evolution.'"

The first of the all-star line-up was the velocity-yellow, full-competition 2015 Z06 owned by Royal Oak, Mich. resident Bill Murchison, who was happy to share the high points of owning that car - and his two other 'Vettes.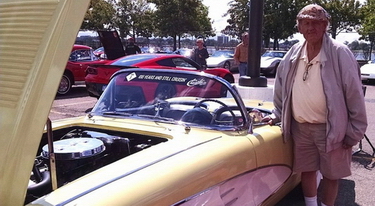 "This is as close to a race car that you can have on the street," he said. "The tires have very little tread and perform miracles on dry pavement - they're as amazing in the turns as on a straightaway."

Murchison also pointed out another design feature that looks great, but is, actually, purely functional. "See this feature that looks like a decorative side gill? Its purpose is to cool the transmission, brakes and rear axle."

Murchison's stable of Corvettes includes a blue 2009 ZR1 (the most powerful ever made) as well the anniversary edition of the convertible 427 in white with silver-blue stripes.

Standing in the shadows of the GM World Headquarters at the Renaissance Center, Murchison praised the Corvette line: "They give you what they say they're giving you in a beautiful, totally-drivable, timeless car. More than you'd hoped for!"

Read the full story & see many event photos

Source: Larry Courtney - Corvette (online)
Submitted by Phil Ellison
8/4/17