2018 Corvette ZR-1 Specs
The past few months have been a wonderland for Corvette fans around the world.

From "Super" C7 ZR1s, to multi-valve motor rumors, to mid-engine dreams finally materializing, these are the golden years for Corvette.

What we will see in the next 18 months arguably will be hazy mythology for buff books and click bait for decades. What a great time to be not only a Corvette fan, but a General Motors supporter as well, see SS/ZL1 Camaro, V-Series Cadillacs et al.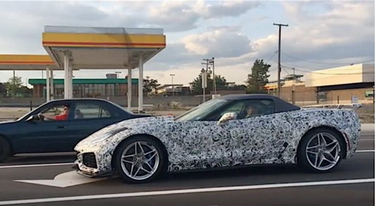 There have been so many wiggly YouTube vids of the swirly Camo'd C7 ZR1 that they are almost ho-hum now.

Don't get complacent just yet though. According to Don Sherman, veteran Car and Driver scribe, he says the ZR1 will debut at Continental Tire Road Race Showcase IMSA event at Road America this August.

If that's true, we are approximately 30 days out from 2018 C7 ZR1 intro. If not, we think we'll see it at NAIAS in Detroit first week in January 2018.

Read the full story & see photos

Source: Dave Cruikshank - Corvette (online)
Submitted by Phil Ellison
8/11/17