Mostly Stock Corvette - 9 Second Quarter Mile
With a 6.2-liter V8 engine, the Chevrolet Corvette Stingray is no slouch, but this example takes things to a new extreme.

It has been installed with a supercharger kit which bumps power up to an incredible 1,000 hp. Remarkably, the engine's internals have been kept standard and no modifications have been made to the differential or transmission.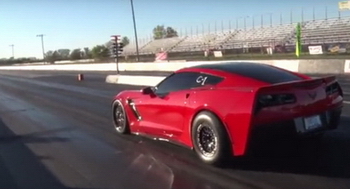 When fitted with drag radial tires, it recently rocketed down the quarter mile in 9.69 seconds at 143 mph, a truly remarkable, hybrid hypercar-beating time and particularly impressive for a rear-wheel drive car with a manual transmission.

Although we don't expect to see a stock 'Vette ever record such a ferocious time, exciting things are happening within General Motors, including the development of a 700+ HP ZR1 and a new mid-engined Corvette for the model's eighth generation.

Read the story & see the video

Source: Brad Anderson, Car Scoops
Submitted by Phil Ellison
1/7/17


div>