Rare Find - 1967 Corvette Big Block
John Haynal's ears perked up when his friend Doug asked if he had heard about Albert Way's old Corvette. Wasn't that a 1967 big-block?

Haynal is a well-known car collector in the Ocean City, New Jersey, area. He has a 1934 Ford five-window nostalgia rod built in the 1950s; two Vegas, one he races in Super Pro and a second that is an old Pro Street; along with an original 1928 Model A sport coupe.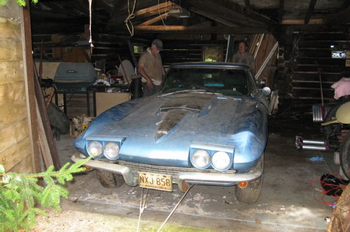 Doug is a schoolteacher and does welding on the side. He was fixing an intake manifold for Haynal and shared the news that Way had passed away. Way's brother Ron was handling the estate, which included a 1967 Corvette.

Haynal's mind drifted back to 1981-1982 when he was a homebuilder in Ocean City and Albert "framed a house for me."

"Then, one day he gave me a ride in a TVR, which is a little, foreign sports car with a V-8. Then he took me over to his house and showed me all the cars he had. They were stashed in all these garages. And the Corvette was there. And I said, 'Albert why you just letting these cars sit?' And he said, 'Well, I don't have time,' etcetera, etcetera."

Haynal had been very surprised to see two Cheetahs, one fiberglass and one aluminum, a real Can-Am race car, other "high-dollar" cars, and the 1967 Corvette convertible.

Read the entire amazing article

Source: Jerry Heasley, Super Chevy
Submitted by Phil Ellison
12/18/16