$290 Million - Corvette Plant Upgrade
DETROIT -- General Motors plans to spend $290 million on its Corvette plant in Kentucky, just as rumors about GM's plans for the next generation of its iconic sports car heat up.

GM today said it will "upgrade and modify" the Bowling Green plant's vehicle assembly operations for "technology upgrades and manufacturing process improvements." It didn't say whether the investment is needed for an eventual redesign of the Corvette, which is three years into its seventh generation.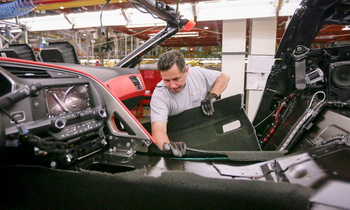 The announcement comes amid speculation about the next iteration of the 'Vette. Last month, Car & Driver reported that a midengine Corvette -- for decades the subject of enthusiast rumors and lust -- is slated for the 2019 model year.

The magazine's report cited an "impeccable source" and includes plenty of detail, even reporting that some prototypes of the "C8" (eighth-generation) Corvette are housed in Building 54 at GM's proving grounds in Milford, Mich. It says the car would use a version of today's V-8 engine, be priced around $80,000 and will be shown at the Detroit auto show in January 2018.

The report also says that the current C7 Corvette Stingray will be phased out by late 2018. That would leave the critically praised current version in service for slightly more than five years, a truncated product cycle relative to previous Corvettes. The C6, for example, was in service for about eight years. Some industry forecasters don't expect the next-gen Corvette to appear until after 2020.

Read the entire article

Source: Mike Colias - Automotive News
Submitted by Phil Ellison
8/28/16