Long Lost Briggs Cunningham Corvette
A 1960 Chevrolet Corvette long thought lost to history was finally found in 2012. The car was one of three Corvettes fielded in the 1960 24 Hours of Le Mans by legendary American sportsman Briggs Cunningham.

A superb replica depicting the car in its original state was displayed on the sidelines of the 2016 24 Hours of Le Mans held in June, and thanks to the keen eye at Motor.es we have some photos of it.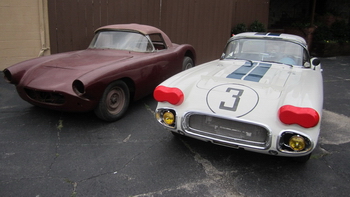 The original car was the #1 Corvette that Cunningham actually drove at Le Mans, though it never finished due to a crash. After the race it was converted for drag racing and subsequently ended up in a junk yard. A Florida man bought it in 1972 but not knowing its significance left it to rot in a warehouse.

That man's son, Richard Carr, in 2012 learned of its significance after doing a VIN search on the Internet. It was sold that same year to Lance Miller who through his father already owned the #3 Corvette fielded by Cunningham in the 1960 Le Mans race (the #2 Corvette is owned by collector Bruce Meyer)

Miller in 2012 sold the car for $75,000 to Corvette restorer Kevin Mackay, who had been searching for it for decades. Together they planned to present it at the 2012 Corvettes at Carlisle event but the car was pulled at the last minute because of a dispute over ownership.

Read the entire article

Source: Viknesh Vijayenthiran - Motor Authority
Submitted by Phil Ellison
7/17/16