A 48-year journey with a 1961 Corvette
"If there was a good Corvette in the paper, it was gone in a day," said Burton Hall. In 1967's spring and summer, Hall combed the local North Jersey newspaper classified ads for Corvettes daily. Today, he still owns the '61 he purchased that year.

While pursuing his dream 'Vette, Hall attended the Newark College of Engineering (today New Jersey Institute of Technology), and also worked two jobs: delivering for a Chicken Delight franchise in Teaneck, N.J. and selling paint at Sears. He owned an MGA but, like many young men at the time, badly wanted a Corvette.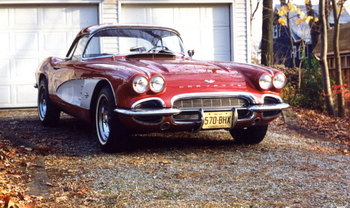 His curiosity piqued when a 1961 model advertised remained in the paper for three days. He and his father paid a visit and found the Honduras Maroon and white 'Vette had no problems, just an owner who refused to budge from his $1,300 asking price. The car's dual four-barrel, 283-ci V-8 was coupled to a four-speed and 4.11-geared Positraction axle. It was a solid go-fast recipe, if a bit high-revving on the highway.

Hall had $1,200, and no amount of negotiating - even offering to take the car without the hardtop - would secure the 'Vette. To close the deal he borrowed $100 from a friend.

"I didn't even have money left over for gas," he said. "I paid my friend back the next week, and the Corvette has been the history of my life since."

That history can be seen in the car's service records, which verify 250,000-plus miles, and in a patina that could only come from the original paint and interior. Hall put on the deep-dish Keystone wheels in 1968 but kept the original Vette hubcaps.

"The Keystones have a three-inch offset, so the car looks visually stronger with the wheels kicked out to the corners," Hall said. The Keystones came with spinner-style center caps, or at least two of them did.

"For the next 40 years, that would be the Holy Grail to find at any car swap meet," he said. He finally found one more wheel, and then two years ago, a friend called from a swap meet at Charlotte Motor Speedway while looking at a pair.

Read the entire article

Source: Jim Koscs - Hagerty
Submitted by Phil Ellison
5/15/16