The C3 Buyers Guide - Part 1 of 7
This is article one in a series of seven.
The C3 Corvette might be the most controversial model of all the generations Chevrolet has produced. If ever there was a GM show car, with all it's impracticality transitioned to production, it was these late 1960's and '70s Corvettes. The C3 also had the unfortunate task of being released on the heels of the C2 Corvette, and understandably, was a tough act to follow.


The 1968 Stingray (all one word now, as opposed to the C2's Sting Ray,) was based heavily on the Mako Shark II concept car that wowed folks in 1965. It's amazing to think that these show cars are 50 years old!

There were two Mako Sharks, one a functional driver and the other a pusher that was usually featured in Chevrolet publicity material of the day. The paint scheme was blue and gray on top and silver and white along the rocker panels, and the result of GM Styling guru Bill Mitchell's fascination with marine animals. In retrospect, not only was Mitchell a talented visionary, but turns out he was a pioneer of biomimicry in the field of automotive design.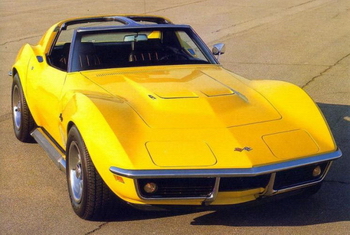 In 1969 the Mako Shark II morphed into the Manta Ray. When viewed today, its clear that it influenced the design of soft-bumpered, production Corvettes that would later debut in the early '70s. The C3 surrendered the comparative practicality of mid-year Corvettes (especially the coupe) for a longer, heavier, model with storage space that would barley accommodate a six-pack of beer and a couple of eight-track tapes.

Regardless, when the sleek new C3 debuted in the fall of 1967, all those shortcomings were overlooked. Low-slung with peaked fenders and a pinched waist that simultaneously evoked a coke bottle, a shark, and the hourglass curves of a woman's body, it has become one of the most enduring automotive designs ever produced and still looks fresh today. It also had concealed headlights and windshield wipers, fiber optic blinking lights, and a sugar-scoop rear window. The new C3 generation also introduced removable roof panels, a modern automatic transmission, and all the heavy duty horsepower Chevrolet could muster.

Source: Corvette Online - By Dave Cruikshank
Submitted by Phil Ellison
1/3/16