Corvette Fun Facts
Corvette Fun Fact #7
The Corvette Z06, offered for a number of model years starting in 1963, was created to give private racers an option for competition when GM couldn't establish a factory race team. The 2004 C5Z06 and the 2012 C6 Z06 are two just just a few street cars to have broken the eight minute time around the Nordschleife. The Nordschleife is part of the Nurburgring complex near Cologne, Germany, and has been nicknamed "The Green Hell" as one of the most difficult, dangerous circuits in the world. It's rumored that in 1963, a single Z06 convertible was produced. The 1963 Z06 is said to have been driven for approximately 7,000 miles - and then stored. Few have seen this legendary Corvette.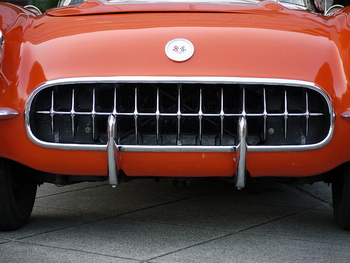 Corvette Fun Fact #12
In 1953, only 300 Corvettes were built. Chevrolet had accelerated production plans due to an enthusiastic response after more than 1.4 million people came out to see Corvette displays throughout the United States that year, with production starting June 30th, 1953. All of the 1953 Corvettes were assembled in Flint, Michigan, and all of them were white with a red interior.

Corvette Fun Fact #14
The Chevrolet Corvette was originally code named Opel, but Chevrolet's chief photographer Myron Scott is credited with coming up with the Corvette name. He was inspired by the small, fast class of corvette warships.

Source: ASAP - Internet April 2015
Submitted by Phil Ellison
7/26/15