Corvette Fun Facts
Corvette Fun Fact #3
A red 1967 Chevy Corvette L88 is among the most expensive vehicles in the world. In January 2014, a 1967 Chevrolet Corvette L88 sold for $3,850,000. There were only 20 1967 Chevy Corvette L88s produced - and only one of them was red. This rare, incredibly valuable vehicle was incredibly popular at Barrett-Jackson's auction in Scottsdale.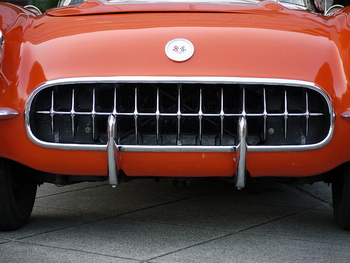 Corvette Fun Fact #8
The 2014 Corvette Stingray can reach high speeds - in reverse. The top speed in reverse for the 2014 Chevy Corvette Stingray is an incredible 53 miles per hour. That's fast! We do not recommend testing it out for yourself, but we bet it would be fun to try out on a track.

Corvette Fun Fact #9
The 1968 Corvette is the fastest in history. The 1968 LT-2 (a prototype '70 engine) has the fastest recorded 0-60 time in all of Corvette history at 2.8 seconds, as tested by Motor Trend. The 1968 Corvette reached 1/4 mile in 10.86 seconds at 124.64 miles per hour. Other close calls came from the 2009 Corvette ZR1. Road and Track tested it at 3.3 seconds from 0-60, and 11.4 seconds at 125.5 miles per hour to hit 1/4 mile. Motor Trend reached similar results for the same model, with 3.3 seconds to 0-60, and 11.2 seconds to the 1/4 mile at 130.5 miles per hour.
Source: ASAP - Internet April 2015
Submitted by Phil Ellison
7/12/15