Vette News - 1978 Jet Corvette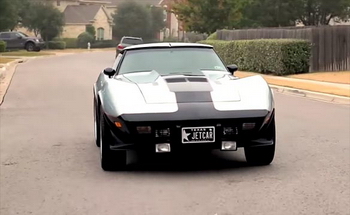 Way back in ancient times, say in the era of the 1960s, there was great interest amongst the world's great automotive companies in a new and remarkable power source, the gas turbine, more commonly referred to as the jet engine. It was a time when the Jet Age showed signs of coming down to earth.

But, as we all know, the great Jet Age on wheels never got off the ground. Vince Granatelli, however, was not convinced and when a customer came into his Pit Stop Service shop in the late '70s seeking an outrageous custom car, he immediately thought of a gas turbine power plant. If the name Granatelli sounds familiar to you, it should-Vince is the son of Andy Granatelli of STP and Indy 500 fame. Andy entered the most famous turbine-powered car in Indy 500 history in 1967, one that came within a whisker of winning the whole shebang. With a big lead and only three laps left in the 200-lap race, the turbine car ate a $6 transmission bearing and coasted to a stop.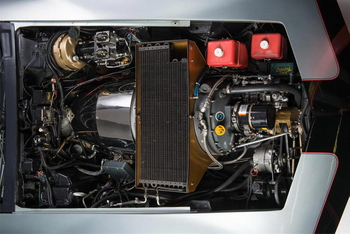 The powers at Indy saddled future turbine-powered cars with so many restrictions that they became uncompetitive and faded back into the woodwork-except in Vince Granatelli's shop where he had a few left over from his father's turbine adventures. One of the few cars available that could accommodate the gas turbine under the hood was the Corvette, so it became Vince's choice to convert into a fire breathing jet.

The result is a stock-looking 1978 Corvette that is like no other. While the body may look stock, the entire front end of the chassis was modified to take an 880 horsepower Pratt & Whitney gas turbine engine. Oversize disc brakes are needed to provide the stopping power and a modified GM transmission connected to a beefed-up driveshaft deals with the monster 1,160 lb-ft of torque that the engine provides.

A special gearbox is required to reduce the normal engine speed of 37,500 rpm to a more transmission-friendly 6,320 rpm and a cleaver bit of ductwork handles the tremendous amount of hot exhaust gas from the engine. If you look carefully at the car, it appears to, and actually does, have an increased ride height. This allows the entire underside to be a huge exhaust duct which extends across the entire width of the rear of the car.

How is the car to drive? In a word, different. The idle speed of the turbine will drive the car at 60 mph, so most of the driver's effort is keeping the brake on to limit the speed. Due to the massive torque, acceleration is brisk at any speed, although there is a bit of a lag between movement of your right foot and actual acceleration. The 0-60 mph time of 3.2 seconds was, no doubt, impressive for its time, but some of today's supercars can match that without the issues raised by the turbine engine.

Milton Verrett bought the car in 1982 for $550,000. It was recently offered at the Barrett-Jackson Scottsdale auction, but the top offer didn't match the reserve.

If you're looking for a Corvette that is totally unique, the jet-powered Corvette is still available. You may rest assured the no one else will show up at the local cruise-in with one just like it.

Source: Bruce Troxell - CNN & Barrett-Jackson
Submitted by Phil Ellison
1/25/15