NMCA Caravan To Los Alamos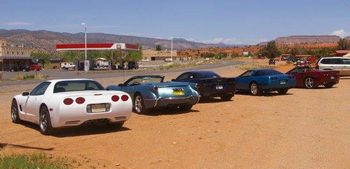 Ten members enjoyed perfect weather, Vettes (and a Monte Carlo, my Vette is still sans hood), friends and pizza on Saturday as we drove through the Jemez Mountains. A great time was had by all! Many pictures were taken and we topped off the run by invading the Atomic City Corvette meeting room at Time Out Pizza in White Rock. Thanks to Larry English for setting up our run!

Note: see the photos in the Photo area of this site.
Submitted by Stephen Hopkins
5/18/14