Mid Engine Corvette?
The evidence for the imminent appearance of a mid-engine Corvette continues to pile up. These photos posted at corvetteforum.com, allegedly CAD drawings of said car, add fuel to the rumors.

Do we know if these are genuine drawings from a Chevrolet engineer's computer? No, but there's a good chance they are. Assuming there's some bit of truth to the photos, we can deduce a few things from them. For one, the leaf springs appear to be gone, replaced with a coil-over suspension. This would probably mean GM's patented magnetorheological shocks will be in place.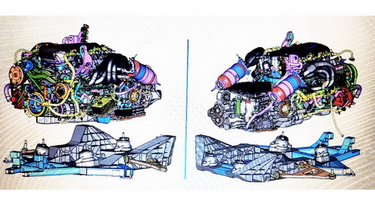 The powertrain drawing looks like it could be an LT1, but we'd expect the naturally aspirated V8 to be the weakest of the engine choices (forced induction should be inevitable). Looking at the side sill in the suspension shot, we can see similarities between its shape and that of Chevy's test mules caught by spy photographers.

Chances are this CAD model is real, and we're looking at the mid-engine 'Vette in some unknown phase of production. The photos were taken down almost as soon as they were posted online, but at that point, it was too late. There's a chance we'll see the car unveiled at the 2018 Detroit auto show, but our latest insider gossip has it skipping the NAIAS, so we'll find out in January. Catch up on the latest info and spy photos here.

Read the entire article


Submitted by Zac Palmer, AutoWeek
12/22/17