The Most Valuable Corvettes Ever Built
CNN Money has listed the 10 most valuable Corvettes according to their research, using the mean sold price. Starting with number 10 and increasing in value we have listed each of the cars along with a bit of tech and specifics about each model. We understand that there may be some very unique or special editions that can draw higher dollar figures, but this list tried to cover the more well-known Vettes.

Many of the Corvettes are still climbing in value and as the calendar pages fly by, these cars are only becoming older and more rare. As much as we love the new capabilities and technology that GM has put into the more recent Corvettes, there is just something about a classic.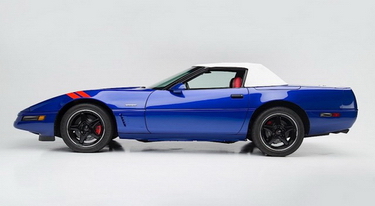 The 1996 Grand Sport convertible is one of the rarest C4s built. While there were a few special edition cars built with extremely limited numbers, few are more recognizable then the famed C4 Grand Sports thanks to their paint schemes; which is Admiral Blue, an Arctic White stripe down the center, and two red slashes on the driver side front fender.

There were 1,000 C4 Grand Sports built, but the convertible only made up 190 of these. Equally as notable as the paint, is the LT4 engine which housed: a 10.8:1 compression ratio, aluminum heads and camshaft, a 6,300 rpm rev limiter, and produced 330 hp at the crank. Quite the engine for 1996!

Read the full story & see photos

Source: Brent Davis (2015)- Corvette (online)
Submitted by Phil Ellison
8/18/17