11 Things You May Not Know About Corvette
Part I of a II part series

1. The first Corvettes were too advanced for the factory. Because the Corvette was the first fiberglass body that GM mass produced, the factory was ill-equipped to handle the new tech, and they didn't know how to ground the car. The first few cars they made wouldn't start. Instead of driving them off the assembly line, they had to push.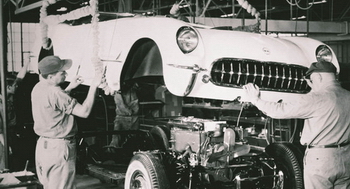 2. The Corvette story involves Nazis, prostitutes and Christmas. Zora Arkus Duntov, a.k.a. "Father of the Corvette," was a Russian Jew born on Christmas in Belgium. He grew up in Germany, and was living in Paris when his wife had to outrun Nazis to Bordeaux in an MG while he hid in a bordello.

3. The first Corvette logo was illegal. Originally the Corvette was supposed to have a checkered flag and an American flag… until they realized that you can't trademark the American flag without changing it into an interpretation.

4. Corvette wasn't the original name. The car's code name was Opel while they were developing it.

5. It's not even the original Corvette. Chevrolet's head photographer actually named it, after a class of warships.

Read the full story

Source: Aaron Miller, Thrillist Cars
Submitted by Phil Ellison
5/19/17