Fiberglass To Carbon Fiber
DETROIT - It's a scientific fact: Low weight plus high horsepower equal exhilarating performance. That combination has defined the Corvette for six decades, as increasing power output matches the use of advanced materials to minimize curb weight.

The 2013 Corvette Z06 exemplifies that philosophy. With a curb weight of only 3,199 pounds (1,451 kg) and 505-horsepower (377 kW), it is not only one of the lightest sports cars available in America, it has one of the best power-to-weight ratios of 6.33:1. That's better than the Aston Martin DBS (7.5:1 - 510 horsepower/3,836 pounds), Porsche 911 Turbo S (6.7:1 - 530 horsepower/3,561 pounds) and Nissan GT-R (7.1:1 - 545 horsepower/3,887 pounds).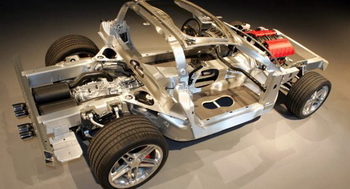 "Horsepower isn't the only measure of performance," said Harlan Charles, Corvette's marketing manager. "Balance and low weight are just as important and that's where the Corvette excels. It has a heritage of employing cutting-edge technologies and materials to help optimize performance."

Corvette's use of advance materials began in 1953, when the first Corvettes were produced with all-fiberglass bodies. Every Corvette since has featured a composite-material body.

Fiberglass, the lightweight, rust-proof composite material, was first considered for use on a GM vehicle by legendary designer Harley Earl. Besides being an exotic choice for the early Fifties and having an undeniable weight advantage, fiberglass offered an economical way to create the low-volume Corvette without the expense of large sheet metal stamping dies.

Read the full story

Source: GM Web Site
Submitted by Phil Ellison
6/23/17