2019 Chevy Corvette C8 Spied
What It Is: Even casual readers of this publication are no doubt aware of our particular multi-decade obsession with General Motors finally pulling the trigger and mounting the Corvette's engine behind the driver and passenger, where God, Ferry Porsche, and Zora Arkus-Duntov intended it to be. First spied by us 18 months ago cosplaying as a DTM-grade Holden Ute, Chevy's mid-engined mules have seemingly taken on a more conventional, disguised-supercar wardrobe.

Why It Matters: Why it matters? Why it matters? Have you not been reading our rantings about such a thing over the past five decades? As per our latest report on the car published just last month, expect the totally new machine to arrive at the 2018 Detroit auto show and go on sale later that year. It'll be the most important fundamental change to the Chevrolet Corvette since GM dropped in an eight-cylinder engine in 1955.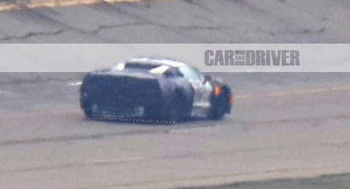 Platform: The C8 will ride on a new platform shared with nothing else in the GM portfolio, until Cadillac CEO Johan de Nysschen decides to bring back the XLR.

Powertrain: Expect the next Corvette to launch carrying a version of the venerable Chevrolet pushrod small-block engine behind the occupants. A year later, there should be a mid-engined revival of the original ZR-1 engine concept: a 32-valve V-8. And given that GM has trademarked "E-Ray," we expect some form of hybrid powertrain option.

Competition: Audi R8, Ferrari 488GTB, Jaguar F-type, Lamborghini Huracán LP610-4, Porsche 718 Cayman, Porsche 911.

Estimated Arrival and Price: The car will arrive in 2018 as a 2019 model. Pricing is expected to start at $80,000 or so, rising quickly as more power is introduced.

Read the story & see more photos

Source: Davey Johnson - Car & Driver
Submitted by Phil Ellison
3/17/17