'63 Split Window Still A Classic
I grew up in Detroit. I went to Vernor Elementary School, named after Detroit's famous Vernors Ginger Ale, and after that, Henry Ford High School. Like a lot of people from Detroit, I have always loved cars.

In the fall of 1962, I was with my father in downtown Detroit when a 1963 Corvette split window coupe pulled up behind us. This was the all-new second generation Corvette, call Sting Ray [Today's models are one word: Stringray]. In hindsight, I think I knew even then that this car was destined to be an icon. I also knew that, someday, I had to have one.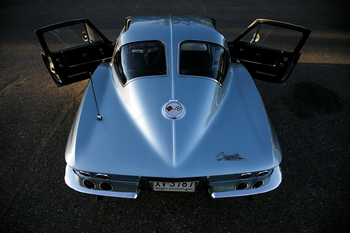 It took 36 years for that dream to come true. I was flipping through a newspaper in 1998 when I saw an ad for a 1963 split window coupe. I drove down to look at the car. It was the exact car that I wanted. I was told that the car had once belonged to the rock star Rick Springfield. Whether this was true, I never knew. [The Wall Street Journal contacted Mr. Springfield, who does believe that he owned this same car.]

What is a split window coupe? In 1963, General Motors introduced the second-generation Corvette with a post running down the back window. People complained that they couldn't see out the back. So for 1964, that post was gone. That second generation Corvette (1963-1967) is often hailed as the most beautiful Corvette of all. And 1963 was the only year the split window was built, so it is particularly desirable among collectors.

I have a few cars now, including a 1967 Corvette 427 and a Shelby GT350. But if I sold them all, the split window coupe would be the last to go. It's just flat out classic.

Read the story

Source: A.J. Baime, WSJ
Submitted by Phil Ellison
1/14/17