Ford Fusion Crushes Classic 1959 Vette
No, that's not a poorly photoshopped picture of a Ford Fusion resting on a 1959 Chevrolet Corvette -- it's real, and it's not the result of some hypertraditionalist who hated the Cragar wheels wrapped in wide whitewall rubber.

No, it was just a confused elderly woman. According to a post on the Corvette Forum, she confused her gas and brake pedals and promptly parked her Ford Fusion on top of the vintage Corvette.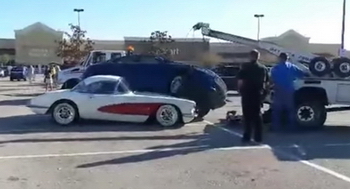 Considering the situation, the Corvette seems to have come out OK, though you can't see what exactly is going on underneath the shards of broken fiberglass. There's definitely a trip to the body shop in its future.

Read the story & see more photos

Source: Wesley Wren - Autoweek
Submitted by Phil Ellison
3/24/17