Corvette Birthday Celebration
Residents of the Homestead Assisted Living of Hastings invited a special guest to its own birthday party Thursday: The Corvette.

The first-ever Chevrolet Corvette model - called C1 - entered production on June 30, 1953, in Flint, Michigan.

Homestead activity director Ashley Schroeder said that although the center had held car shows in the past, they had not had a Corvette show up until now. Her father, the owner of a 2004 magnetic red Corvette coupe, had given her people to contact for Thursday's show.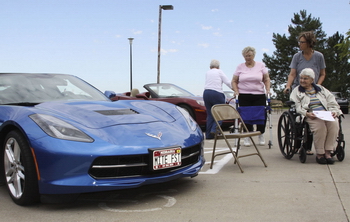 We decided to put together a little car show to kind of have some fun and let the residents get interested in Corvettes," she said. "This is something that everybody likes at this time of year. It's kind of a patriotic thing, car shows."

A variety of models were shown off at the center for residents to view, with seven models ranging from 1958 to 2016 spread out across the parking lot. Dale Schultz of Hastings owns the 2016 model, which has been nicknamed "the Batmobile" because of its the shark gray color. "I showed it to my friend, and he says, 'Oh, this looks like the Batmobile,' " he said. "So, that's how (the name) came about."

Schultz purchased the car shortly after retiring in February 2015. He said he always wanted to buy a sports car after he retired. "So I looked at a number of sports cars, including the Camaro and the Mustang and the BMW and all those, and I decided that when they came out with a new design, this is the one I wanted," Schultz said. Schultz said he liked this particular car because of its parking assist curb cameras, seven-speed transmission and quieter engine. "It looks more luxurious than some of the older models," he said. "I like the streamline design, and I guess I just like the way it drives."

Read the entire article

Source: Hastings Tribune
Submitted by Phil Ellison
11/6/16