One Of The Best Corvette Shows
Les Perkinson III of Troy stopped to admire a "money-green" Corvette in downtown Birmingham, Mich. during the North Oaks Corvette Club's Fourth Annual Corvette Generations Car Show on July 23, 2016.

"I like that one and the yellow one up there," the 48-year-old said, gesturing toward a sleek Corvette parked near Old Woodward Avenue and Merrill Street. Both roads were closed to traffic during the Saturday day-long event.

"I like poppin' colors," he added.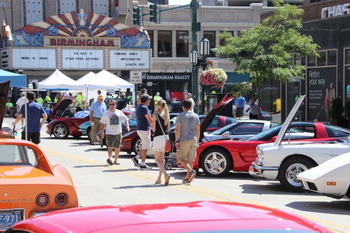 Perkinson, and his 22-year-old son, Les Perkinson IV, share a love of sports cars. Both said they'd be happy with any of the more than 100 gleaming rainbow of 'Vettes lined up on display along Old Woodward.

"I always have wanted to get a Corvette," said Les III. "We are the Motor City. Why not have something that represents the city."

Many other clubs joined the party, including the GMC Corvette Set club. Member Robert Jason drove his 2013 torch red Corvette to the show. "Clubs support one another," he said.

The Washington Township resident declared the Birmingham show "awesome." "I like the downtown atmosphere, people are wandering around and it's neat to see," Jason said.

Read the entire article

Source: Ron - Corvette Events
Submitted by Phil Ellison
9/4/16