13 years old - 57 miles
The fifth-generation Chevrolet Corvette (C5) has its critics. It wasn't exactly the fastest Corvette (hey there, ZR-1) nor was it the best looking, and its interior notably didn't get the highest marks. That said it was reliable, fun, comfortable to drive, and used C5's offer tremendous value for money.

This one however is a bit more noteworthy than the rest. No, not because it's a 50th Anniversary Edition, and no, not because it's a one-owner 'Vette. It's essentially a brand new 13-year old car with only 57 miles to its name. Gasp.

According to its eBay listing , this Chevrolet Corvette was purchased by its current owner in 2003 and has been stored in like-new condition ever since. Even the original plastic wrap covers the interior. The price for such a time capsule car? Surprisingly, not too expensive. The 'Vette asks just $44,900.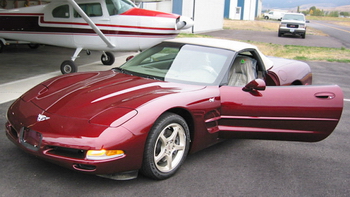 So what did you get in 2003 for your 50th Anniversary Edition money, which added about a $5,000 premium to the car? For the most part, exclusive looks. All "50th" coupes and convertibles wore the lovely "Anniversary Red Metallic" paint, complemented by champagne colored alloy wheels, tan leather seats with darker interior accents, a host of optional convenience features, plus the then-new F55 Magnetic Selective Ride Control system, which delivered a more tunable suspension.

Under the bonnet is the same 5.7-liter LS1 V8 that you'd find in the standard Corvette, pumping out 350 horsepower, and in this instance putting it to terra firma through a six-speed manual gearbox. A four-speed automatic was also optional, though the uprated LS6 V8 giving 405 hp was not.

All told, these cars could sprint to 60 mph in just under five seconds, dash the quarter mile in 13 seconds, and achieve a top speed of 175 mph. This one however has likely done none of those things..

Read the entire article

Source: Boldride
Submitted by Phil Ellison
8/7/16