Corvette, Porsche set to battle at Leguna Seca
One of the most talked-about moments from the last IMSA WeatherTech SportsCar Championship race, the BUBBA burger Sports Car Grand Prix at Long Beach, was the incident that took the No. 4 Corvette Racing C7.R of Tommy Milner and Oliver Gavin out of the GT Le Mans lead with only two minutes left.

Milner and Gavin were going for their third straight win -- a sweep of the season so far -- when the No. 912 Porsche North America 911 RSR driven by Frederic Makowiecki hit the Corvette driven by Milner in the passenger-side rear, taking out both cars, and deeding the win to the third-place No. 911 team Porsche driven by Patrick Pilet and Nick Tandy.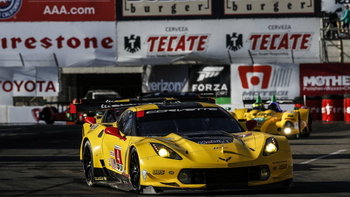 Makowiecki later accepted blame for the wreck -- he was "a touch too optimistic," he said -- and he was penalized by IMSA, but his car was too damaged to serve the actual penalty.

Which brings us to this weekend's Continental Tire Monterey Grand Prix Powered by Mazda at Mazda Raceway Laguna Seca in California: If there wasn't an intense rivalry between the Chevrolets and Porsches before -- and there was -- it's heated up to a boil now, the last race for the GT Le Mans class before they take a break from IMSA competition for the 24 Hours of Le Mans.

"Long Beach is over and everyone on the No. 4 Corvette team is ready to move on to Laguna Seca," Milner said. "It's a great place to be and is one of my favorite stops on our schedule. Leaving here with the points lead and a victory would give us great momentum ahead of our return to Le Mans in June."

Not only are Chevrolet and Porsche eager for another win this weekend, but BMW - the fastest of the entries in the GT Le Mans class this year, with the two BMW M6 GTLMs fielded by BMW Team RLL -- is still looking for a win, and the team is the defending champion at Laguna Seca. Also looking to make it into the win column are the new Ferrari 488 GTEs of Risi Competizione and Scuderia Corsa. The new Ford Chip Ganassi Racing Ford GTs also would love a victory to send them to Le Mans on a high note.

Read the entire article

Source: Autoweek; By Steven Cole Smith, IMSA Wire Service
Submitted by Phil Ellison
5/1/16