Maine man reunited with Corvette
Edward Chaisson was 19-years-old when he saw it on a car lot in southeastern Massachusetts: A red 1984 Chevy Corvette.

The Quincy, Mass. native bought it for $7,500 in 1995. He drove it a year before joining the Air Force and placed it in storage. It moved from one place to another, and eventually he sold it.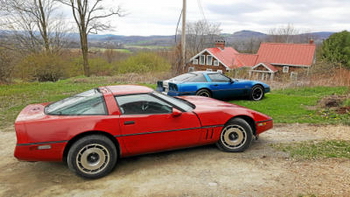 "When I was a kid in high school, these cars were it - they were the car you had to have," Chaisson, now a York, Maine resident, said Friday. Driving it, he said, "was like riding on rails. You couldn't ask for anything better."

He's since had five Corvettes, he said, but never forgot his first because of the sentimental value.

But thanks to some sleuthing and an anonymous tip, Chaisson tracked the Corvette down to a North Bennington barn and bought it this month for a second time.

He was working as a tow-truck driver, he said, when it came onto a Hanover, Mass. car dealership's lot.

"It was a Florida car - a couple drove it from Cape Cod every year," he said. "The top was faded and it needed a paint job."

He drove it for a year, he said, before he joined the air force. The car moved from one garage to another as he was stationed 3,500 miles away. He sold it in 2000.

"I was a punk kid, but this started making me a grown man," he said. He had to make car payments so his mom, the cosigner, wouldn't kill him. And he credits that responsibility to be one reason he went back to get a high school diploma.

There's more with a unique twist - Read the entire article

Source: Battleboro Reformer; Edward Damon
Submitted by Phil Ellison
5/8/16