The C3 Buyers Guide - Part 5 of 7
This is article five in a series of seven.
Model Years 1968-1972
These models are the holy grail of the C3 production run. They have undiluted Mako Shark show-car styling, no emission controls or safety bumpers, and came from the factory with motors ranging from mild small-blocks to hairy, tri-power big blocks. They are the last of the golden era of Detroit muscle and are coveted by collectors.


Corvettes between 1968-'69 cars can be distinguished by four vertical vents on the front fenders, no fender flares and round exhaust tips. Model years 1970-1972 are distinguished by cross-hatch fender vents, fender flares and rectangular exhaust cutouts.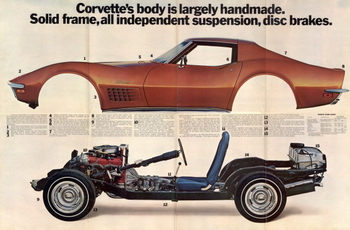 The late 1960's saw engine displacement as a badge of honor and Corvette kept up the pace. In 1970, the 327 CID jumped to 350 CID and big block motors increased from 427 CI to 454 CI. Horsepower reached a zenith of 460 horsepower from the big rat motors during these years, but by 1972, the government required power ratings to be rated installed in the car, not with motor on dyno with open headers and no parasitic accessories attached.

Big blocks, L88's, L89's and LT1 small block V-8's bring big money but a 300 horsepower small block car is a great driver and can still be had by mere mortals. Factory side exhaust, hardtops, and P02 full wheels covers add value as well. The C3 was a big hit in the marketplace and sold more than 130,000 units in its first five-year run. The best-selling year goes to the 1969, over 37,000 units sold.

Source: Corvette Online - By Dave Cruikshank
Submitted by Phil Ellison
1/31/16