The C3 Buyers Guide - Part 4 of 7
This is article four in a series of seven.
HERE'S A CHEAT SHEET OF THINGS TO CONSIDER WHEN PURCHASING A C3 CORVETTE FRAME RUST - Corvette bodies don't rust but that doesn't mean their steel frames don't. Always insist that any car you're interested is lifted up on a hoist so you can poke around under the body and check for corrosion. Now is the time to check for damage as well as frame integrity. Be sure and check where the trailing arms of the rear suspension connect at frame kick-up. They can gather dirt and debris are prone to rust. While the car is up in the air, also do a visual check on the internal side of body panels, too.


BIRDCAGE RUST - The new for 1968 Corvette Coupe continued the use of a steel sub structure nick named the "Birdcage," which looks like a steel windshield frame married to a roll bar. The new coupe had revolutionary T-tops with a center bar replacing cross braces at the windows. The roadster makes due with a metal windshield and cowling braces. Make sure you know the condition of this steel substructure, especially at the bottom of windshield posts. T-TOP ISSUES - Inspect latches and weather-stripping of T-Top equipped cars. They can be fussy, leak and creak. A weather strip kit from a myriad of aftermarket suppliers and tweaking latch tightness will solve most problems. Glass tops on later models can be prone to cracking.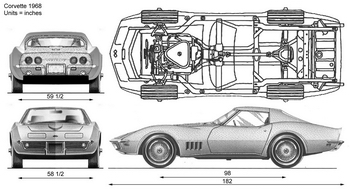 HIDDEN HEADLIGHTS - The C3 utilizes vacuum operated headlight doors and on early models, windshield wiper cover. This system is susceptible to leaks and other maladies. When working, it is fairly reliable however, relies on a labyrinth of hoses, valves and actuators.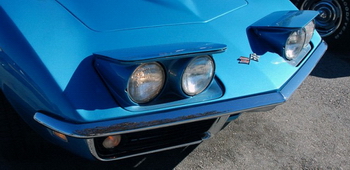 DISC BRAKES - C3's use four-wheel disc brakes inherited from the C2. The system is prone to corrosion in the lines and calipers, which led to an aftermarket niche to replace susceptible parts with stainless steel components. Make sure you check out the brake system as it is expensive to correct.

CHECK BONDING STRIPS - Corvettes are made like a jigsaw puzzle with many pieces connected by lengths of fiberglass called bonding strips. If a car has been repaired you can easily see where the damaged material was removed. Also look for smoother finished interior panels as a sign that the car has been in an accident. Not really a deal breaker, but more important, that the damage was repaired correctly.

INDEPENDENT REAR SUSPENSION - The C3 carried over the independent rear suspension from the C2 and brought along similar complexity and maintenance issues. There are U-joints, half-shafts and trailing arms that need to be tweaked, aligned, and looked after to function properly and to last under hard driving (which most Corvettes have seen in their lifetime).

CHECK ALIGNMENT OF DOORS, HOOD, TRUNK AND BUMPERS, WINDSHIELD WIPER AND HEADLIGHT DOORS - Wide or uneven gaps in body panels, misaligned bumpers, and mismatched paint are signs a car has been repaired. Again, not the end of the world, but to fix a car that was repaired improperly can be expensive. The 1968-1972 models have a vacuum-operated cover over the windshield wipers that can be tricky to align.

CHECK FOR STRESS CRACKS - Fiberglass ages differently than steel, and all Corvettes of this era suffer from stress cracks. Look around windshield posts, panel cut-outs and wheel-well lip areas for tell-tale signs of wear-related stress cracks.

RUBBER BUMPERS - C3's from 1973-1982 pioneered the use of plastic skin bumpers. The technology was embryonic and has a tendency to disintegrate after years of exposure to UV rays. There are replacements available but the process is labor intensive to fit and match paint.

MAKE SURE THE CAR IS COMPLETE AND ORIGINAL AS POSSIBLE - A matching numbers car, i.e. VIN and the engine serial number match, is worth roughly 20 to 30 percent more than an altered car. This number matching standard was birthed by fussy National Corvette Restorers Society judges and has been deemed to be the highest integrity a Corvette can have. We agree, but there might be a good buy with a non-matching number drivetrain out there that could be a great car to own and enjoy, so don't let the matching numbers mandate scare you. The good news is that there is a vast Corvette aftermarket supplier base that would love to help you restore your mid-year Corvette. Also, as a general rule, a color change is a deal-breaker for a lot of folks, so find a car that is painted in a factory color that turns you on.

VERIFY MOTOR AND VIN NUMBERS - This is fairly easy to do. Some research is required to get up to speed on VIN and engine codes, but definitive guides are widely available.

GET A USED CAR CHECK - The Corvette is exotic, but isn't immune from mere mortal system checks. Check fluids, do a compression test, check the cooling and electrical systems, check the brakes, steering linkage, and other common safety items so when you drive home you don't end up in a ditch. If you can do this yourself, great, if not hire a reputable mechanic; preferably one who is familiar with Corvettes. While you're at it, check every single light, knob, blinker, speaker, etc., to see what's working and what isn't. If you really want to be thorough, hire a 'Vette guru who can give you a detailed report card on the car of your dreams. Money well spent, we think.

TEST DRIVE - This is a must. Be careful not to let the owner run a monologue about the car as you drive. Turn off the radio and take the car on side roads and the freeway. Take note of any clunks, smoke, valve train noise, or sloppiness in the steering, transmission, or brakes.

TAKE YOUR TIME - Chevrolet built nearly 500,000 C3 Corvettes! Most have survived. Take your time, look around and don't buy the first car you see.

ANTICIPATE OWNERSHIP COSTS - You've got to store, insure, and maintain a 40-year old automobile. Create a tally of what your monthly costs will be to participate in the Corvette hobby without going broke.

GET EDUCATED -The scope of this article is a broad overview of the C3 Vette model run. We strongly suggest reviewing several Corvette "Bibles" to thoroughly educate yourself on rare options, colors and production numbers.

Source: Corvette Online - By Dave Cruikshank
Submitted by Phil Ellison
1/24/16