10 Worst Corvettes Of All Time
By any reasonable standard the Chevrolet Corvette has been an astonishing success. Over 60 years and six generations there have been dozens of great Corvettes. But even batting .900 still means whiffing 10 percent of the time. And some Corvettes are swings and misses.

These are the 10 worst Corvettes of all time. Not one-off customs where some individual indulged his atrocious taste to a disastrous end. And not single cars that were recalled under the lemon laws so often they could be squeezed for their juice. These are production cars sold through Chevrolet dealers to people who thought they were getting something great.

Those people were wrong.

Keep this in perspective before raging at this list. If there was one long list of all the production Corvettes that started with the greatest ever at the top and finished with the least great at the bottom, this is just reading from the bottom up. And relatively speaking, almost any Corvette is better than almost any ordinary car.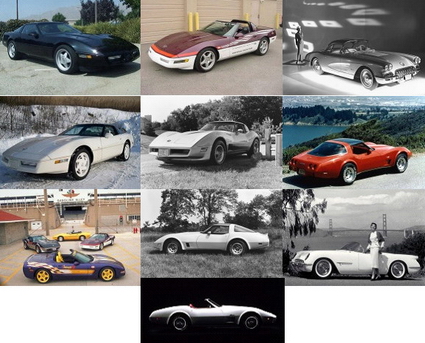 10. 1987 Callaway Twin Turbo Corvette
Here's credit to both Chevrolet and Callaway for having the brass balls to build a twin-turbocharged and twin-intercooled version of the Corvette way back in 1987. And even 26 years later, the Callaway Twin Turbo Corvette's engine bay still looks seriously mean. But - and you knew that word was coming - these early Callaways simply didn't hold together when they were, well, driven. Incidentally yes, the Callaway Twin Turbo was a production Chevrolet. It was available through Chevy dealers using the Regular Production Option (RPO) code B2K.

As a $19,999 option, B2K included new forged pistons and a secondary fuel injection system to keep the 382-horsepower turbo motor fed. That took the base C4 Corvette coupe from its $27,999 base price to $47,998.

That may look like a bargain price to 21st-century eyes, but the twin-turbo was notoriously fragile. Every element of the late-'80s Corvette was stressed by the additional output. So even though B2K was available through the 1991 model year, only about 500 were ordered.

9. 1995 Corvette Pace Car
There was nothing mechanically awful about the 527 replicas built of the Corvette Convertible that paced the 1995 running of the Indianapolis 500. But they looked like white cars that a couple of lunatics in the GM design studio had drawn all over with Magic Markers.

Purple is a color that has never flattered the Corvette - or the top half of a Corvette. A total of 527 of these were made and that's not a lot of cars. But it is a lot of Magic Markers.

8. 1958 Corvette Harley Earl was in his final months running the GM Design department when it was time to redecorate the Corvette for 1958. And he and his stylists decorated it and decorated it and then over-decorated it. Then they added fake louvers on the hood and more chrome.

This was the first Corvette with four headlights - and those were set in chrome frames. Then there were chrome strips that ran from those headlights across the top of the front fenders. And more chrome strips running down the trunk lid. And there was a big chrome toothy grille with smaller chrome openings on either side of it. And big wraparound chrome bumpers. And three chrome spears in the cove along the car's flanks. This thing was almost as much chrome as it was fiberglass.

Earl retired from GM in 1958 to be replaced by Bill Mitchell, who immediately started pulling chrome and louvers off the 1959 Corvette.

7. 1988 Corvette Commemorative Edition
The first 1953 Corvettes were all painted Polo White, so when it came time to celebrate the car's 35th anniversary, someone at GM decided a special white version of the C4 Corvette coupe was in order. Glaringly, blazingly, blindingly white.

While the roof was kept black, practically everything else on the Commemorative Edition was white. The leather upholstery was white. The steering wheel was wrapped in white leather. Even the lid on the center console was white. But worst of all, the wheels were white, too. White wheels are about as 1988 as you can get.

Incidentally, all the 1953 Corvettes had red interiors.

A quarter of a century after the Commemorative Edition Corvette went on sale, it looks a half century old.

6. 1982 Corvette Collector Edition
The C3 Corvette was amidst its death throes during the 1982 model year. In its 15th year of production, it had few fans left and open derision was the norm among enthusiasts. The C3 had overstayed its welcome by at least five years.

In a half-hearted attempt to maintain interest in the Corvette while the new C4 was being prepared, Chevy added "Cross-Fire" throttle body fuel injection to the 5.7-liter small-block V8 to bring total output up to an underwhelming 200 hp...and then eliminated the manual transmission option.

But the capper for '82 came in the form of the Collector Edition featuring silvery leather upholstery, turbine wheels, lift-up rear tail glass, silver-beige metallic paint and fade graphics atop the hood and along the sides. In sum, it was decorated like the boudoir of a Tatooine madam. And the Collector Edition was the first Corvette to cost more than $20,000.

5. 1979 Corvette L48
From the outside, the 1979 Corvette is almost indistinguishable from the 1978 edition. But in 1978 you could get the great-looking black-and-silver Indy 500 pace car or silver Silver Anniversary editions, and that made it easy to overlook how otherwise decrepit the C3 Corvette had become. But in 1979, the car was naked and the suck showed.

The base L48 version of the 1979 Corvette had a 5.7-liter V8 that made only 195 hp, barely enough to keep the 3,372-pound lump moving. Meanwhile the interior was a relentless, hideous monochrome that extended the disco-era upholstery colors onto the door panels and dashboard.

But here's the most frustrating thing about the 1979 Corvette. Despite being a pitiable pile of loosely associated plastic, it sold like crazy. Chevy sold a scandalous 53,807 Corvettes during the 1979 model year. So this is the best-selling Corvette ever made. That does not say good things about the state of 1979 America.

4. 1998 Corvette Pace Car There's only one thing that makes the 1995 Corvette pace car less hideous - and that is the 1998 Corvette Pace Car. It was painted an even more repulsive shade of purple and then it got worse.

Since the designers had used all their Magic Markers on the '95 model, they stole some highlighters from accounting to finish off the stripes, upholstery and wheels on the '98 model. Whoever signed off on this rolling monument to bad taste should have been hanged, or better yet, forced to drive one. It would have been more painful.

3. 1980 Corvette 305
In general, 1980 was a lousy year. Inflation was rampant, the economy was in the doldrums and the Corvette was awful. But in California it was doubly awful, as Chevrolet that year gave up trying to certify the Corvette's 350-cubic-inch V8 for that state's more stringent emissions requirements. So if you wanted a new Corvette that year in Los Angeles or San Francisco or Sacramento, you had to settle for one with a 305-cubic-inch V8 and a three-speed automatic transmission. That's right: a lousy, lazy 180-hp, 5.0-liter lump of small-block agony. It couldn't pull out a dangling baby tooth.

The rest of the country wasn't getting anything special in '80 either. After all, the base "L48" 350 was only rated at 190 hp and opting for the "L82" high-performance version only netted 230 hp. It was a year that sucked.

2. 1953 Corvette
Yes, this is the first Corvette. And yes, it's also on our 10 Greatest Corvettes list. Consistency, after all, is the hobgoblin of little minds.

Corners were cut to get the '53 Corvette into production. While the frame was new and positioned the engine low and rearward, the suspension was made up of modified parts from Chevy's super-dowdy sedan and never worked right. The engine was the old Blue Flame six with mechanical lifters and a compression ratio boost to 8.0:1 to produce a modest 150 hp. And, notoriously, the only transmission available was a two-speed Powerglide automatic.

The big problems, though, came in actually building those first Corvettes. The production of the fiberglass 108-piece bodies was something no one anywhere had done before on such a large scale - and only rarely did everything fit together. The initial run of cars was built in a small Flint, Michigan, garage that wasn't built for car production. The first Corvettes were, simply and comprehensively, crude.

So the first Corvette was both great and lousy: a rolling contradiction. That is, when it decided to roll at all.

1. 1975 Corvette Base
In 1974 it was still possible to get a Corvette with a big block, 270-hp, "LS4" 454-cubic-inch V8. And even the base 350-cubic-inch (5.7-liter) small-block V8 was still gross rated at 250 hp. But when the 1975 Corvette came along, the big block was gone and the base "ZQ3" 350 had lost a half point of compression and gained a catalytic converter, which dropped its output to a paltry 165 hp.

That's right. Most 1975 Corvettes had engines that made only 165 hp. That's 32 less than the base 2.5-liter four in a 2013 Malibu sedan. It's only 15 hp more than the Blue Flame six in the '53 Corvette - and the '53 Corvette was 827 pounds lighter.

Car and Driver ran the '75 Corvette off against the ignoble Bricklin SV1 in its May 1975 issue and found Chevy's plastic car with the base 350 and three-speed automatic transmission took a brutal 7.7 seconds to waltz from zero to 60 mph and needed 16.1 seconds to run the quarter-mile at a lugubrious 87.4 mph. Slow. Slow. Slow. At least the Bricklin was even slower.

Yes, there was an upgraded L82 engine option in '75, but it didn't enter production until deep into the model year and was strangled by an exhaust system that used a single catalytic converter. So even the L82 version of the 350 was rated at a miserable 205 hp - down 35 from '74 (net rating to net rating).

This is the Corvette at its lowest and yet Chevy managed to sell 38,665 of them anyhow. That's 1,164 more than it did of the '74 and, up until that time, the most Corvettes Chevy had ever sold during a model year. Go figure.

Source: Edmunds.com
by John Pearley Huffman
Submitted by Phil Ellison
12/6/15