2016 Corvette Information
From Kerbeck Corvette, a very detailed list of what is new for the 2016 Corvette Stingray and Convertible. This article is number 4 in a series of 6 articles. There is a LOT of information potential buyers and Corvette enthusiasts need to know.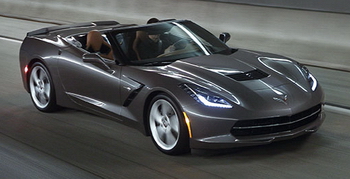 Engineering details
Corvette Stingray coupe and convertible take advantage of lightweight materials, advanced manufacturing techniques and technology transfer from the Corvette Racing program to produce an ideal 50/50 weight balance and to deliver world-class power-to-weight ratios.

The technologically advanced foundation is an aluminum frame structure so strong, no structural reinforcements are needed for the convertible model. The only changes are limited to accommodations for the folding top and repositioned safety belt mounts.

The frame features main rails composed of five customized aluminum segments, including aluminum extrusions at each end, a center main rail section and hollow-cast nodes at the suspension interface points. Each segment's gauge varies in thickness from 2mm to 11mm, tailored - along with the shape - to optimize the strength requirements for each frame section with minimal weight.

The aluminum frame is manufactured using innovative manufacturing processes at GM's Bowling Green, Ky., assembly plant. The state-of-the-art facility employs several advanced joining technologies to ensure dimensional accuracy within 0.75 mm. Each frame features:

439 spot-welds using a GM-patented process that uses a unique electrode designed specifically for aluminum

188 Flowdrill-machined fasteners, which are installed by a high-speed drill that extrudes the frame material to create a strong, integral collar that is tapped for bolt-on fasteners

113 feet of structural adhesives, used in conjunction with welding and fasteners to increase overall frame stiffness


37 feet of laser welds, which join frame sections via a precise beam of high energy that minimizes heat beyond the weld area for improved structural accuracy. The frame's strength and low weight are complemented by chassis elements also designed for low-mass strength, including hollow-cast aluminum front and rear cradles. Innovative use of materials also includes a standard carbon fiber hood on all Corvette Stingray models, and a carbon fiber roof panel on all coupes. In addition, underbody panels are created with carbon-nano composite technology, an advanced blend of traditional composite material and carbon fiber for reduced weight and improved strength. Fenders, doors, rear quarter panels and the rear hatch panel are made with light-density Sheet Molded Compound.

Performance and efficiency
The Corvette Stingray's 455 horses are generated by the LT1 6.2L Small Block V-8 engine, which also produces 460 lb-ft of torque (624 Nm). Its performance comes from combining advanced technologies such as direct injection, Active Fuel Management (cylinder deactivation) and continuously variable valve timing with an advanced combustion system. Z51-equipped models include a dry-sump oiling system.

The LT1 is backed by a choice of active, 2.75-inch-diameter exhaust systems. The standard system features a pair of butterfly valves that contribute to greater refinement at cruising speeds when the engine is operating in fuel-saving V-4 mode. The available performance variable-mode active exhaust system has two additional valves that open to a lower-restriction path through the mufflers. When open, these valves increase engine performance and produce a more powerful exhaust note - while also raising the engine's output to 460 horsepower (343 kW) and 465 lb-ft of torque (630 Nm).

The LT1 is offered with an all-new seven-speed manual transmission with Active Rev Matching. It incorporates rev-matching technology for upshifts and downshifts. This driver-selectable feature can be easily engaged or disengaged via paddles on the steering wheel. The seven-speed is used with a new dual-mass flywheel and dual-disc clutch, which deliver greater shift quality and feel through lower inertia. The transmission with the Z51 Performance Package includes specific close-ratio gearing for more aggressive driving.

An available eight-speed paddle-shift automatic transmission, designed and built by GM, delivers world-class shift times that rival the best dual-clutch designs. Its availability makes Corvette Stingray one of the few sports cars to offer a conventional manual transmission and an eight-speed automatic.

Driving experience
The Corvette Stingray's chassis and suspension are designed to take advantage of the lighter, stiffer structure. Its rigidity allowed engineers to more precisely tune the suspension and steering for a more nimble and responsive driving experience. The components and their calibrations - from the brake size and damper rates to the steering system - are identical between coupes and convertible.

A racing-proven short/long-arm suspension design is used front and rear, with lightweight complementing components that include hollow lower control arms and aluminum rear toe links.

The Corvette Stingray rides on 18 x 8.5-inch front and 19 x 10-inch rear wheels, while models with the Z51 Performance Package roll on 19 x 8.5-inch front and 20 x 10-inch rear forged aluminum wheels - all shod with Michelin Pilot Super Sport run-flat tires developed specifically for the seventh-generation Corvette. As a result, the Corvette Stingray with the Z51 Performance Package is capable of 1.03g in cornering acceleration.

Additional suspension features:
Dampers - includes standard 35mm-piston Bilstein monotube shocks that connect to dual-path aluminum shock mounts that separate the shock rod and shock body load paths. The Z51 Performance Package comes with 45mm-piston Bilstein dampers for more aggressive body control and track capability. Z51 is available with the third-generation Magnetic Ride Control, which features a twin-wire/dual-coil damper system that reacts 40 percent faster than previous generations, enabling improved ride comfort and body control.

Magnetic Ride Control is also available on non-Z51 Stingray models (requires 19-/20-inch wheels).

Steering - Electric power steering offers variable ratios and variable effort to tailor responsiveness and feel for each driving situation. It also delivers precise control and feedback to the driver, along with great variability of effort for high-performance driving, as well as excellent on-center sensitivity and linearity.

Axle - A smart electronic limited-slip differential (eLSD) is included in the Z51 Performance Package and continuously makes the most of the torque split between the rear wheels. The system features a hydraulically actuated clutch that can infinitely vary clutch engagement and can respond from open to full engagement in tenths of a second. It shifts torque based on a unique algorithm that factors in vehicle speed, steering input and throttle position to improve steering feel, handling balance and traction.

The eLSD is fully integrated with Electronic Stability Control and Performance Traction Management systems. Its calibrations vary among three modes, based on the Drive Mode Selector setting:

Mode 1 is the default setting for normal driving and emphasizes vehicle stability

Mode 2 is engaged when electronic stability control is turned off in the Sport or Track modes. This calibration enables more nimble turn-in and traction while accelerating out of a corner

Mode 3 is automatically selected when Performance Traction Management is engaged. This calibration has the same function as Mode 2, but is fine-tuned to work with Performance Traction Management.


Brakes - Standard Brembo brakes, with four-piston fixed calipers derived from racing, deliver exceptional stopping power on the street or track. System highlights include:

12.6-inch (320 mm) front rotors and 13.3-inch (338 mm) rear rotors are standard and have 35-percent more swept area than previous-generation brakes. Consequently, stopping distance is improved 9 percent

Dual-cast, slotted 13.6-inch (345 mm) front rotors and 13.3-inch (338 mm) slotted rear rotors are included with Z51 Performance Package. They have 6-percent more swept area than the previous-generation Grand Sport and are cooled front and rear for improved track capability. Consequently, stopping distance is improved 5 percent

All brake packages have fixed four-piston front and rear calipers that are stiffer for more even pad wear, reduced drag and improved modulation.

Source: Kerbeck Corvette/website
Submitted by Phil Ellison
11/1/15