2016 Corvette Information
From Kerbeck Corvette, a very detailed list of what is new for the 2016 Corvette Stingray and Convertible. This article is number 3 in a series of 6 articles. There is a LOT of information potential buyers and Corvette enthusiasts need to know.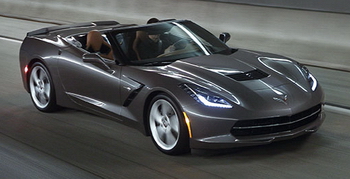 Handcrafted, technologically advanced interior
The Corvette Stingray interior blends fine materials and craftsmanship with advanced technologies that contribute to a more connected and more engaging driving experience. Every feature and detail is designed to enhance the driver's connection to the Corvette, starting with the fighter jet-inspired wraparound cockpit and continuing with supportive seats and high-definition, configurable screens.

A comparatively small, 14.1-inch-diameter (360 mm) steering wheel - with a new flat-bottom design - fosters a more direct, immediate feel to directional inputs. The attention to the driver extends to the smallest details, including the flat, precise stitching on the steering wheel designed to provide a smooth, consistent feel.

Precise and elegant stitching also is seen in the available Napa leather trim on the seats. Two seating choices are offered: a GT seat for all-around comfort and a Competition Sport seat with more aggressive side bolstering that provides greater support on the track. The frame structure for both seats is made of magnesium for greater strength. Several trim combinations are offered for the seats:

1LT: GT seats with perforated Mulan leather seating surfaces or Competition Sport seats with leather seating surfaces and sueded microfiber inserts

2LT: GT or Competition Sport seats with perforated Mulan leather seating surfaces; GT or Competition Sport seats with leather seating surfaces and sueded microfiber inserts

3LT: GT seats with perforated Napa leather seating surfaces; Competition Sport seats with perforated Mulan leather seating surfaces; GT or Competition Sport seats with leather seating surfaces and sueded microfiber inserts. Also: leather-wrapped instrument panel and suede-wrapped upper trim.


All models feature a fully-wrapped interior, where every surface is covered with premium, soft-touch materials. Available materials, depending on the trim level, include Napa leather, aluminum, carbon fiber and micro-suede. There's even a micro-LED screen for the passenger's climate control placed below the vent on the dash, away from the performance features on the instrument panel.

Additional interior features include:

Available Performance Data Recorder (included with the navigation system)

Color driver information center is standard on all trim levels

Electric-locking glovebox

Eight-inch-diagonal color touch radio with Chevrolet MyLink is standard on all trim levels; a navigation system is standard on 3LT and available on 1LT and 2LT. Includes behind-screen storage compartment

Bose® nine-speaker premium audio system is standard on 1LT

Bose® 10-speaker premium audio system - with bass box - is standard on 2LT and 3LT

Head-up display with color readouts - including g-meter in track mode - is standard on 2LT and 3LT

Keyless access with push-button starting is standard on all trim levels

Rear-vision camera is standard on all trim levels

Front parking camera is offered on 2LT and 3LT trim levels

Power tilting/telescoping steering column is standard on all trim levels

Heated and ventilated seats are standard on 2LT and 3LT

Leather-wrapped steering wheel is standard on all trim levels; and a sueded microfiber-covered steering wheel is included with suede competition sport seats

Sueded microfiber-wrapped upper interior trim package is standard on 3LT and includes headliner, visors, trim above windshield and rear window, A-pillar trim and area around quarter window

Interior colors: Gray, Jet Black, Kalahari, Brownstone and Adrenaline Red.


Driver-oriented technologies
At the core of the Corvette Stingray's driver-focused technologies is the cockpit-mounted Driver Mode Selector, which allows drivers to optimize the car for their driving preference and road conditions via five settings: Weather, Eco, Tour, Sport and Track.

The Tour mode is the default setting for everyday driving; Weather mode is designed primarily for added confidence while driving in rain and snow; Eco mode is for achieving optimal fuel economy; Sport mode is for spirited road driving and Track mode is for track use.

Up to 12 performance parameters are adjusted with the selection of each mode, including:

Gauge cluster configuration: The Tour, Eco and Weather modes feature displays for trip data, audio and navigation; Sport mode shows classic, easy-to-read sports car gauges; and Track mode's configuration shows a gauge design based on the Corvette Racing race car display with lap timer

ETC (Electronic Throttle Control): Adjusts the throttle input curve for the selected mode for improved responsiveness

Paddle-shift automatic transmission: Adjusts shift comfort and shift points

Active Fuel Management: in normal mode, the LT1 engine uses V-8 power; in Eco mode the engine can operate in V-4 mode to improve fuel economy until aggressive acceleration is called for

Exhaust (active exhaust system): The system adjusts the timing of the electronically controlled exhaust valves to enhance audible feedback from the V-8 depending on the drive mode

Electronic limited-slip differential (Z51): Adjusts the rate at which the limited slip engages, to balance between steering response and stability in different driving conditions; more aggressive performance in Sport and Track modes

Steering: Assist effort is adjusted in the modes to provide the driver with the correct steering feel for the driving condition

Magnetic Ride Control: Adjusts shock damping based on road conditions, from optimized comfort to performance driving

Launch control: Available in Track mode for manual and automatic transmissions, providing maximum off-the-line acceleration

Active handling (StabiliTrak stability control): A "competitive" setting is available in Track mode and is more suited for on-track conditions. It can also be disabled, giving the driver complete control

Traction control: Weather mode tailors traction control and engine torque for driving in inclement conditions

Performance Traction Management: Available in Track mode and offers five settings of torque reduction and brake intervention for track driving.


Three configurable displays, including a pair of eight-inch screens and color head-up display, deliver personalized information and convey the different performance parameters of each drive mode.

The two eight-inch screens offer excellent visibility in direct sunlight, with 650 cd/m2 of brightness for the one integrated into the instrument cluster and 1,000 cd/m2 of brightness for the one in the center stack, making them among the brightest screens in the industry. The screen in the center stack also features touch-screen control with gesture recognition and can be lowered to reveal a hidden storage compartment that includes a USB input for device charging or uploads.

Performance Data Recorder
The award-winning, industry-first Performance Data Recorder - or PDR - enables users to record high-definition video, with telemetry overlays, of their driving experiences on and off the track. It was developed with Cosworth, the motorsports-engineering company that supplies the Corvette Racing team's data acquisition and telemetry electronics system.

The PDR system includes three major components, all seamlessly integrated into the Corvette Stingray's interior. First is a high-definition camera, mounted within the windshield header trim, which records the driver's point-of-view through the windshield. Audio is recorded via a dedicated microphone in the cabin.

Second is a self-contained telemetry recorder, which uses a dedicated GPS receiver that operates at 5 hertz, or cycles per second - five times faster than the in-dash navigation system, which allows more precise positioning and corner traces. Finally, the system features a dedicated SD-card slot in the glove box for recording and transferring video and vehicle data (SD card not included). Recording time depends on the capacity of the memory card, but an 8-gigabyte card can record approximately 200 minutes, while a 32-GB card stores up to about 800 minutes - more than 13 hours of driving time.

The PDR system can record video with three data overlay options, each rendered in real time:

Track Mode - shows the maximum level of data on the screen, including speed, rpm, g-force, a location-based map, lap time and more

Sport Mode - shows fewer details on the overlay but includes key data including speed and g-force

Touring Mode - simply records and displays video and audio of the drive with no data overlay

Performance Mode - records performance metrics, such as 0 to 60 mph acceleration, 1/4-mile speed and elapsed time, and 0-100-0 mph runs.


The video can be viewed on the Corvette Stingray's 8-inch color touchscreen when the car is parked, or downloaded to a computer for further editing, and for sharing video via social media sites. For users who want a more in-depth understanding of their performance, the PDR vehicle data can be opened in the included "Cosworth Toolbox" software, which combines Cosworth's professional-level motorsport data analysis with an easy-to-use graphic interface.


Source: Kerbeck Corvette/website
Submitted by Phil Ellison
11/8/15