Vette News - C8 Mid Engine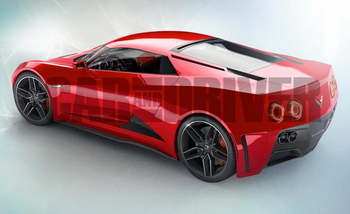 GM's head of global product development, Mark Reuss, confirms that the company is working on the next Corvette. Our sources elaborate on this salient piece of information, telling us that, after 61 years of evolution, the C8 will be revolutionary. The new Corvette will be the mid-engined American Dream Machine that Chevy couldn't, until now, muster the courage to build. In truth, the factory is still not prepared to detail what's coming, which is why you're looking at the 2017 model year through our freshly waxed crystal ball.

Why mid-engine? Because the C7 Corvette, especially the Z06 edition, is tapped out. Adding more power to a front-engine design only accelerates the conversion of rubber into smoke at the rear. Moving the engine's mass closer to the drive tires is the most effective means of improving Corvette acceleration and braking.

The second reason is less engineering-driven: Chevy wants to finally move the Corvette past the basic proportions and form language it has used since the C3. Today's Stingray is a dream car for men on the wrong side of 50. But by updating the exterior with a radical remix of its visual masses, the Corvette could sweep the odd Aventador, LaFerrari, P1, and 918 posters off adolescents' bedroom walls. As Chevy well knows, kids grow up quickly, and the fortunate ones convert their salaries to sports cars. Read on for how the C8 will take shape.

The C8 flagship, the Zora ZR1, will debut the new mid-engine architecture. Launching as a 2017 model, it will define the top of the Corvette hierarchy just as its precursors did in the 1990-1995 C4 generation and 2009-2013 C6 model years. As before, the ZR1 will be low volume, roughly 1500 units per annum, and high priced. We figure around $150,000. It'll be a stand-alone special that will peacefully coexist in Chevy showrooms with C7 models for a few years. The new platform, with appropriate bodywork and cockpit changes, could also support a revived Cadillac XLR (with better sales success than the last one, we hope). By 2020, we expect the C7 to take its rightful place in the National Corvette/Sinkhole Museum and that all future models-yes, even the base Corvette will shift to the mid-engine platform.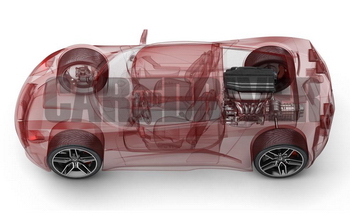 Those who fear the demise of GM's immortal small-block can relax because V-8s will surely propel the eighth-gen car. Using a single cam in the block plus pushrods offers weight, bulk, and cost incentives too valuable to squander. And the direct-injection, modular-displacement (cylinder shutdown), and variable-cam-timing technologies implemented for the C7 give this engine another lease on life. While it's premature to quote displacement, power, and aspiration details, we expect the C8 to soundly beat today's Stingray Z51's acceleration (zero to 60 in 3.9 seconds), its 181-mph top speed, and its fuel-economy bogies.

Alternative power sources are planned to keep the Corvette viable when regulations clamp down more aggressively on fuel consumption. Potent V-6s with and without boost are inevitable. Moving the engine behind the cockpit clears space for an electric motor to drive the front wheels; by 2020, a four-wheel-drive Corvette hybrid is a distinct possibility.

Porsche's Boxster and Cayman are worthy case studies for the next Corvette because they've astutely answered knotty questions, such as "How do you construct a mid-engined roadster?" and "What about trunk space?"

Lacking million-dollar computer-drafting tools, we instead conducted our packaging study in 1/24 scale with help from Sam Haase, a crack model builder from Belleville, Michigan. The small-block V-8 he pirated from a Corvette kit didn't quite fit the hole intended for the Boxster S's 3.4-liter flat-six (full-scale measurements reveal that the V-8 is 3.5 inches longer, 2.3 inches taller, but 6.0 inches narrower than the Porsche flat-six). This necessitated a 4.0-inch scale wheelbase increase, yielding a C8/Porsche mock-up about the same length as today's Corvette but with a 5.3-inch shorter wheelbase.

The radiator required to cool the Corvette's larger engine would diminish the size of the Porsches' five-cubic-foot front trunk-assuming said radiator is located in the nose. A viable alternative is to position all heat exchangers, including those for the engine, transaxle, and air conditioning, at the sides of the car between the door openings and the rear wheels, Ferrari Testarossa-style. A benefit of this arrangement would be shorter plumbing runs, but the C8's aerodynamic engineers would have their work cut out coaxing enough airflow through such radiators.

A Corvette-sized muffler would fight for the space occupied by the Boxster's five-cubic-foot rear trunk. This will surely disappoint golfers who drive their C7s to the links with more than one set of clubs in their 10-to-15-cubic-foot cargo holds. The new Zora ZR1 will be for those who enjoy long drives without using clubs.

Another packaging issue is the fuel-tank location. Porsche stuck with its historic ahead-of-the-cockpit spot for balance, but we imagine GM is more likely to tuck the C8's gas tank in a center tunnel where it could share space with coolant plumbing.

Since the engine no longer impedes the driver's view ahead, a lower seating position is practical. A much shorter hood would also improve forward sightlines. This is the designer's delicate balancing act, because rear visibility will be hampered by the new engine location.

We'd also love to see a larger touch screen in the center dash to take over additional secondary-control functions. This would be an ideal opportunity to switch from the common landscape format to a portrait-mode (taller, narrower) screen, à la Tesla Model S. As long as round knobs for basic entertainment and HVAC functions remain, we'll be happy. The absence of a traditional gear-stirring stick means that new space will be available for a smartphone dock, storage bins, and the requisite cup holders.

We're hoping that the lessons learned from today's GT and Competition Sport seats help the Corvette team home in on one improved bucket suitable for both soft- and hard-core users.

Doors are the next logical candidate for conversion from sheet-molded fiberglass to lighter, stiffer, crash-resistant carbon-composite assemblies. Current Corvette supplier Plasan Carbon Composites manufactures carbon-fiber panels for both the Corvette and the Viper, and this firm has the interest and ability to supply additional parts using its advanced pressure-press processes.

Source: Car & Driver
Submitted by Phil Ellison
3/29/15